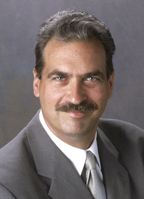 Carl T. Camden
Chairman, Term: 2008-2010; 2011-2013
President and Chief Executive Officer
Kelly Services, Inc.
Troy, Michigan
Carl T. Camden formerly served on our Detroit Board of Directors. He is president and chief executive officer of Kelly Services, Inc., a world leader in workforce solutions. He also serves on the company's board of directors. Kelly is a Fortune 500 company headquartered in Troy, Michigan.
Elected to his current position in February 2006, Camden joined Kelly in April 1995 as senior vice president, Corporate Marketing. He was promoted to executive vice president and chief operating officer in April 2001. Camden was elected as president and chief operating officer, as well as to the board of directors of Kelly Services in November 2001.
Prior to joining Kelly, Camden was senior vice president and director of Corporate Marketing for KeyCorp, a bank holding company based in Cleveland, Ohio. He previously served as co-president of Wyse Advertising in Cleveland and was co-founder and co-owner of North Coast Behavioral Research Group. Camden also served as associate professor in the Communications Department at Cleveland State University.
In 2007, Camden joined prominent business, labor and public policy leaders as a founding member of Better Health Care Together, a coalition urging fundamental reform of the American health care system. He also serves on the Board of Directors of the Detroit Regional Chamber, the Board of Directors of the Detroit Medical Center, the Board of Trustees of the Committee for Economic Development and the Board of Trustees of the University of Detroit Mercy. Camden also serves on the Detroit Board of Directors for the Federal Reserve Bank of Chicago and served on the Labor Advisory Council for the Federal Reserve Bank from 1997 through 2007.
Camden is a member of the University of Michigan Visiting Committee for the Michigan Center for Theoretical Physics. Camden served on the Advisory Committee on Employee Welfare and Pension Benefits (ERISA Advisory Council) from 2000 through 2002 and the American Staffing Association's board of directors from 2006 through 2007. He served on the Board of Visitors of Duke University Fuqua School of Business from 2003 to 2009.
In June 2005, Camden received the Individual Citation Award from the International Association of Workforce Professionals (IAWP) for 2004 and 2005, the highest honor IAWP presents to an individual. In September 2004, the National Association of State Workforce Agencies (NASWA) presented Camden with the 2004 William L. Heartwell, Jr. Award. This award recognizes individuals who have made a significant and substantial contribution to the workforce development system.
Camden holds an undergraduate degree in psychology and speech from Southwest Baptist College in Bolivar, Missouri, a graduate degree in clinical psychology and speech communication from Central Missouri State University and a doctorate in communications from Ohio State University.