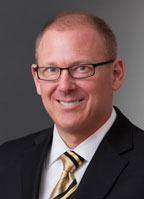 Stephen J. Goodenow
Class A Director, Term: 2010-2012
Chairman and Chief Executive Officer
Bank Midwest
Spirit Lake, Iowa
Stephen J. Goodenow (Steve) is the Chairman of the Board and CEO of Bank Midwest, located in Spirit Lake, Iowa. Goodenow also serves as President and CEO of Goodenow Bancorporation in Okoboji, Iowa. Goodenow Bancorporation is closely held, although over 180 employees participate in ownership through the company's ESOP, which owns just over 10% of the outstanding shares.
Goodenow has been active in the Iowa Bankers Association, serving as the Chairman of the Legislative Committee in 2005-2006 and on their Board of Directors from 2006-2008. Goodenow is presently the Chairman Elect for the Iowa Bankers Association. Goodenow has served on the American Bankers Community Bankers Council from 2008-2010. Goodenow is the Past Chairman of the Board of Trustees at the Graduate School of Banking at Colorado and has been on that Board since 2005. In addition to his position on the Board of Trustees at the Graduate School of Banking, Goodenow currently serves as a Class A Director at the Federal Reserve Bank of Chicago.
Goodenow currently serves as Treasurer of the Okoboji Foundation, a community foundation. Goodenow is a member and past Chairman of the Iowa Great Lakes Industrial Development Board, past Board Member of the Corridor of Opportunity (Regional Economic Development), past Chairman of the Dickinson County Trails Association, and was the YMCA Capital Campaign Co-Chair in 2001, an effort that led to the completion of a $6 million dollar state of the art facility to a county of approximately 17,000. Goodenow served on the Dickinson county Trails Development Board from 1993-2004. Prior to his employment at Bank Midwest, Goodenow was an Associate National Bank Examiner, Comptroller of the Currency, in the Chicago Metropolitan area.
Goodenow holds a BBA in Finance from the University of Iowa, an MBA in Finance from DePaul University and is a 2004 graduate of Stonier Graduate School of Banking.