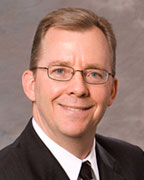 Jack Kelly
Senior Consultant, DPT Solutions, Inc.
Jack Kelly is a senior consultant with DPT Solutions, Inc., a consulting firm headquartered in Grand Rapids, MI. In that capacity, he draws from his nearly 28 years of executive experience in finance, technology, organizational design and business development to assist clients in becoming as efficient and effective as possible. He specializes in business management strategy and business process management. The alignment of business strategy with business process design and execution is his area of specialty. DPT is a business management consulting firm offering three complementary practices: business process management, project leadership and customer relationship management systems. Clients range in size and represent many industries including financial services, health care, agriculture education and service-based businesses.
Previously, Kelly spent over 27 years with GreenStone Farm Credit Services – culminating that career as executive vice president. Over that time, he led many functions, which includes holding the highest executive roles in finance, technology and business development. Kelly has been a member of the Michigan FFA Foundations' board of directors, and a recent past member of the Michigan State University College of Agriculture and Natural Resources Alumni Association. He is a graduate of Michigan State University with a degree in agriculture, with additional specialty work in process management.