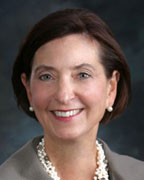 Birgit M. Klohs
President and Chief Executive Officer, The Right Place, Inc.
Birgit M. Klohs is president and chief executive officer of The Right Place, Inc., a position she has held since 1987. The Right Place, Inc., is the regional economic development organization for the retention, expansion and attraction of businesses to the West Michigan area. During her 25-year career at The Right Place, she has organized numerous trade missions to Europe, the Far East and Israel. Klohs, a native of Germany, came to The Right Place, Inc., from Grand Valley State University (GVSU), where she served as assistant director of the Office for Economic Expansion. Prior to her association with GVSU, Klohs was affiliated with Prince Corporation in Holland, Michigan. Her economic development career began in 1977 as an industrial consultant with the Economic Development Corporation of Berrien County, Michigan. Following her experience in Berrien County, she joined the Michigan Department of Commerce as an account executive for the West Michigan region.
Klohs is also a frequent speaker at national and international economic development conferences and seminars, having lectured in France, Great Britain, Germany, Sweden, China, Australia and Israel. Most recently she participated in the Clinton Global Initiative – America. She is involved in many local and statewide activities. Klohs is a graduate of Western Michigan University, where she earned her BA in corporate finance. She is a graduate of the Economic Development Institute of the University of Oklahoma, and completed the professional economic development finance program through the National Development Council. She also attended Harvard University's program on negotiation.