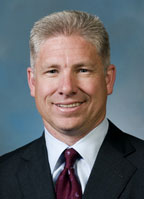 Brian C. Walker
Director, Term: 2009-2011, 2012-2014
President and Chief Executive Officer
Herman Miller, Inc.
Zeeland, Michigan
Brian C. Walker is President and Chief Executive Officer of Herman Miller, Inc., overseeing the company's global efforts to invent solutions that help creates great places to work, to learn and to heal. In March 2003, he was named President and Chief Operating Officer of the company and in July 2004, he assumed the title of Chief Executive Officer.
He had earlier served as President of Herman Miller North America (2000), in which he oversaw the company's core business operations for the U.S., Canada and Mexico and as Executive Vice President and Chief Financial Officer for Herman Miller, Inc. (1995), where he developed a strong team of finance professionals and an internationally respected finance organization. Walker had previously held various financial management positions within Herman Miller's international operations.
Herman Miller, Inc. creates places to work through the design, manufacture and distribution of furnishings, interior products and related services. Manufacturing and distribution facilities are located in the United States, as well as in China, Italy and the United Kingdom. Net sales of $262,000 in 1923 grew to $25 million in 1970, the year the company went public; net sales in fiscal year 2006 were $1.74 billion.
Before joining Herman Miller, Inc., Walker worked as a certified public accountant for the accounting firm of Arthur Andersen.