Euro Challenge 2013 Teacher Orientation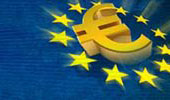 The Euro Challenge brings global studies to life in your classroom. Students will study the euro and focus on economic conditions in one euro area country.Learn the latest tools and techniques to prepare your team to take the Euro Challenge!
Don't forget to click on the Conference Materials tab to find orientation and challenge prep materials.
Resources for the Euro Challenge