Project Hometown Progress Report
Project Hometown is the Chicago Fed's commitment to engaging with all of our region's communities as they confront the challenges of the current moment. Covid-19 continues to take a tremendous public health toll. The pandemic and our efforts to control it have also brought economic hardship, with disadvantaged communities feeling the greatest impacts. Moreover, even before the pandemic, racism and other barriers limited economic opportunities for too many people.
Recovering from the pandemic and providing all people with the opportunity to thrive will require an unprecedented effort. Project Hometown is committed to deploying the full range of the Chicago Fed's expertise and being a catalyst for collectively working toward these goals.
Our Work So Far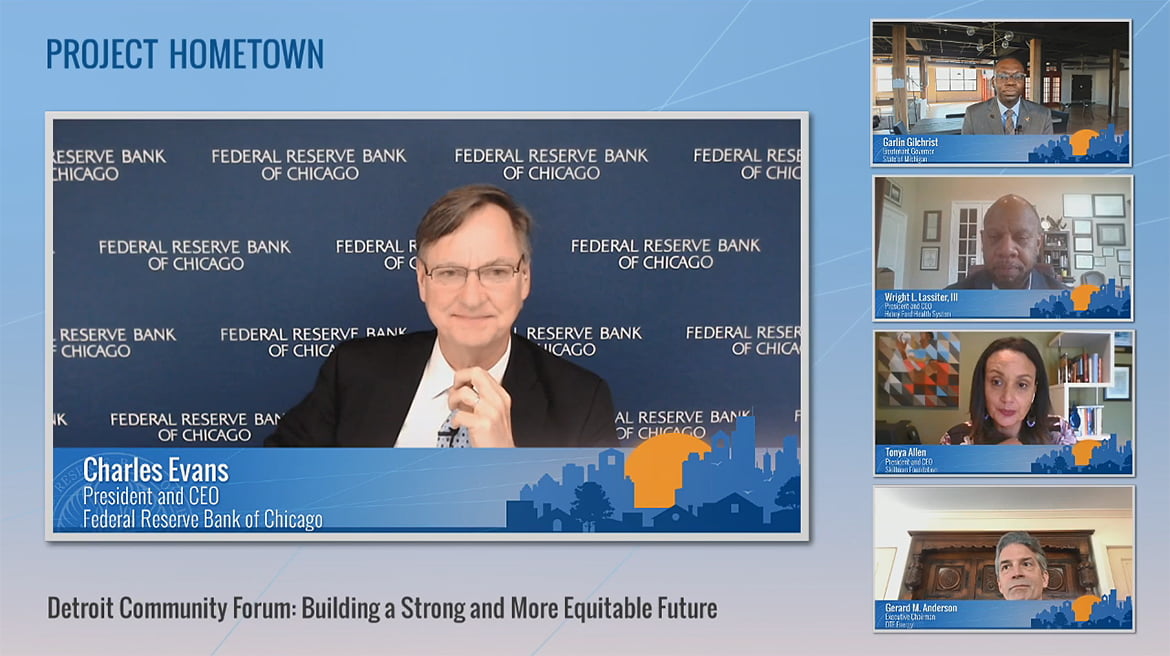 Since early 2020, we have convened 12 virtual public forums in Chicago, Detroit, Iowa, Milwaukee, and Wisconsin Rapids that featured researchers and non-profit, civic and business leaders. Panelists offered wide-ranging perspectives on the immediate effects of the pandemic and how long-standing inequality and racism were contributing factors. To learn more about the discussions in these public events, you can read the summaries in our Chicago Fed Insights blog, or view complete transcripts and videos on our website.
In addition to the public forums, we held discussions with numerous Chicago Fed employees to seek their perspectives on how the pandemic and recession are affecting our District's communities and potential responses. We also analyzed data and consulted with external researchers to hone our understanding of these issues. Please visit our website to read staff research on the pandemic's employment effects by race and type of work and on Asian Americans, on opportunity zones, and evidence on most effective interventions to reduce racial economic disparities.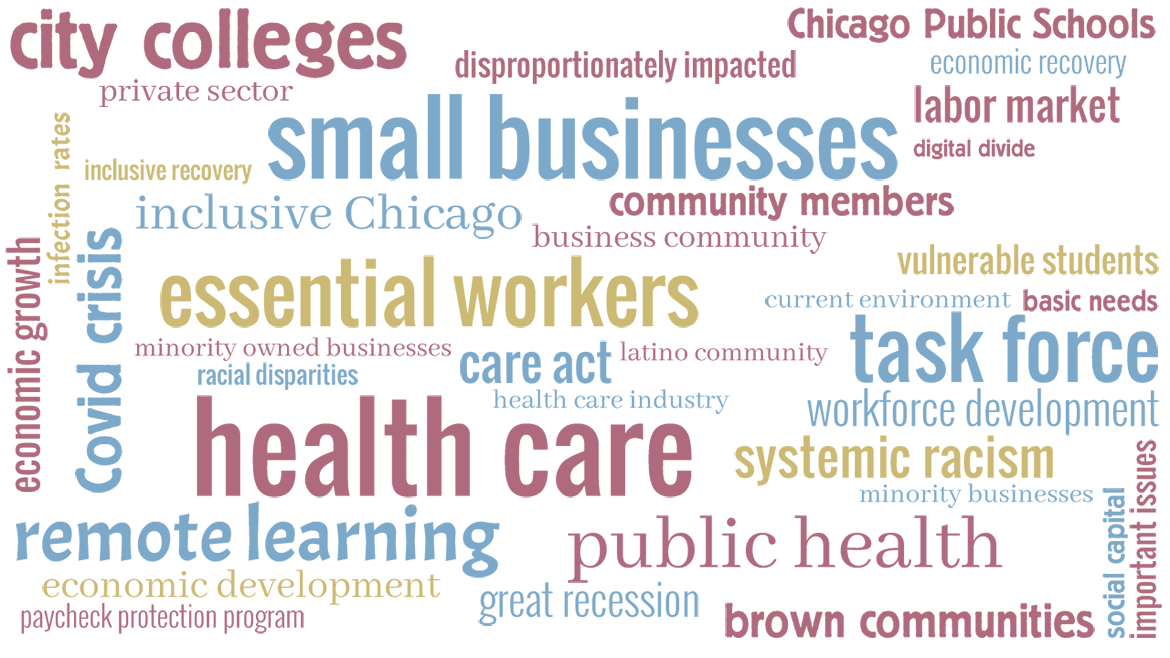 Lessons So Far:
The pandemic is amplifying long-standing disparities among people and communities along lines of income, race, ethnicity, gender, age, and geography. Our research documented the vast disparities in health and economic outcomes across communities in our District, as well as the scale of the challenges confronting our most disadvantaged communities.
Black and LatinX Chicago Residents Have Experienced Higher Covid-Related Deaths than Whites
Source: City of Chicago Data Portal, as of December 2, 2020
Covid-Related Deaths Have Been Higher in Chicago Neighborhoods with Greater Pre-Pandemic Economic Needs
The figure plots the median Covid-19 related deaths per 100,000 residents for Chicago zip codes, grouped by the share of the population with income below the poverty line in 2018. Residents in neighborhoods with higher rates (e.g. 30-45 percent) earned less on average those in neighborhoods with lower shares (e.g. 0-15 percent).

Source: 2018 American Census Survey and City of Chicago Data Portal, as of December 2, 2020.
Left unaddressed, the disruption from the pandemic is likely to leave long-lasting economic scars in our communities, particularly on children and young adults. In Chicago, we heard how the pandemic is leaving a trail of disrupted education, reduced employment prospects, and trauma for younger generations, particularly for those from disadvantaged communities. Disruptions to the human capital investment process at critical times can lead to long-run effects on individuals' well-being, opportunities, and life-time earnings.
Our research has highlighted that the highest-return, evidence-based interventions for reducing racial economic disparities tend to support children or have large spillovers to children.
Our District needs tailored solutions that address the challenges that are unique to each of our communities. Recovering from the aftermath of severe drought in Iowa requires a different approach than addressing the challenges of paying rent for many businesses and families in Chicago. While communities share certain needs, like providing equitable access to high-quality education, they differ in the available resources and the relevance of potential solutions.
Many dedicated individuals and organizations have accelerated their efforts to address long-standing disparities and the damage from the pandemic. Community experts will play a critical role in developing comprehensive, informed, and multipronged solutions to these complex problems. Also, renewed local and national attention provides an opportunity to reimagine strategies and build a more inclusive economy.
Next Steps
We will listen. We will continue to get input from people and communities across our District about the issues they are confronting and their strategies for responding.
We will sharpen our focus.

In Chicago, we will seek to elevate strategies that mitigate the impact of the pandemic and recession on disadvantaged youth, including exploring summer employment opportunities as an effective policy intervention with proven, sustained benefits.
We will directly seek the perspectives of youth on the challenges they face through a video competition.
We will discuss the ramifications of the digital divide for an inclusive recovery and growth with a panel of experts and business, community and civic leaders.

We will be a catalyst. Given the magnitude and urgency of the issues, it is imperative that we take action where we can make a difference. While many potential interventions to address the challenges facing communities in our District are outside the direct scope of the Federal Reserve's policy tools, we can help communities find solutions to their most pressing economic problems by leveraging insights from our own research and by learning from experts, residents, civic and business organizations and leaders.
How Can You Get Involved?
Share your perspective in the comment box below. We have a lot of work ahead of us. Our work will be richer with input from a broad range of people and organizations.
To attend our events, please visit our website.
Coming Soon Support our upcoming video competition for high school students in Chicago. Please sign up to be notified when the contest launches.
Include us in your conversations about how best to improve your community.
What gives me hope is the energy that I think exists at this moment that we will do better, that our society is best when all segments of the society are able to achieve their potential.
Wright L. Lassiter III
President and Chief Executive Officer
Henry Ford Health System
Thank you!
Thank you for your comments.