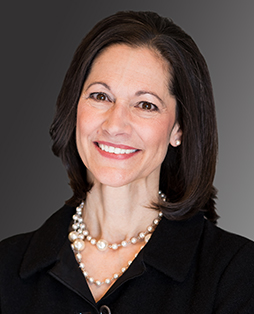 Anne Pramaggiore
Class C Director, Chair of the Board, Term: 2014-2016; 2017-2019
Chief Executive Officer
Exelon Utilities
Chicago, Illinois
As senior executive vice president and CEO of Exelon Utilities, Anne Pramaggiore is responsible for Exelon's six utilities-- ComEd, PECO, BGE, Pepco, Delmarva Power, and Atlantic City Electric-- which together deliver electricity and natural gas to approximately 22 million people in Illinois, Pennsylvania, Maryland, the District of Columbia, Delaware, and New Jersey.
Prior to her current position, Pramaggiore was the first woman to serve as president and CEO of Commonwealth Edison (ComEd), Illinois's largest utility company delivering electricity to 4 million customers in Chicago and Northern Illinois.
Under Pramaggiore' s leadership ComEd implemented the Energy Infrastructure Modernization Act, (also known as the Smart Grid Law) in 2011, a multi-year, $2.6 billion infrastructure modernization program and corresponding regulatory model redesign, resulting in record-breaking reliability and the highest customer satisfaction scores in the Company's 100-year history. Pramaggiore also drove the 2016 passage of the Future Energy Jobs Act (FEJA), ground-breaking energy legislation aimed at growing renewable energy development in Illinois, creating thousands of clean energy jobs, significantly expanding funding for customer energy efficiency programs and providing millions of dollars in assistance for income-eligible customers.
A strong advocate for workforce development and diversity, Pramaggiore led the creation of an array of community and education programs at ComEd to help increase diversity within the energy and construction industries, including STEM-related education programs for teen girls and African American and Latino high-school students; CONSTRUCT, a first-of-its-kind job training program designed to prepare diverse candidates for jobs in the construction and new energy trades; and Energy Force, in which developmentally-disabled adults are trained to serve as ambassadors for energy efficiency.
She is the Chair of the Board of Directors of the Federal Reserve Bank of Chicago, and serves on the Board of Directors for Motorola Solutions, Inc., Babcock and Wilcox Enterprises, the National Safety Council, and several civic and community organizations.
Pramaggiore is a 1989 graduate of DePaul University School of Law and served as editor-in-chief of the school's Law Review. She has a bachelor's degree in Communications and Theater from Miami University in Oxford, Ohio.