Corporate Social Responsibility
As part of the Chicago Fed's commitment to social responsibility, our office actively promotes collaboration between internal groups and external partners.
Chicago Fed Volunteers Teach Business Basics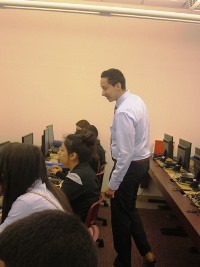 On July 15 and 17, a group of Chicago Fed volunteers gave students at Cristo Rey Jesuit and Christ the King Jesuit High Schools in Chicago an introduction to basic job skills as part of the schools' Summer Business Institute program.
The program prepares high school students from low-income families to work in business settings as part of the Corporate Work Study Program (CWSP). Through CWSP, students offset the majority of their tuition costs by working at sponsoring businesses one day a week during the academic year. The Latino Resource Association and the Women's Impact Network, two of the Chicago Fed's Employee Support Networking Groups, recruited volunteers that traveled to the schools. These dedicated volunteers lead classes in team building, public speaking and office skills like filing and Outlook during the Summer Business Institute.
"All of our incoming freshmen are required to go through this training and we put a special focus on communication," said Lillie Sellers, CWSP director of corporate relations. "Having the volunteers onsite gives students the chance to learn from and interact with the professionals they may be working for."
For the third year the Chicago Fed will sponsor students through the CWSP by hosting nine students from both Christ the King and Cristo Rey Jesuit High Schools during the 2014-2015 school year. Students will support staff in a variety of the Bank's departments and will also benefit from informal mentorship, hands-on work experience and practicing soft skills such as networking and relationship building.
Volunteer outreach activities like this are part of the Chicago Fed's Corporate Social Responsibility (CSR) efforts to provide economic and financial education to minority and female high school students and better understand paths to careers in finance and economics.
If you are interested getting in more information about connecting a group of minority or all girl high school students with the Federal Reserve Bank of Chicago please contact Cynthia Gauld in Office of Diversity and Inclusion at (312) 322-5403.
Collaborating to Confront Poverty
As part of our Corporate Social Responsibility (CSR) effort, the Federal Reserve Bank of Chicago and the Brookings Institution co-sponsored a forum entitled Collaborating to Confront Suburban Poverty in Metro Chicago on Thursday, September 26, and attended by more than 120 experts. The findings of a recent book by Brookings' fellows Alan Berube and Elizabeth Kneebone, Confronting Suburban Poverty in America, were the starting point of a discussion that brought together the public, private and nonprofit sectors.
A few facts from the book indicated that for the first time in history, the number of people living in poverty in suburban communities has surpassed that of those living in cities. In Chicago's suburbs, the number of poor residents almost doubled during the 2000s, growing by 93 percent. These were just a few of the many key findings and discussions that were presented at the event.
Organized by local consultants BriCK Partners, the event included opening remarks by Senior Vice Oresident and Co-chair of the Bank's CSR Council Valerie Van Meter and Cook County President Toni Preckwinkle.
Panels further discussed anti-poverty strategies already in place in the Chicago area and Illinois, including the Cook County Housing Collaboratives and the recently created statewide Commission on the Elimination of Poverty. The panels also cited a need for more education on these issues to avoid the suburban stereotype that these communities are not affected by poverty.
Closing remarks by Chicago Fed Board of Directors member and President and Chief Executive Officer of The Chicago Community Trust Terry Mazany touched on themes discussed throughout the event, including the need for broader and stronger collaborations. A summary of the event is available.
Office of Women and Minority Inclusion Releases Second Annual Report to Congress
The Office of Minority and Women Inclusion (OMWI) of the Federal Reserve Bank of Chicago submitted its second Annual Report to Congress, covering the period January 1 to December 31, 2012. The report provides a comprehensive summary of the Bank's accomplishments, challenges and opportunities related to minority and women employment; inclusion of minority and women owned businesses (M/WBEs) in contracts; and financial literacy outreach initiatives. The Report also provides year-to-year comparisons between 2011 and 2012 of diversity and inclusion indicators as they relate to workforce and supplier diversity. The progress outlined in the report reaffirms our ongoing commitment to diversity and inclusion, and demonstrates our continued interest in promoting these important objectives.
About Corporate Social Responsibility
Guided by the Corporate Social Responsibility Council, the Bank takes a holistic approach to its varied responsibilities, seeking to connect its internal and external practices with key initiatives that include:
Diversity & Inclusion
The Bank supports a diverse and inclusive work environment where employees are respected, treated fairly, and given equal opportunities to perform to their fullest potential.
Supplier Diversity
The Bank recognizes the importance of a diverse supplier base and is committed to including minority- and women-owned businesses in its procurement program.
Financial Literacy
Money Smart Week is a series of free classes and activities designed to help consumers better manage their personal finances.
Economic Education
Fed Challenge is an academic competition that provides students grades 9-12 the opportunity to study the U.S. economy through the lens of the U.S. Central Bank.
Community Development & Policy Studies
The principal mission of the Community Development & Policy Studies division is to support economic growth objectives by studying and promoting fair access to financial services.
Regional Economic Outreach
Economists at the Federal Reserve Bank of Chicago routinely carry out, and communicate the results of, a wide variety of research that relates to the welfare of the Midwestern economy.
Environmentalism
The Federal Reserve Bank of Chicago incorporates into its daily activities a range of business practices that contribute to a cleaner and healthier environment.
Volunteerism
Federal Reserve Bank of Chicago staff members participate on a regular basis in a variety of volunteer activities that help individuals and promote stronger communities.