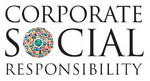 Corporate Social Responsibility
As part of the Chicago Fed's commitment to social responsibility, our office actively promotes collaboration between internal groups and external partners.
Office of Women and Minority Inclusion Releases Annual Report to Congress
The Office of Minority and Women Inclusion (OMWI) of the Federal Reserve Bank of Chicago submitted its Annual Report to Congress, covering the period January 1 to December 31, 2015. The report provides a comprehensive summary of the Bank's accomplishments, challenges and opportunities related to minority and women employment; inclusion of minority and women owned businesses (M/WBEs) in contracts; and financial literacy outreach initiatives. The report also provides year-to-year comparisons between 2014 and 2015 of diversity and inclusion indicators as they relate to workforce and supplier diversity. The progress outlined in the report reaffirms our ongoing commitment to diversity and inclusion, and demonstrates our continued interest in promoting these important objectives.
About Corporate Social Responsibility
The Bank takes a holistic approach to its varied responsibilities, seeking to connect its internal and external practices with key initiatives that include: