Last Updated: 06/24/16
Diversity & Inclusion
We support a diverse and inclusive work environment where employees are respected, treated fairly, and given equal opportunities to perform to their fullest potential. By valuing diverse experiences, styles, approaches and ideas, we can achieve our goals, serve our stakeholders and become a higher-performing organization.
Office of Diversity & Inclusion
Mission
The Office of Diversity and Inclusion has been established to build upon the Bank's ongoing efforts and assist the Bank's leadership in the development and execution of its strategic diversity and inclusion plans and the execution of related initiatives, including the monitoring and reporting requirements of
Section 342
of the Dodd-Frank Wall Street Reform and Consumer Protection Act.
Vision
Create synergy by connecting existing work across functions — bridging both external and internal best practices in the achievement of Diversity & Inclusion goals and objectives. These efforts will help to enhance the Bank's reputation as:
An Employer of Choice — a diverse and inclusive organization that attracts highly talented and motivated profesionals.
A Business Partner of Choice — cultivating external relationships with minority-owned and women-owned businesses to increase participation in the procurement process.
A Trusted Community Partner — build relationships and actively promote collaboration between the Bank, schools, and professional, civic and community organizations to support business priorities and the communities we serve.
Features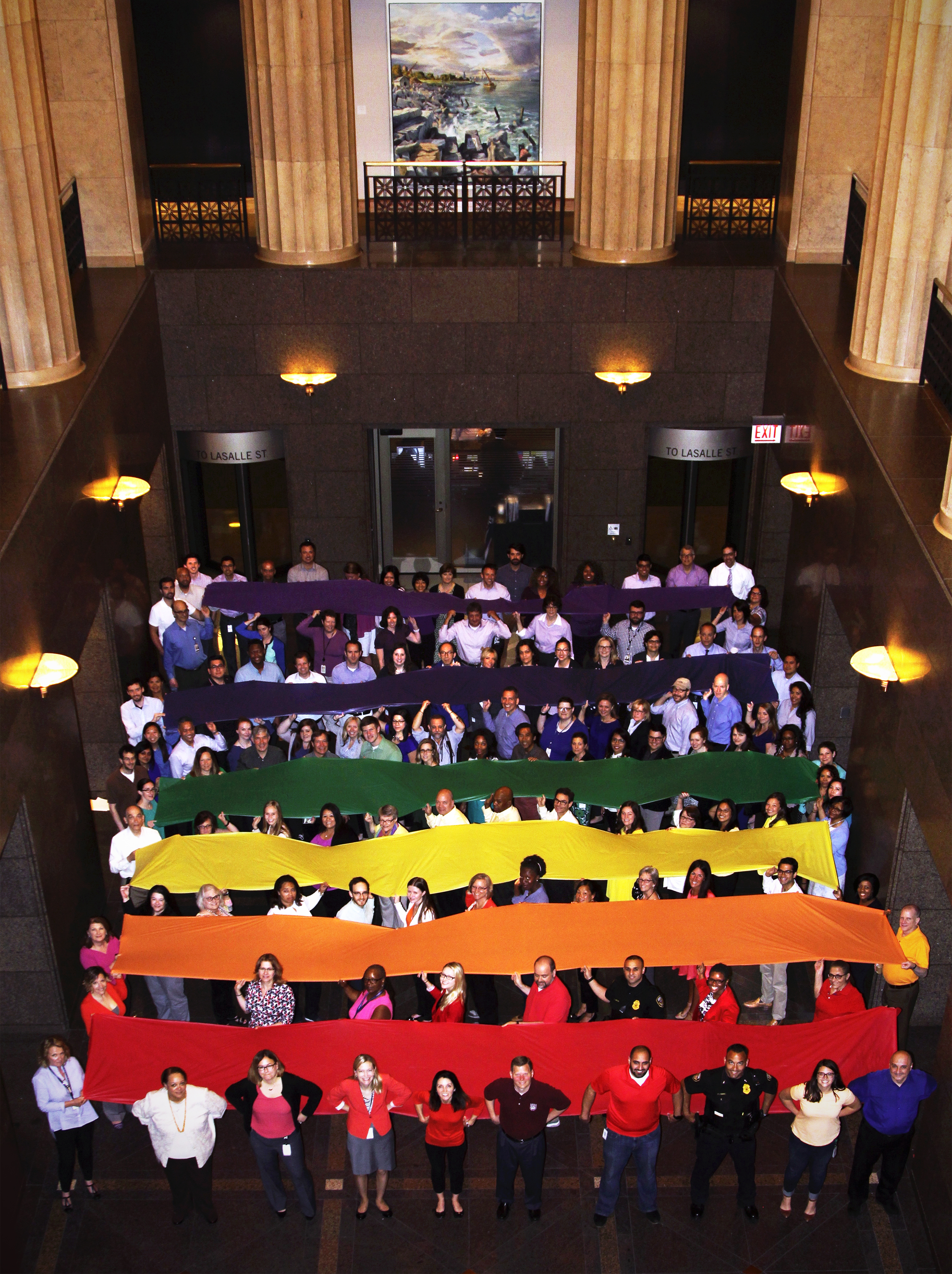 Lesbian, gay, bisexual and transgender (LGBT) employees and allies gathered Wednesday, June 22, in the Great Hall of the Federal Reserve Bank of Chicago to make a "human" pride flag in honor of LGBT Pride Month. More than 120 employees lined up in the colors of the rainbow to stand proud and show support for the LGBT community.

Spectrum, FRB Chicago's LGBT Employee Support Network Group, organized the photo as just one of their many events marking Pride Month. LGBT employee groups from around the System have created similar photos in the last few years, including Boston and San Francisco.
Spectrum will be hosting a public event next week, Pride Matters: Being Black and Gay in Corporate America, on Thursday June 30. Please register by Monday, June 27.
Office of Minority & Women Inclusion
The Federal Reserve Bank of Chicago's Annual Report to Congress offers a comprehensive summary of the Bank's accomplishments, challenges and opportunities as they relate to minority and women employment, supplier diversity and financial literary and community outreach. This report covers the period from January 1 through December 31, 2014. The Office of Minority and Women Inclusion (OMWI) was established by the Dodd-Frank Wall Street Reform and Consumer Protection Act, which was signed into law in 2010.
Senior Vice President & Chief Financial Officer Valerie J. Van Meter serves as the EEO Officer and Director of the Office of Minority & Inclusion (OMWI).
Updates from the OMWI Director
Press Releases