Public Policy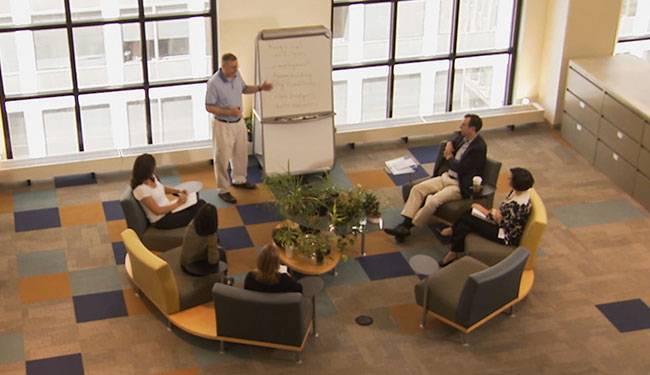 Public Policy
Chicago Fed President Charles Evans spoke at numerous public events to explain his thoughts about the health of the economy and national monetary policy.
Economists supported Evans in his monetary policymaking activities, preparing forecasts and special analyses to help prepare him for meetings of the Federal Open Market Committee.
Fundamental research was carried out on policy-relevant topics regarding business cycles, international developments, labor markets and financial markets.
Economists conducted research on many different parts of the Midwest economy and created a major analytic and tracking tool for the regional economy that uses a set of diffusion indexes based on survey responses.
Bank staff members deepened their understanding of the Seventh District's low- and moderate-income communities, profiling numerous regional manufacturing cities and combining in-depth qualitative studies with demographic and economic analyses.
Financial Stability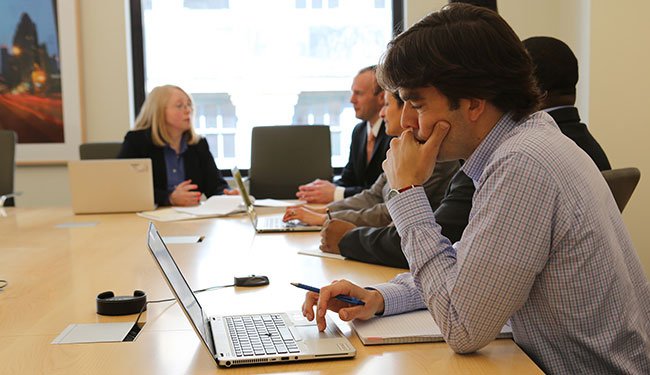 Financial Stability
Staff in the Supervision and Regulation Department continued to lead the Federal Reserve System's Wholesale Credit Risk Center (WCRC). The WCRC creates and maintains the Federal Reserve System models for commercial real estate and corporate credit and promotes analytics-driven supervision around wholesale lending for the Federal Reserve System.
Staff in the Supervision and Regulation Department met supervisory mandates and advanced efforts to strengthen the supervisory processes, analysis and controls across all portfolios of supervised institutions. In addition, staff devoted to community banking and consumer compliance portfolios conducted numerous outreach activities with community bankers throughout the year to identify ways to reduce regulatory burden. These discussions resulted in changes to processes where possible.
Teams within the Supervision and Regulation Department continued to provide project leadership, subject matter expertise, and exam support for stress tests and other cross-system supervisory efforts aimed at enhancing the stability of large banks, including the Comprehensive Capital Analysis and Review, Dodd-Frank Act Stress Tests, Comprehensive Liquidity Analysis and Review and Recovery and Resolution Planning.
Research staff made substantial contributions to the System's understanding of systemic stability issues related to the insurance industry. Staff contributed leadership and subject matter expertise to the on-going work of designing stress tests for insurers designated as Systemically Important Financial Institutions (SIFI).
Statistics Department staff members implemented new reporting series in support of capital planning and stress testing, systemic risk and liquidity monitoring.
Operations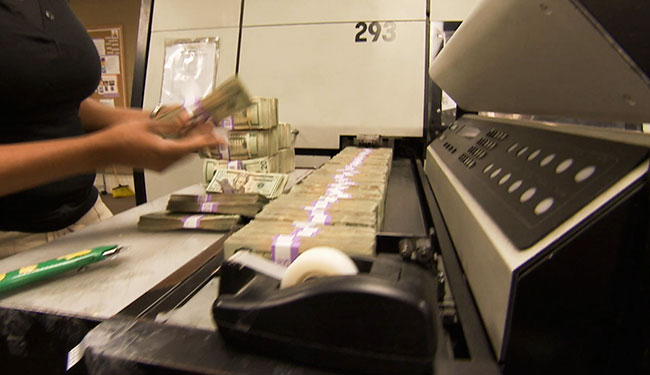 Operations
In local payment operations, Seventh District Cash operations maintained its strong control environment and exceeded performance targets.
The Customer Relations and Support Office (CRSO) continued its long history of making significant contributions to Federal Reserve Financial Services' cost-recovery requirements. Total System revenue of roughly $427 million was 2.7 percent favorable to target. This was due in part to successful sales and marketing strategies to retain and grow customer usage of Fed financial services.
The construction of the General Deliveries/Services building provided additional support to the vendor-delivery screening process.
Work continued on updating the cash processing space. Upgraded operational areas will enable the bank to continue providing high-quality, well-controlled, secure and reliable cash services.
Our Staff
Our Staff
Numerous activities took place throughout the year to celebrate the 100th anniversary of the first day of operation of the Federal Reserve Bank of Chicago.
Bank leaders continued focusing on attracting, engaging and retaining a skilled and diverse workforce through a variety of talent-management and employee-engagement initiatives.
The District sustained its longstanding commitment to ensuring equal opportunity in employment and promoting a culture of diversity and inclusion. A publication outlining efforts in this area.
Operations Volumes
Dollar Amount
Number of Items
Cash Operations

2014
2013
2014
2013
Currency Counted
49.0 Billion
50.1 Billion
3.1 Billion
3.0 Billion
Unfit Currency Destroyed
12.5 Billion
12.6 Billion
432.7 Billion
408.5 Million
Coin Bags Paid and Received
1.5 Billion
1.5 Billion
3.2 Million
3.1 Million
Number of Notes Paid and Received
114.3 Billion
119.1 Billion
7.0 Billion
7.0 Billion
Dollar Amount
Number of Items
Loans to Depository Institutions

2014
2013
2014
2013
Total Loans Made During Year
730.0 Million
856.5 Million
860 Loans
858 Loans