100 Years of Central Banking
The Federal Reserve System was created on December 23, 1913, when President Woodrow Wilson signed the Federal Reserve Act into law. Before the new central bank could begin operations, the Reserve Bank Operating Committee, consisting of Treasury Secretary William McAdoo, Secretary of Agriculture David Houston and Comptroller of the Currency John Skelton Williams, had the task of building a working institution from the basic framework of the new law. By November 16, 1914, the 12 cities chosen as sites for regional Reserve Banks were open for business.
Today, the Federal Reserve sets the nation's monetary policy, supervises and regulates banking institutions, maintains the stability of the financial system, and provides financial services to depository institutions, the U.S. government and foreign official institutions. Read more about the Centennial.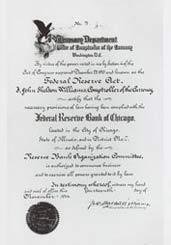 Selecting the Reserve Bank Locations
Once the Federal Reserve Act was approved, a Reserve Bank Organization Committee was assembled to determine which cities would become home to the Federal Reserve Banks. About 20 hearings were held in Chicago and in various cities across the country to take statements about the benefits of differnent locations. Both the Secretary of the Treasury and the Secretary of Agriculture were in attendance at the meeting held in Chicago on January 19, 1914. Read more...
The Structure of the Federal Reserve in 1914
Following the hearings and testimony, the Committee requested correspondence from banks and businesses to determine their preferred Reserve District. Businesses represented ranged from piano manufacturers to steel foundries to upholstery firms. Banks from Chicago to Bloomington, IN, to Sioux City, IA, sent letters, some hand written, to name their location choice for their Reserve Bank. On April 2, 1914, the final locations were announced. And, on May 27, 1914, those letters were answered when member banks were announced for each Reserve Bank. To see additional correspondence, read more...
Our Presidents
The Federal Reserve Bank of Chicago has been led by nine presidents during the course of its first one hundred years. The Bank's presidents have come from many walks of life — from businessmen to bankers to regulators and academics. One of our past presidents spent his entire career at the Chicago Fed, beginning at age 17 as an office helper. Learn more about the people who have led the Bank over the last century. Read more...
A Look Back at the Chicago Fed
Learn more about the early days of the Chicago Fed.
Federal Reserve System Centennial Advisory Council
Former Federal Reserve Chairmen Paul A. Volcker and Alan Greenspan are serving as honorary advisors, along with representatives from a range of private and public sector organizations. A list of members is available on the Federal Reserve Board of Governors' website.
Frequently Asked Questions
Some Frequently Asked Questions (FAQs) related to the Centennial commemoration and the inventory of historical collections are available here.