Last Updated: 10/19/16
Past Fed Challenge Winners
Past Winning Teams
2015 Winner
Nicolet High School, Glendale, Wisconsin
Sue Bolley, Coach
Raphael Hallerman
Hilary Merline
Filip Josifovski
Ravil Ashirov
Hubert Law
2014 Winner
St. Joseph High School, South Bend, Indiana
Julia Chismar, Coach
Nolan Liu
Molly Clark
Nora McGreevy
Vivian Crumlish
Nora Kelly
Michael Oei
2013 Winner
St. Joseph High School, South Bend, Indiana
Julie Chismar, coach
Phil DePauw, coach
Nick Wawrykow
Graham Murphy
Robert King
Michael Oei
Andrew Hildreth
Nolan Liu
2012 Winners
Thanks to all of our great teams. In our book, you all have what it takes to be future members of the Federal Open Market Committee. Our judges enjoyed all of your presentations and had a difficult time selecting. This year's winners are:
First: St. Joseph High School, South Bend, Indiana
Second: Nicolet High School, Glendale, Wisconsin
2011 Team
St. Joseph High School from South Bend, IN, emerged as our 2011 Midwest winners. Does your school want to be next? Join us in 2012! 2011 Winners
St. Joseph High School Wins 2010 National Fed Challenge!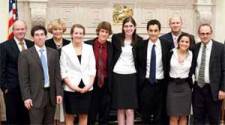 On May 18, a team of six students from Saint Joseph's High School in South Bend, Indiana, representing the Federal Reserve Bank of Chicago's Seventh District, took on teams representing several other Fed Districs and won the High School Fed Challenge competition national championship held in Washington D.C. Other participants in the finals were second place winner West Windsor-Plainsboro High School North, from Plainsboro New Jersey (New York District); third place winner Choat Rosemary Hall from Wallingford Connecticut (Boston District); and fourth place winner Chantilly High School from Chantilly, Virginia (Richmond 
2009 Regional Winners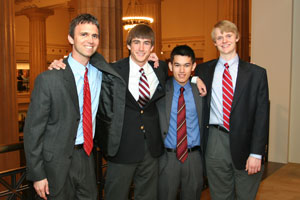 The state winners for the 2009 High School Fed Challenge met in Chicago on May 1 to see which team will represent the Seventh District at the national competition. After a lively competition, Brebeuf Jesuit Preparatory School from Indianapolis, Indiana, emerged the winners.
2008 Winners Take on D.C.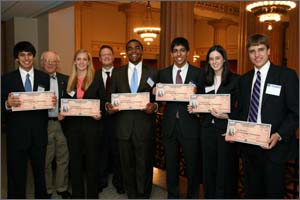 A team of five students from The University School of Milwaukee in Wisconsin represented the Federal Reserve Bank of Chicago and the Seventh Federal Reserve District in the national finals of the High School Fed Challenge competition in May in Washington D.C. The Wisconsin school was a runner-up in the competition behind Central High School in Little Rock, Arkansas, which captured first place.
Fed Challenge Rules
The Fed Challenge was developed to encourage greater awareness among students of how the U.S. economy functions and the role of the Federal Reserve in the economy. Each team is required to analyze current economic data, develop a monetary policy recommendation and defend that recommendation in front of a panel of judges. The team prepares a 30-minute demonstration, which encompasses a 15-minute presentation on the economy and a 15-minute period where students answer questions from the judges.
Presentations must include a discussion of economic conditions as of the day of the competition; a forecast of near-term changes in economic, financial and international conditions, such as unemployment and inflation; identification of conditions or situations that warrant attention in the formulation of monetary policy; and a recommendation as to whether the Fed should move to raise or lower interest rates.