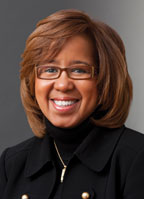 Sheilah P. Clay
President and Chief Executive Officer
Neighborhood Service Organization
Detroit, Michigan
As president and chief executive officer of the Neighborhood Service Organization (NSO) since 2000, Sheilah P. Clay has administrative oversight responsibility of a $27 million non-profit organization with 200 employees in Wayne and Oakland counties. NSO was established in 1955 as a private non-profit human service agency. Their mission is to provide diverse and innovative healthcare, community development, and community health services to meet the changing needs of the region's population.
Prior to her current role, Clay was the deputy director of program administration (1996-2000). She also served in various roles at the Detroit-Wayne County Community Mental Health Board (1991-1996), Kirwood Mental Health Center in Detroit (1979-1991) and Psychiatric Systems, P.C. in Detroit (1975-1979).
Clay earned a master's degree from Wayne State University and a bachelor's degree from Spelman College. Her honors and awards include: Youth Initiatives Project (2009); Top Ladies of Distinction, Inc. (2009); Carla Javits Award (ending homelessness 2008); and Certificate of Achievement from the State Department of Human Services (2008).
Clay currently serves on the Farmington Board of Education, Karmanos Cancer Institute Community Partnership Council, as a board member of the CareLink Network and is a member of the Detroit Collaborative to End Homelessness.