Last Updated: 05/01/16
AgConditions
The Seventh Federal Reserve District states of Illinois, Indiana, Iowa, Michigan and Wisconsin continue to play a key role in the agricultural economy of the United States, as well as the world. Although agriculture's share of the total Seventh District economy is decreasing, it remains a very important part of the larger economy.
Year-over-Year Changes in Farmland Values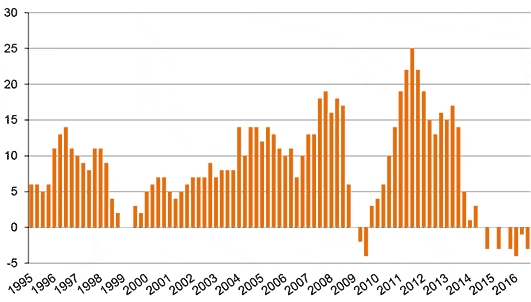 Index of Demand for Agricultural Loans
Index of Repayment Rates for Agricultural Loans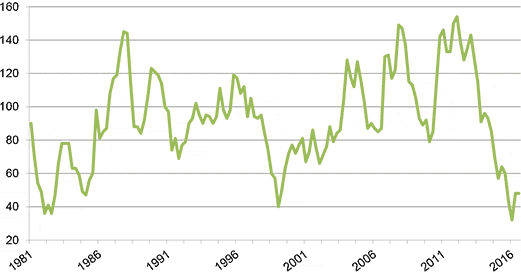 Interest Rates Charged on New Farm Loans in the Seventh District
Notes: For charts of indices, bankers responded to each item by indicating whether conditions during the current quarter were higher, lower, or the same as in the year-earlier period. The index numbers are computed by subtracting the percent of bankers that responded "lower" from the percent that responded "higher" and adding 100. These indices exclude real estate loans.

The chart of interest rates is based on data from the Chicago Fed's Land Value and Credit Conditions Survey. The black line indicates farm operating loans and the red line indicates farm real estate loans. This chart shows the average interest rates charged on farm loans. Since farming is a very capital-intensive industry, many farmers make extensive use of borrowed funds. High interest rates mean larger expenses and less profit.
Source for all charts: Land Value and Credit Conditions Survey, Federal Reserve Bank of Chicago
2015 Agriculture Conference
On November 17, 2015, the Federal Reserve Bank of Chicago will hold a conference to explore labor issues affecting agriculture and the rural Midwest entitled Labor Issues Facing Agriculture and the Rural Midwest. Farm jobs are key components of rural income in the Midwest, yet non-farm employment can be vital for many agricultural families. At the conference, experts from academia, industry and policy institutions will discuss workforce trends, labor challenges and ways to improve life in the rural Midwest. Registration is open. Read more...
2014 Agriculture Conference
On November 17, 2014, the Federal Reserve Bank of Chicago will hold a conference to examine the role of farm income in the Midwest economy. While farm income has long been an important driver of midwestern economic activity, its influence had been waning until the boom in crop prices of the past decade. Read more...