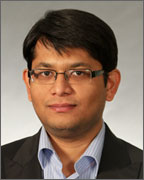 Rajeev Ranjan is a policy advisor and business economist, financial markets in the economic research department at the Federal Reserve Bank of Chicago, where he contributes to the Federal Reserve's position on public policy issues involving financial markets. His research interests include market-microstructure, algorithmic trading, exchange-traded derivatives, financial market infrastructures and fintech.

Ranjan started his career in 2006 with GH Financials as a point and click trader, trading Short Sterling interest rate futures at LIFFE before transitioning to algorithmic trading. Prior to joining the Federal Reserve in 2010, Ranjan worked with Chicago-based proprietary trading firm, DV Trading (a division of Rosenthal Collins Group) as an algorithmic trader/programmer and quantitative researcher.

Ranjan received his bachelors degree in information and communication technology from DA-IICT in India, a masters degree in finance from Illinois Institute of Technology and an M.B.A in economics and finance from University of Chicago's Booth School of Business.