Ninth Annual Automotive Outlook Symposium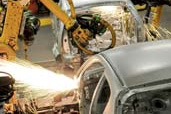 The ninth annual Automotive Outlook Symposium was held at the Detroit branch on May 30–31, 2002 and drew industry analysts from vehicle manufacturers, suppliers, and consulting firms. The Thursday session (co-sponsored by J. D. Power and Associates) featured roundtable discussions on the issues of labor and production costs. The Friday session featured presentations on the industry outlook from various perspectives. Additionally, 34 analysts contributed forecasts to the 2002–2003 consensus outlook.
Thursday, 05/30/02
8:30 AM
Addressing Global Cost Competitive Pressures in the "New Economy"
Co-sponsored by J. D. Power and Associates.
9:00 AM
Focus on Labor Costs
The Cost of Productivity, Big 3 Automotive Labor Relations
Sean&nbspMcAlinden
,
Director, Economics & Business Group, Center for Automotive Research
,
Altarum Group
Global Production Sharing: The Mexican Case
Pia&nbspOrrenius
,
Senior Economist
,
Federal Reserve Bank of Dallas
12:00 PM
Focus on Production Costs
Economic Challenges in Today's Automotive Industry
Larry&nbspAchram
,
Vice President, Advanced Vehicle Engineering
,
DaimlerChrysler
Friday, 05/30/03
9:00 AM
Morning Presentations
Consensus Economic Outlook
William&nbspStrauss
,
Senior Economist and Economic Advisor
,
Federal Reserve Bank of Chicago
2002–2003 Light Vehicle Sales Outlook
Ellen&nbspHughes-Cromwick
,
Senior Economist
,
Ford Motor Company
Heavy Truck Industry Outlook
Ken&nbspVieth
,
Co-principal
,
Americas Commercial Transportation Research Company
Sales Outlook from the Dealers' Perspective
Paul&nbspTaylor
,
Chief Economist
,
National Automobile Dealers Association
1:15 PM
Afternoon Presentations
What Does Wall Street Want from the Automotive Industry?
Dave&nbspAndrea
,
Director, Forecasting Group, Center for Automotive Research
,
Altarum Group
Used Vehicle Outlook
Tom&nbspKontos
,
Chief Economist
,
Manheim Auctions