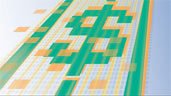 The Federal Reserve Bank of Chicago hosted its sixth annual payments conference, Investing in Payment Innovations: Risks and Rewards, on May 12–13, 2006. The conference explored recent trends in the adoption of payment technologies. The conference addressed the following questions:
What are key features of successful investment strategies in payments? How important are end-user benefits in driving the adoption of new payment technologies? How should payment system participants position themselves to meet global security challenges?
Speakers included decision-makers from financial institutions, payment networks, merchants, payment innovators, venture capital firms and central banks, along with academics.
Back To Top