After the Perfect Storm: Competitive Forces Shaping the Auto Industry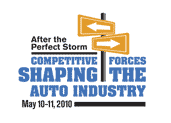 The U.S. auto industry experienced its worst downturn in memory as all major markets around the world slowed down at the onset of the global recession. Two of the Detroit carmakers were near death until the U.S. government rescued them. As conditions returned to normalcy, this conference focused on the question of which factors would shape the industry's competitiveness going forward. What would the North American auto industry look like in 2020? The conference featured keynote addresses by Steve Rattner, former Counselor to the Secretary, U.S. Department of the Treasury; Tom Stallkamp, Industrial Partner, Ripplewood Holdings; and Bob King, Vice President, UAW. There were also sessions on the following topics:
The current state of the auto industry
Industry competitiveness
Regulation of automobiles and financing of innovation
Monday, 05/10/10
2:00 PM
Welcome and Opening Remarks
Daniel&nbspSullivan
,
Senior Vice President and Director of Research
,
Federal Reserve Bank of Chicago
View Bio
2:15 PM
Opening Keynote
Steve&nbspRattner
,
Former Counselor to the Secretary
,
U.S. Department of the Treasury
View Bio
3:15 PM
Session 1: The Current State of the Auto Industry – What Has Changed in the Last 18 Months
Chair
5:15 PM
Keynote
Introduction
David&nbspAndrea
,
Vice President, Business Development
,
Original Equipment Suppliers Association
Tom&nbspStallkamp
,
Industrial Partner
,
Ripplewood Holdings
View Bio
Tuesday, 05/11/10
8:00 AM
Registration and Continental Breakfast
8:45 AM
Session 2: What Will the Auto Industry Look Like in 2020? What Is Likely to Shape Success?
Chair
Martin&nbspBaily
,
Senior Fellow
,
Brookings Institution
View Bio
Dan&nbspHancock
,
Vice President, Global Powertrain Engineering
,
General Motors Corporation
View Bio
John Paul&nbspMacDuffie
,
Associate Professor
,
University of Pennsylvania
View Bio
Production System: Flexibility and Modularity
Doug&nbspSzopo
,
Executive Director
,
Global Product Planning and Strategy, Ford Motor Company
View Bio
Product Strategy: Global or Regional?
Sue&nbspHelper
,
Professor
,
Case Western University
View Bio
10:45 AM
Session 3: Regulation, Policy and Innovation
Chair
1:00 PM
Lunch Keynote
Introduction
Robert&nbspWiley
,
Senior Vice President and Detroit Branch Manager
,
Federal Reserve Bank of Chicago
A New Role for Labor? Partner and Owner
Bob&nbspKing
,
Vice President
,
United Auto Workers
View Bio
2:00 PM
Adjourn
Last Updated: 07/01/2010