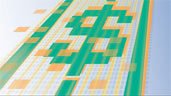 Over the last few years, the economy has experienced an unprecedented level of change. Amidst this environment, the payments industry has undergone changes as well, such as new consumer protection regulations for payment cards. While it has yet to be determined which consumer payment practices will undergo the most change, it is clear that businesses have had to alter pricing, marketing, and product strategies in order to remain competitive. Further, the industry and policymakers have recognized the importance of business innovations as well as financial education to help protect against future shocks. As economists and business leaders attempt to survey the payments landscape and understand what we have learned as a result of recent events, the Chicago Fed will bring together leaders from throughout the industry to discuss the following:
What innovations have the payments industry developed in response to recent economic events?

 

How have consumers' payments behaviors changed, and are these changes likely to be permanent?

 

What is the future direction of payments policy?
Who Should Attend?
Decision-makers from financial institutions, payment networks, regulatory bodies, central banks, merchants and payment innovators as well as academics.
Registration Information
Registration for the 2010 Payments Conference is now closed. You may still enter your information on the registration page to be added to our waiting list. If you have any questions, please contact Susan Parren (information in the sidebar).
Back To Top