Tenth Annual Private Equity Conference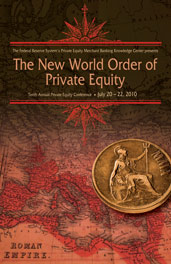 July 20–22, 2010
Invitation Only
The Federal Reserve Bank of Chicago hosted its Tenth Annual Private Equity Conference. The theme of this year's conference was The New World Order of Private Equity.
Global private equity (PE) assets under management now stand at over $2 trillion, with committed but undeployed capital exceeding $1 trillion. However, standard industry activity indicators, such as fundraising, deal flow and liquidity events through public markets or merger and acquisition (M&A) activity, have remained restrained. The economic downturn has impaired the availability of credit and the financial condition of industry participants. Reduced limited-partner investment capacity, diminished prospects at portfolio companies and fewer potential lenders have inhibited general partners. Secondary market funds were the only subsector that prospered in 2009, with record capital committed. However, consummated transactions remained limited, as large bid-ask spreads dampened optimism for deals. Private equity firms are now spending more time than in past years with their portfolio companies, bankers, limited partners and advisors, focusing on how to "survive rather than thrive."
   
Refinancing risk from leveraged buyouts has placed stress on portfolio companies, lenders and PE investors and sponsors. The buyout boom produced excesses such as subdued interest rates, weak covenants and abnormally high borrowing multiples. Rapidly escalating through 2014, a looming 'Wall of Debt' presents a challenge for portfolio companies as difficulties refinancing or paying off these loans could put pressure on all market participants.
 
Private equity is already feeling the effects of increased government involvement. Investment opportunities in many sectors are shaped by regulation or taxation. Possible changes in how compensation is taxed and regulatory efforts to foster transparency in the PE industry have also captured the attention of PE insiders. However, the specter of financial reform has generated the most concern and is projected as the most potentially disruptive of government actions.
Private equity observers expect to see the roster of participating firms shrink, as continuing fundraising challenges force marginal PE firms in need of capital to either close or merge with other firms. This trend could be even more pronounced in the venture sector, with one-third of these firms expected to leave the market. Overall, the current climate will continue to provide numerous challenges but, if the economy continues to stabilize and credit becomes more available, 2010 could prove more fruitful, even in the new world order of private equity.
 
Receptions and luncheons were provided as part of the conference program. This website will continue to be updated as additional presentations become available.
This conference was not open to the media or the general public. Participants are requested to use discretion in sharing the content of the conference with professional colleagues.
Tuesday, 07/20/10
2:00 PM
Pre-Conference Workshop
Private Equity – International
N Bulent&nbspGultekin
,
Associate Professor of Finance
,
The Wharton School, University of Pennsylvania
Ammar A&nbspAlkhudairy
,
Chief Executive Officer and Managing Director
,
Amwal AlKhaleej Investment Company
Wednesday, 07/21/10
8:00 AM
Conference Kickoff
Carl R&nbspTannenbaum
,
Senior Vice President – Supervision & Regulation
,
Federal Reserve Bank of Chicago
8:15 AM
Opening Keynote
The Art of Investing in the Financial Sector
Mark K&nbspGormley
,
Partner
,
Lee Equity Partners
9:15 AM
Panel
Plus ça Change, plus c'est la Meme Chose – Private Equity's Evolving Role in the Economy and in Investor Portfolios
Moderator
Mark&nbspO'Hare
,
Founder and Managing Director
,
Preqin Ltd.
Panelists
Paul J&nbspCarbone
,
Director
,
Baird Private Equity
John&nbspCrocker
,
Partner
,
Atlantic-Pacific Capital
William B&nbspFranklin
,
Managing Director
,
Conversus Asset Management
Greg&nbspUebele
,
Director-Private Equity
,
Boeing Company
Wilson S&nbspWarren
,
Partner
,
Lexington Partners
10:45 AM
Breaking the Wall of Debt – the Leveraged Loan Market
Meredith W&nbspCoffey
,
Senior Vice President of Research, Communication and Membership
,
Loan Syndications and Trading Association
11:45 AM
Interactive Discussion
When Legislation and Private Equity Collide: The Aftermath
Facilitator
William Y&nbspMark
,
Lead Examiner - Private Equity Merchant Banking Knowledge Center
,
Federal Reserve Bank of Chicago
12:30 PM
Luncheon Keynote
The Daily Grind: The Altered State of Private Equity
Glenn&nbspHutchins
,
Co-Founder and Co-Chief Executive
,
Silver Lake
2:00 PM
Panel
Minute to Learn It: Trends and Lessons Learned in Private Equity
Moderator
Steven J&nbspPinsky
,
Founder
,
Sutton Advisory Group
Panelists
Warren H&nbspFeder
,
Partner
,
Carl Marks Capital Advisory Group
Thomas W&nbspJanes
,
Founder and Chief Executive Officer
,
Kerry Capital Advisors Inc.
Joseph C&nbspLinnen
,
Principal
,
The Jordan Company, LP
James P&nbspMarra
,
Director of Business Development
,
Blue Point Capital Partners
3:25 PM
Private Equity Compensation
Steven N&nbspKaplan
,
Neubauer Family Professor of Entrepreneurship and Finance
,
University of Chicago Booth School of Business
4:35 PM
Panel
The Limited Partner Perspective: Passive No More
Moderator
John K&nbspKim
,
Partner
,
Court Square Capital Partners
Panelists
Stephen H&nbspCan
,
Managing Director
,
Credit Suisse Strategic Partners
David&nbspFann
,
President and Chief Executive Officer
,
Pacific Corporate Group Asset Management
John P&nbspRompon
,
Managing Partner
,
McNally Capital
Greg&nbspTurk
,
Director of Equity Investments
,
Teachers' Retirement System of Illinois
5:50 PM
Reception
Third Floor Conference Center
Thursday, 07/22/10
8:30 AM
Panel
The Global Venture Capital Model
Moderator
Randy&nbspMitchell
,
International Trade Strategist for Private Equity and Senior Advisor for Entrepreneurship
,
U.S. Department of Commerce
Panelists
Robert R&nbspAckerman
,
Managing Director and Founder
,
Allegis Capital
Susan E&nbspBoedy
,
Principal
,
Knightsbridge Advisers
Victor W&nbspHwang
,
Managing Director and Co-founder
,
T2 Venture Capital
Matthew B&nbspMcCall
,
Partner
,
New World Ventures
John S&nbspTaylor
,
Vice President–Research
,
National Venture Capital Association
10:10 AM
Keynote Interview
When Legislation and Private Equity Collide: Predictions and Preparations for the Future of Private Equity
Richard M&nbspCashin
,
Managing Partner
,
One Equity Partners
Interviewer
William Y&nbspMark
,
Lead Examiner-Private Equity Merchant Banking Knowledge Center
,
Federal Reserve Bank of Chicago
11:00 AM
Panel
Private Equity Risk Management in the 21st Century
Moderator
Timothy G&nbspKelly
,
Partner
,
Adams Street Partners
Panelists
Frederick W Eubank&nbspII
,
Managing Partner
,
Pamlico Capital
Edward&nbspHortick
,
Managing Director
,
VCFA Group
Christopher S&nbspLaursen
,
Senior Consultant
,
NERA Economic Consulting
Pierre-Yves&nbspMathonet
,
Head of Risk Management – Venture Capital
,
European Investment Fund
12:35 PM
Luncheon Keynote
Ethical Behavior and Private Equity
Georg&nbspKell
,
Executive Director
,
United Nations Global Compact

2:00 PM
Adjourn
 Tour of the Federal Reserve Bank of Chicago to follow.
Hotel Information
Please call the hotel directly, ask for reservations and identify yourself as attending a Federal Reserve Bank of Chicago conference to obtain our current rate. If you need to cancel, please notify the hotel 48 hours in advance of your arrival to avoid a no-show charge equivalent to a one-night stay. Please note that we cannot guarantee the availability of any hotel. Please call early to ensure your choice of hotel and rate.  If you have any questions, please contact Kathryn Kerner (information in sidebar to the right).
Club Quarters Hotel, City Center
111 W Adams St
A business class property located just 2 blocks from the Federal Reserve Bank in the heart of the city's financial district. This property just underwent a complete renovation of all sleeping rooms. Full service restaurant onsite, Elephant and Castle, also provides room service.
Rates: Start at $119 + tax
Hotel Reservations (Member Services): (212) 575-0006
Club Quarters, Wacker at Michigan
75 E Wacker Dr
Situated at Chicago's most visited intersection along the Chicago River (just off Michigan Avenue), this landmark tower has been fully restored to its historical grandeur. The building offers spectacular views of the skyline, including the floodlit landmarks - Wrigley Building and Tribune Tower - immediately across the river. Just north of the Club Quarters is the Magnificent Mile, famous for shopping. A convenient walk to the Chicago Cultural Center, Grant Park and Marina City. Featuring Bacino's Restaurant, offering American and Italian fare in a relaxed, split-level restaurant.  This property is within walking distance of the Bank for energetic walkers.
Rates:  Start at $124 + tax
Hotel Reservations (Member Services):  (212) 575-0006
Omni Chicago Hotel
676 N Michigan Ave
A luxury, all suite property, the Omni Chicago Hotel is located on the city's magnificent mile of sight seeing, shopping and dining. This hotel is a 10-15 minute cab ride to the Federal Reserve Bank of Chicago (not within walking distance).
Rates:  Start at $189 + tax
Hotel Reservations:  (312) 944-6664
Union League Club
65 W Jackson Blvd
 A private club housed in a historical and architectural landmark building. Guests can enjoy many of the amenities the club offers, such as their extensive art collection, stately library and athletic department, including a swimming pool. This property is located less than 2 blocks from the Federal Reserve Bank.
Rate:  $140.00 + 20% club surcharge
Hotel Reservations: (312) 427-7800
The W Hotel City Center
172 W Adams St
A cosmopolitan property in the middle of Chicago's Loop, the W Hotel features Rainforest showers, oversized work desks, down pillows and more. This property is just around the corner from the Federal Reserve Bank.
Rate: Call for current rates.
Hotel Reservations:  (312) 332-1200