Food Safety: Policy Changes, Science-Based Opportunities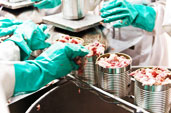 The federal government began the process of implementing measures mandated by the Food Safety Modernization Act, signed into law in January 2011. This act imposed new requirements on almost any business that manufactures, processes, packs, distributes, receives, holds or imports food. This will accelerate the progress, already well underway in the private sector, toward a more science-based food safety system with global reach.
To comply and remain competitive, companies need innovative solutions. The Midwest is a world leader in agriculture and food production with annual shipments from food processing facilities in the region estimated at over $200 billion. Throughout the Midwest leading academic and government laboratories are engaged in important research that can provide needed innovation.
As part on an ongoing dialog between research institutions and industry to preserve and strengthen the economy of the region, this program provided a forum for meaningful interactions between key executives and scientists, with a view to creating new products and novel, effective solutions to improve food safety.
Robert Hibbert
Attorney, K & L Gates L.L.P.
Robert Hibbert is a Washington, D.C.-based attorney with K&L Gates L.L.P. His practice focuses on regulation of the food and agricultural industries. He formerly served as a senior attorney with the U.S. Department of Agriculture, and subsequently directed the USDA's standards and labeling staff, formulating policy in areas including food safety, product standards and nutrition labeling. He also held the position of vice president and general counsel with the American Meat Institute.
Tuesday, 07/19/11
8:00 AM
Welcome
David&nbspOppedahl
,
Federal Reserve Bank of Chicago
View Bio
8:15 AM
Keynote Speaker
Robert&nbspHibbert
,
K & L Gates L.L.P.
View Bio
8:45 AM
Scientific Panel
Moderator
Panelists
9:30 AM
Industry Panel
Moderator
Matthew&nbspBotos
,
Vice President
,
Illinois Science & Technology Coalition
View Bio
Panelists
Justin&nbspRansom
,
Assistant Vice President, Food Protection and Government Affairs
,
OSI Industries
View Bio
Greg&nbspWest
,
President
,
National Pasteurized Egg Inc.
D J&nbspAlwattar
,
Vice President
,
Northland Laboratories
View Bio
10:15 AM
Discussion
Adjournment is at 10:30 a.m.
Last Updated: 07/15/2011