The New Face of Retail Payments: Markets, Strategies and Regulations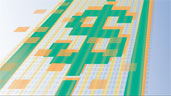 Eleventh Annual Payments Conference
The Federal Reserve Bank of Chicago will host its annual payments conference on May 19-20, 2011. This year's theme is The New Face of Retail Payments: Markets, Strategies and Regulations. During this two-day event, we will focus on the following questions: 
How will consumers fare in the new payments market?
How will financial institutions alter their business models in response to regulation and legislation?
What will the retail payments market look like in the future?
Who Should Attend?
Decision-makers from financial institutions, payment networks, regulatory bodies, central banks, merchants and payment innovators as well as academics.
Registration Information
Early Registration Discount: Save $100.
If received from March 12, 2011, through May 6, 2011, registration fee will be $450.
If received after May 6, 2011, registration fee will be $550.
Cancellations after May 6, 2011, will not be refunded. Please notify us in writing of any substitutions. If you have any questions, please contact Susan Parren (information in the sidebar).
Due to space constraints, we respectfully request that no more than five (5) representatives from a single company register for the conference. Please contact Sue Parren with questions.