Eighteenth Annual International Banking Conference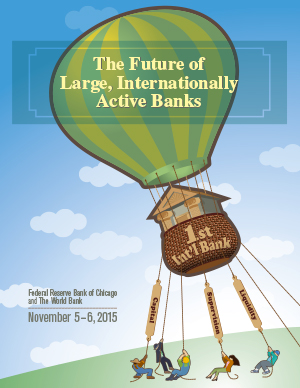 Register Now!
The Future of Large, Internationally Active Banks
The Federal Reserve Bank of Chicago will hold its annual International Banking Conference on November 5–6, 2015. This year's topic is The Future of Large, Internationally Active Banks, and the event is co-sponsored by the World Bank. The purpose of the conference is to identify and address important issues currently affecting international financial markets and institutions. The conference will be held at the Federal Reserve Bank of Chicago Conference Center.
Keynote Speakers
Daniel K. Tarullo
Governor, Board of Governors of the Federal Reserve System
Thomas M. Hoenig
Director and Vice Chairman, Federal Deposit Insurance Corporation
Ingo Walter
Seymour Milstein Professor of Finance, Stern School of Business
The Great Financial Crisis of 2007–10 has had a major impact on large cross-border banks, which are widely blamed for the start and severity of the crisis. As a result, much public policy, both in the United States and elsewhere, has been directed at making these banks safer and less influential by reducing their size and permissible powers through increased government regulation.
The conference will discuss topics such as: the current regulatory landscape for large and internationally active financial institutions; the impact of regulation on bank permissible activities and international trade; improvements in risk management; necessary repairs to the bank safety net; the resolution of insolvent banks operating across national borders; corporate governance for banks in the new environment; implications for market and government discipline; and progress in achieving international cooperation.
Conference participants will explore how these issues are addressed in the Dodd–Frank Act of 2010 and in international regulatory reform programs. How does the bank "single supervisory mechanism," led by the European Central Bank, address these issues? What lessons can we draw from the changes in bank operations to date? What additional changes can we expect? Are internationally active banks "too-big-to-fail?" Is the definition of "systemically important" institutions, which require enhanced prudential regulation, appropriate or too broad?
These important public and private policy issues will be discussed by international policymakers, practitioners, researchers and academics from more than 30 countries over the two-day conference. In addition, the conference will feature three keynote speakers. If past conferences are any indication, many of the ideas raised at the conference are likely to be the policy reforms addressed in the near future.
Conference Registration Fee
Register by October 16 for the Early Bird Fee: $650
Fee after October 16: $700