Skill-Based Workshop: General Tools of Research
An overview of general tools used in research with specific examples of how these tools are used.
---
Cassandra Duchan
MBA-MPP Candidate
Stanford University & Harvard University
Presenter
Cassandra Duchan is a former senior research assistant at the Board of Governors of the Federal Reserve System in the Consumer and Community Affairs division, where she contributed to policy and research work within the section, as well as her own individual work. Her interests lie in economic empowerment, community development, geospatial analysis, and demographics. Born and raised in Colorado, she has a BA in economics from the University of Colorado Boulder, and is an alumna of the American Economic Association Summer Program. Currently, she is pursuing dual master's degrees in business administration and public policy at Stanford University and Harvard University.
---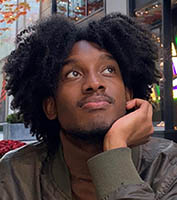 Malcolm Thomas
Senior Research Assistant
Federal Reserve Bank of Chicago
Panelist
Malcolm Thomas is a senior research assistant in the Federal Reserve Bank of Chicago's Community Development and Policy Studies division, where he contributes to his team through data analysis and research support. His work centers on pursuing racial equity, bridging the gap between research and communities, and cultivating more inclusive economies. This work helps propel several projects for his team, ranging from studying determinants of the racial gap to understanding how we can fortify marginalized communities during economic downturns. Thomas is a graduate of Howard University where he earned bachelor's degrees in both political science and economics.
Skill-Based Workshop: General Tools of Research