Keynote Speaker: Susan Collins
A personal perspective on succeeding in economics.
---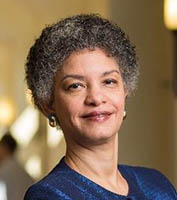 Susan Collins
Provost
University of Michigan
Susan M. Collins is provost and executive vice president for academic affairs at the University of Michigan. She joined the Michigan faculty in 2007, serving as the Joan and Sanford Weill Dean of the Gerald R. Ford School of Public Policy until 2017. Currently she is the Edward M. Gramlich Collegiate Professor of Public Policy as well as professor of economics in the College of Literature, Science, and the Arts.
An international macroeconomist, Collins has a lifelong interest in understanding and fostering policies to improve living standards in countries at all levels of development. Her research has focused on understanding economic growth, the roles of China and India in the global economy, cross-border financial integration, and linkages between trade and labor markets, among other topics. She edited the Brookings Trade Forum from 1999 to 2007.
Collins is a board member of the Federal Reserve Bank of Chicago, the National Bureau of Economic Research, and the Peterson Institute for International Economics, and she is a member of the Council on Foreign Relations. She has served as president of the Association of Professional Schools of International Affairs, as a member of the American Economic Association (AEA) Executive Committee, and as chair of the AEA's Committee on the Status of Minority Groups in the Economics Profession.
Prior to her appointment at Michigan, Collins was a professor of economics at Georgetown University and senior fellow in the Economic Studies Program at the Brookings Institution (where she retains a nonresident affiliation). She started her career as a faculty member at Harvard University. She has also served as a senior economist for the President's Council of Economic Advisers and as a visiting scholar at the International Monetary Fund. Collins received her undergraduate degree in economics from Harvard University and her doctorate in economics from the Massachusetts Institute of Technology.
Keynote Speaker: Susan Collins