Thirteenth Annual Risk Conference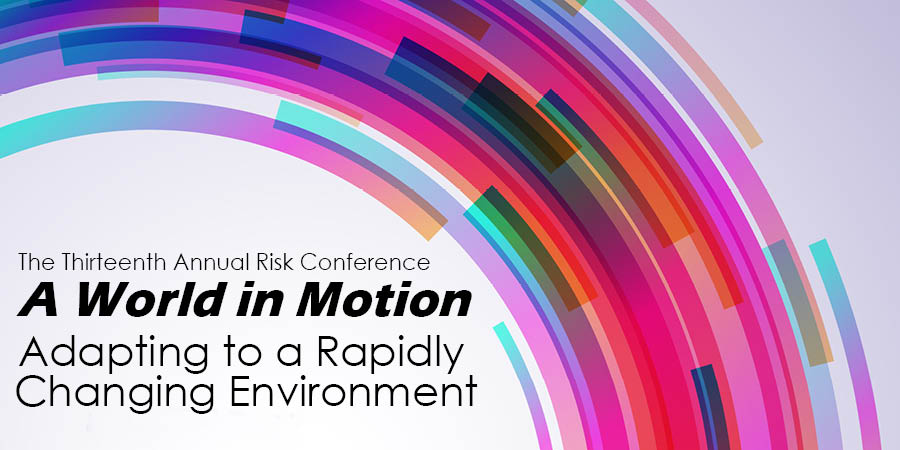 The world is rapidly changing around us. The global economic outlook is uncertain and technology is transforming key aspects of the financial sector. In this year's Risk Conference, we will engage "A World in Motion" and explore a wide range of evolving issues in this changing environment. Financial executives will speak to the challenge of change management and regulators will address their approach to sustainable change. As technological innovation increases the pace of change, new risks and opportunities emerge. Panel topics will include the economy and financial markets, cybersecurity risks, core technology providers for banks, and the supervisory environment. In this day-and-a-half conference, attendees will learn from industry experts about ideas for adapting to this changing world. Media Disclaimer: No media and/or recording will be permitted at this event.
Note
After careful consideration of the growing public health concerns associated with the coronavirus (COVID-19), our colleagues from DePaul University's Keeley Center for Financial Services and the Federal Reserve Bank of Chicago have made the decision to cancel the Thirteenth Annual Risk Conference.
This decision was made out of an abundance of caution to help safeguard the health and well-being of the more than 250 anticipated conference participants, as well as our esteemed speakers and panelists.
Wednesday, 04/15/20
8:30 AM
Welcome and Introduction
Speakers
Steve&nbspDurfey
,
Senior Vice President
,
Federal Reserve Bank of Chicago
Elijah&nbspBrewer III
,
Professor & Chair of Finance, Driehaus College of Business
,
DePaul University
8:45 AM
Opening Keynote
Speaker
Roger&nbspHochschild
,
CEO
,
Discover
10:30 AM
Panel 1: The Economy and Financial Markets
Despite robust U.S. economic growth over the last decade, there are numerous emerging domestic economic risks that, coupled with geo-political tensions, have led to an uncertain monetary policy future. This first panel will discuss the potential financial market impacts of these emerging risks, whilst considering the mature U.S. economic cycle, existing monetary tools and the deep interrelation with global economies in order to adapt to a rapidly changing environment.
Moderator
Kristin&nbspLaPorte
,
Vice President
,
Federal Reserve Bank of Chicago
Speakers
Jeff&nbspKorzenik
,
Chief Investment Strategist
,
Fifth Third Bank
Carl&nbspTannenbaum
,
Chief Economist
,
Northern Trust
Sam&nbspSchulhofer-Wohl
,
Senior Vice President
,
Federal Reserve Bank of Chicago
11:45 AM
Lunch Keynote
Speaker
Clair&nbspMills
,
Chief Operating Officer for PRA
,
Bank of England
1:15 PM
Panel 2: Cybersecurity
Cyber risk is a topic of extreme importance in the information age. Financial institutions manage vast amounts of financial information and must constantly face the challenge of keeping their data secure. This panel will cover the range of imminent risks that pose significant threats as well as the approaches that financial institutions are taking to mitigate these threats. Panelists will highlight best practices in cybersecurity and the coordinated efforts among the financial and regulatory community as we all seek to promote a safe and secure financial system.
Moderator
Fran&nbspMoore
,
Director of Intelligence
,
Financial Systemic Analysis and Resiliency Center
Speakers
Phil&nbspVenables
,
Board Director and Senior Advisor
,
Goldman Sachs Bank
Larry&nbspZelvin
,
Head, Financial Crimes Unit
,
BMO Financial Group
3:00 PM
Panel 3: Core Technology Providers
Banks use technology in every aspect of their business. From client servicing to internal reporting, technology provides the infrastructure for banking operations. This panel will explore the role of core technology providers in helping banks manage their technology needs in a centralized manner. Topics will cover the history of this relationship and how it is evolving. As technologies change and the role of fintech firms grows, banks are exploring new ways to use technology as a platform for enhancing their business.
Moderator
Lamont&nbspBlack
,
Assistant Professor of Finance, Driehaus College of Business
,
DePaul University
Speakers
Lindsay&nbspCorby
,
Executive Vice President, Chief Financial Officer
,
Byline Bank
David&nbspWegman
,
Senior Vice President and General Manager of Premier Solutions
,
Fiserv
Christopher&nbspMcClinton
,
Chief Marketing Officer
,
Finxact
4:15 PM
Afternoon Kenote
Speaker
Jackie&nbspReses
,
Capital Lead
,
Square
Thursday, 04/16/20
8:30 AM
Welcome and Introduction
Speaker
Martin&nbspEssenburg
,
Executive Director, John L. Keeley, Jr. Center for Financial Services
,
DePaul University
8:45 AM
Opening Keynote/Q&A
Speakers
Jennifer&nbspBurns
,
Deputy Director
,
Board of Governors of the Federal Reserve System
Steve&nbspDurfey
,
Senior Vice President
,
Federal Reserve Bank of Chicago
10:30 AM
Panel 4: Supervisory and Regulatory Environment
From tiering and tailoring to issuance of supervisory findings, regulatory agencies have made, and will continue to make, modifications to supervision & regulation of the banking industry. Meanwhile risk management practices will adapt to these changes as well as risks posed by an ever evolving environment. This panel will bring together bank risk officers and representatives from supervisory agencies to discuss their experience and views on supervision and regulatory changes, policy matters, as well as ongoing risk management practices and areas of regulatory focus.
Moderator
Pat&nbspWilder
,
Senior Vice President
,
Federal Reserve Bank of Chicago
Speakers
Art&nbspLindo
,
Deputy Director
,
Board of Governors of the Federal Reserve System
Cecily&nbspMistarz
,
Chief Risk Officer
,
BMO Financial Group
Jeff&nbspNewcom
,
Chief Risk Officer
,
First Midwest Bank