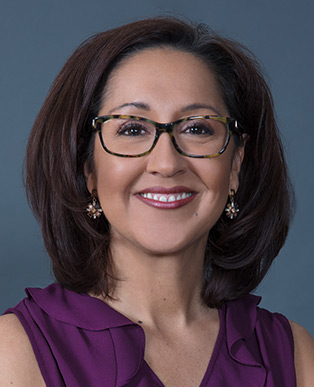 Kathryn Medina
Executive Vice President, People & Culture, Chief Human Resources Officer
Kathryn Medina is executive vice president of People & Culture and serves as the Bank's chief human resources officer and OMWI Director. In her role, she leads the Bank's human resources, diversity, equity and inclusion and internal communications functions. She is a member of the Executive Committee and serves as the executive sponsor for the Talent Committee, the DEI Committee, and the Bank's partnership with the Financial Services Pipeline.
Ms. Medina joined the Chicago Fed in 2016, bringing over twenty years of HR experience to her role as a vice president of talent management. Prior to joining the Bank, she held senior HR roles in the private sector and in the federal government. In 2017, she was promoted to vice president of human resources and in 2019, she became senior vice-president of People & Culture, where, in addition to joining the Executive Committee, she took on system leadership roles through the Subcommittee on Human Resources (SOHR) and Office of Minority & Women Inclusion (OMWI).
Ms. Medina holds a B.S. in business administration and earned her Master of Education in global human resource development from the University of Illinois at Urbana-Champaign. She has her D&I for HR certificate from Cornell University and holds both HR industry senior level distinctions – SPHR and SHRM-SCP.