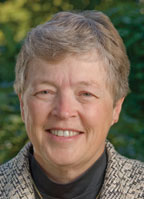 Lou Anna K. Simon
President
Michigan State University
East Lansing, Michigan
Lou Anna K. Simon is the twentieth President of Michigan State University (MSU). The MSU is a member of the Association of American Universities, the National Association of State Universities and Land-Grant Colleges and the Big Ten Athletic conference.
After earning her doctorate in administration and higher education from MSU in 1974, she became a member of the MSU faculty and assistant director of the Office of Institutional Research (now the Office of Planning and Budgets). Simon held a variety of administrative roles, including assistant provost for general academic administration (1980s), associate provost (1990s), vice president for MSU Academic Affairs (1993-2004), interim president in 2003, and was appointed president by the MSU Board of Trustees in January 2005.
Simon is a member of the Michigan Strategic Economic Investment and Commercialization Board (SEIC), the Detroit Renaissance Board of Directors, associated locally with Prima Civitas and is a member of the following global initiatives: the American Council on Education (ACE), Commission on International Initiative and the Partnership to Cut Hunger in Africa Executive Committee.