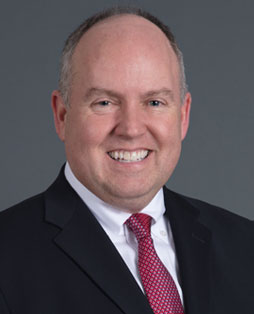 Patrick Wilder
Senior Vice President, Supervision and Regulation
Patrick Wilder is a Senior Vice President in the Supervision and Regulation department of the Federal Reserve Bank of Chicago. Pat is responsible for the Large, Specialized and Regional Institutions division, which includes the District's largest bank holding companies, foreign banking organizations, savings and loan holding companies and financial market utilities.
Prior to his current role, Pat was Vice President of community bank supervision, where he was responsible for the safety and soundness supervision of Seventh District state member banks within the community bank portfolio. His responsibilities also included supervision of bank holding companies with total consolidated assets under $10 billion.
Throughout his tenure at the Bank, Pat has served as central point of contact for the supervision of Ally Financial and the U.S. operations of Bank of Montreal. He was also the supervisory coordinator for foreign banks that operate within the District, and has overseen the department's Applications, Enforcement and Surveillance functions.
Wilder holds a bachelor's degree in Economics and Finance, and an M.B.A. from the University of Pittsburgh.