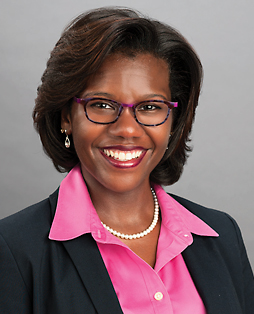 Nokihomis Willis
Senior Vice President and Director of Office of Minority and Women Inclusion
Nokihomis Willis is an executive committee member, senior vice president and director of the office of minority and women inclusion (OMWI) at the Federal Reserve Bank of Chicago, one of 12 Reserve Banks across the United States that, together with the Board of Governors in Washington, D.C., serve as the central bank for the nation. Willis oversees the District's People & Culture functions. In her role, Willis provides senior strategic leadership and direction for the Bank's human resources, diversity and inclusion and internal communications functions, including strategy development, achievement of high-priority talent management objectives and integration of diversity and inclusion into all aspects of human capital processes. She supports the Bank in achieving its strategies, including fostering an environment of inclusion and mitigating people related risks. Representing the Seventh District as Chair on the Federal Reserve System's subcommittee on human resources (SOHR), a committee comprised of Reserve Bank senior HR officers, designed to address Reserve Bank System related human resource initiatives and issues, Willis also serves as the District's Office of Minority and Women Inclusion (OMWI) Director and is also a member of the Federal Reserve System's OMWI Council.
Since joining the Federal Reserve in 1998, Willis has held project management and leadership positions in financial services, information technology and human resources. In 2004, she was appointed assistant vice president of the Chicago office's cash and currency operation where she provided strategic direction, managed a $12+ million budget and the risk associated with $15 billion in cash and coin assets. In 2008, she joined the Bank's human resources function as the assistant vice president responsible for benefits, compensation, HR technology and payroll. In April 2011, Willis assumed responsibility for the Bank's talent management functions and was promoted to vice president in November 2012.
Willis received a bachelor degree in operations management from DePaul University and is a graduate of the University of Chicago Executive MBA Program. She has also earned senior professional in human resources (SPHR) certification. In January 2016, she began the masters of arts in clinical mental health counseling program at Moody Theological Seminary.
From 2004 to 2006, Willis served as a board member for the Academy of Communications and Technology Charter School in Chicago and from 2008 to 2012 served as a board member for Amicus, the Federal Reserve Bank of Chicago's employee volunteerism group. From 2011 to 2012, she served as a member of the board of directors for the Arts and Business Council of Chicago, and from 2012 to 2014, she served a board and personnel policy committee member for Emmaus Ministries in Chicago. Willis is also an active member of her church, Chicago Tabernacle, and is a member of its leadership team, serves in its pastoral counseling ministry and is a former member of the K – 5 children's ministry, CT's Playhouse.