Pontiac Profile
Background
The city of Pontiac is the county seat of Oakland County, Michigan. Oakland County promotes itself as the tenth wealthiest U.S. county with a population of one million or more. Oakland County comprises 62 cities, villages and townships. These communities range from blue collar, inner-ring suburbs like Ferndale and Hazel Park, to wealthy cities such as Birmingham, Bloomfield Hills, West Bloomfield Township, and Franklin. The white collar cities of Troy, Southfield, Farmington Hills, and Auburn Hills host a diverse mix of Fortune 500 companies. The cities of Royal Oak, home of the Detroit Zoological Park, and Ferndale attract many young people to their mature, bohemian downtowns, which have many restaurants, shops, and night clubs. Oakland County is also home to Oakland University, a large public institution that straddles the Auburn Hills and Rochester border, and "Automation Alley: Michigan's largest technology business association."
Manufacturing in the City
In 1960, 44.9% of Pontiac's workforce was employed in the manufacturing sector. By 2009, only 15.4% was employed in manufacturing. Pontiac, like nearby Flint, Saginaw, Detroit and other GM manufacturing centers along Michigan's I-75 highway, was once a thriving community. Its factories poured out GM's hot-selling Pontiac cars and thousands of workers—black, white and Hispanic—came to the city to join the auto manufacturing work force, attracted by the relatively high living standards won by the United Auto Workers union. In 1974-75, Pontiac was awarded the banner of "All American City."1
1. Manufacturing employment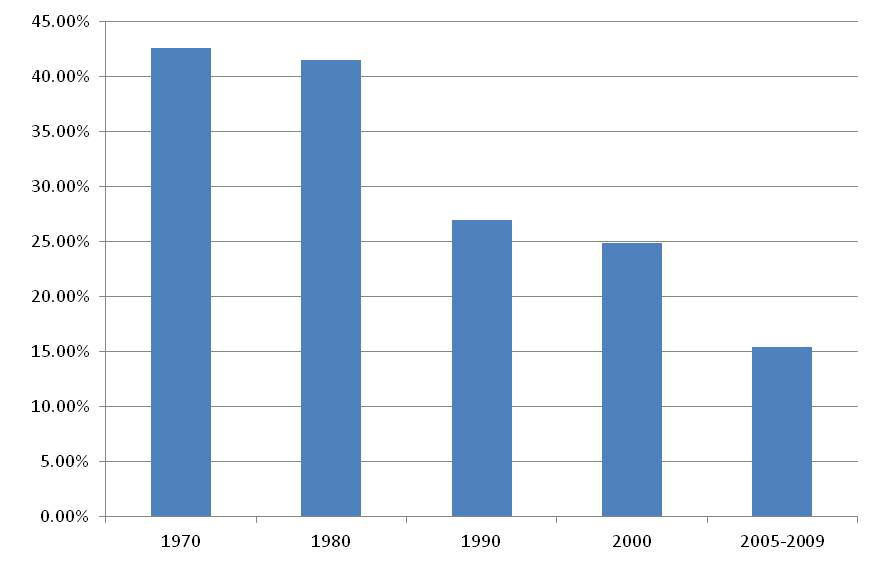 Financial Troubles
In July 2007, the Michigan Department of the Treasury began a preliminary review of the finances of the city of Pontiac. On February 20, 2009, the state determined that a financial emergency existed in the city.2 An emergency financial manager was appointed in March 2009.
An Uncertain Future
The decline of the once powerful automotive industry, the flight of its manufacturing base overseas and declining property values have greatly affected the city of Pontiac. Every decade since 1970, Pontiac has experienced a loss of population. Currently, an estimated 85% of the city's housing is renter-occupied. At the end of 2008, the city's unemployment rate was 19.8%, nearly twice as high as that of the state of Michigan, which has the highest (state) unemployment rate in the nation. Additionally, the city has a high foreclosure rate. Pontiac lags behind Oakland County, the state of Michigan, and the nation in several measures of educational attainment. As the chart below illustrates, Pontiac has more people over the age of 25 who have not graduated from high school than the State of Michigan. In contrast, a positive trend is that ratio of Pontiac residents with a high school degree or some college/college grad is increasing.
2. Representation ratio: Pontiac's educational attainment vs. Michigan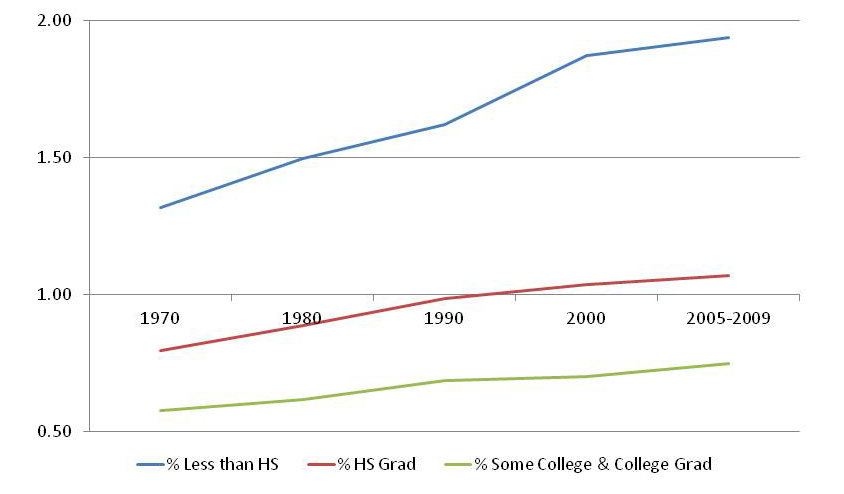 In this representation ratio chart, a value above 1 indicates that Pontiac is overrepresented relative to Michigan and a value below 1 indicates Pontiac is underrepresented relative to Michigan.
Footnotes
The views expressed in this post are our own and do not reflect those of the Federal Reserve Bank of Chicago or the Federal Reserve System.