Woodstock Institute Community Lending Fact Book documents comprehensive lending trends
Ten years after the end of the Great Recession, Chicago's neighborhoods are still recovering. Understanding the dynamics of this recovery, where it has occurred and where it is lagging, is a key objective of the 2018 Chicago Area Community Lending Fact Book (the Fact Book) recently released by Woodstock Institute. The Fact Book is designed to make data on home mortgage and small business lending accessible to community-based organizations, neighborhood residents, local and state policymakers, and lenders.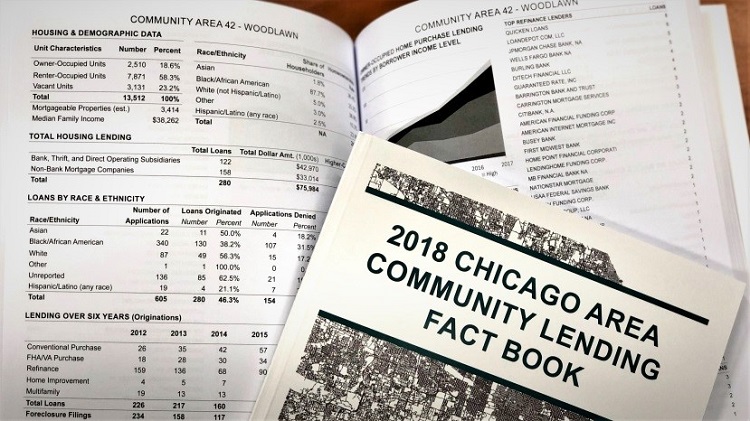 During a symposium entitled "What Recovery? Chicago 10 Years After the Financial Crisis"1 hosted by the Federal Reserve Bank of Chicago's Community Development and Policy Studies division (CDPS), which served as the official launch of the Fact Book, experts discussed trends in mortgage and small business lending, bank branch distribution, and the state of economic recovery in the Chicago region.
Woodstock Institute's intent for the Fact Book is for it to serve as a resource to encourage equitable lending, investments, and financial services to neighborhoods across the Chicago region. By providing detailed housing and demographic data covering a six-year period, as well as other information, Woodstock hopes the Fact Book will enable users to monitor key indicators of financial well-being in their respective neighborhoods.
The Fact Book's key findings include:
Non-banks originate more than half of purchase mortgages nationally and account for the largest share of originations in the Chicago region;
Low- and moderate-income (LMI) mortgage borrowers are more likely than their middle- and upper-income counterparts to use non-bank lenders;
LMI areas and communities of color have less business lending activity; and
Seven Chicago community areas have no bank branches,2 all are communities of color.
The Fact Book data covers each of Chicago's 77 neighborhoods, the city of Chicago, Cook County, and the seven-county Northeast Illinois region. In addition to data on small business and home mortgage lending, the Fact Book provides data on foreclosure trends, bank branch distribution, and the activity of top lenders in each area.
Following a presentation3 of the data and key findings by Lauren Nolan, research director at Woodstock Institute, a panel of community development practitioners, including: Steve Hall, senior director of LISC Economic Development Lending;4 Manuel Jimenez, first vice president and CRA officer of Marquette Bank;5 Deborah Moore, director of neighborhood strategy and planning at Neighborhood Housing Services of Chicago;6 and Kyle Smith, director of housing initiatives at the Metropolitan Mayors Caucus,7 offered their views on the ways in which the Fact Book provides useful data the informs solutions.
Moderated by Federal Reserve Assistant Vice President Jane Dokko, panelists discussed strategies to promote homeownership, including down payment assistance and low interest rates to encourage home buying, and stressed the importance of housing counseling, especially for first-time home buyers. Panelists also spoke to headwinds faced by potential home buyers, noting that home purchases among people of color continue to lag. Further, student loan and credit card debt can result in prohibitive debt-to-income ratios, putting homeownership out of reach for many. One panelist also noted that uncertainty surrounding immigration policy affects immigrants' ability to put down roots in the form of buying a home. Although banks are seeing lower delinquency rates, less overborrowing, and more refinance loans, property tax increases and persistent low home values remain barriers to recovery in some areas.
At the same time, demographic trends have impacted the housing market, often affecting traditional cost models and compelling innovation, the panelists reflected. For example, an aging population increases demand for housing that can accommodate people with disabilities. Just as the desire to "age in place" motivates innovative thinking about smaller units near family members (sometimes called accessory dwelling units or ADUs) – a modern take on the traditional coach house. Panelists noted the need for smaller, more affordable homes throughout the region. A suggestion was made to secure additional government subsidies to offset high construction costs. Innovative strategies are needed, such as financing for limited- and shared-equity homeownership, especially for "boomerang" households who lost homes during the Great Recession and are trying to reenter the market.
As also reflected in the Fact Book data, panelists confirmed continued distress in the housing markets in many south and west Cook County suburban areas, particularly communities of color, as demonstrated by persistent high rates of foreclosures, high prevalence of vacant or abandoned properties, and negative equity. Some traditional single-family areas are seeing growing numbers of rent-to-own contracts, which can introduce new vulnerabilities for residents.
Turning to regional small business lending, panelists stressed the need to develop live/work spaces to promote small business formation. New Markets Tax Credits and the Neighborhood Opportunity Fund8 are both tools that may enable investments to revitalize businesses and jobs lost during the crisis. Panelists acknowledged that Opportunity Zones9 could attract investments, but parameters are new and long-term impacts are unknown. Regardless of new resources, entrepreneurs need technical assistance, financial counseling, and other services that Community Development Financial Institutions can provide, they concluded.
The event closed with remarks from Woodstock Institute President Dory Rand, who stressed the importance of informing community resident experiences with robust data in order to effect change and track progress, especially in the area of equitable lending. She invited participants to leverage the information contained in the Fact Book to this end.
To learn more about Woodstock Institute, visit http://www.woodstockinst.org/. To view the Fact Book, visit: http://www.woodstockinst.org/research/2018-community-lending-fact-book/.
---
2 The seven communities are East Garfield Park, Oakland, Fuller Park, Washington Park, Burnside, Riverdale, and Hermosa.
The views expressed in this post are our own and do not reflect those of the Federal Reserve Bank of Chicago or the Federal Reserve System.