Delphi and Midwest Auto Parts
Midwestern communities that host automotive plants are especially concerned at the recent bankruptcy actions of Delphi Corporation. Such concerns are not misplaced, since the geography and problems of Delphi's operations are similar to those of some other automotive plants.
Delphi, the nation's largest auto parts supplier, filed for Chapter 11 bankruptcy on October 8. The bankruptcy covers only its U.S. plants; non-U.S. subsidiaries are not included. The company, which had 2004 revenues of $28.6 billion, is looking to the courts to allow it to cut costs by rewriting its contracts with its UAW-represented work force, closing plants, and restructuring its legacy-cost obligations for retirement and health care.
Delphi is a global company. It employs 185,000 people around the world. Of these, about 50,000 are employed in the U.S. Delphi makes a wide range of auto parts, including dashboards, air conditioning systems, electronics, and batteries.
Drawing from a variety of data sources, my colleague Thomas Klier and his research assistant, Cole Bolton, have put together a map of Delphi's Midwest operations that displays current employment (figure 1). The Midwest is home to about 70% of Delphi's U.S. employment. The two states with the highest concentration of Delphi employment are Michigan (just under 15,000) and Ohio (just over 13,000).
1. Delphi employment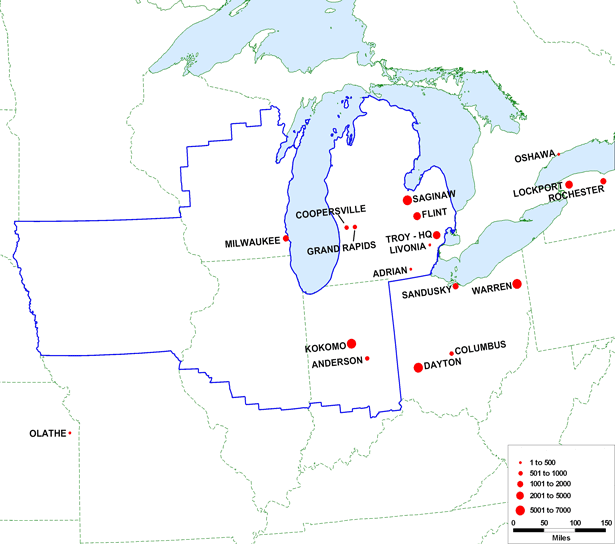 Delphi's Midwest footprint is very typical of the overall auto supplier industry; the Midwest is home to 61% of auto supplier plants located in the U.S. (figure 2) with other plant concentrations in the southern states, Ontario, and Mexico.
2. Auto supplier plant density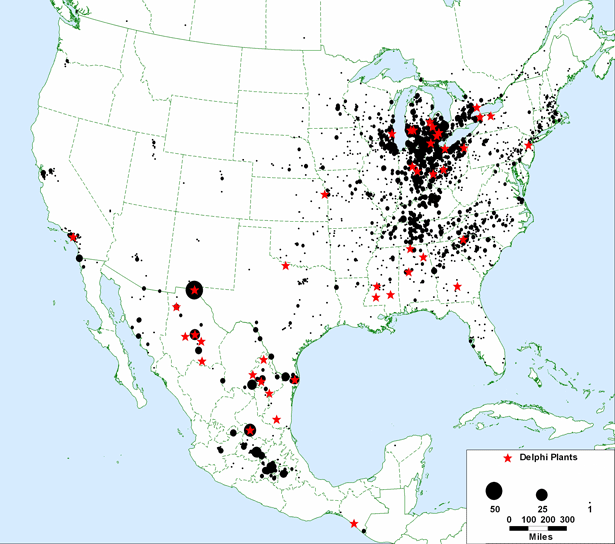 This remarkable concentration in the Midwest has historically been lucrative for the region. But now, the traditional hub of the auto industry is facing some serious challenges, and Delphi is something of a bellwether.
Challenges to U.S.-produced automotive parts are either directly or indirectly linked to international trade and investment, though ongoing shifts in the domestic geography of parts production also play a role. First, the sales of the traditional "Big 3" domestic auto assembly companies have been giving way to transplant sales. Transplant vehicles are produced in the U.S. by foreign companies and, in some cases, their supply chain of parts reaches overseas to a greater extent than Big 3 auto production. The U.S. light vehicle sales share accounted for by these foreign nameplates has risen from a 15% share to a 22% share during the past decade.
In addition to having global supply chains, this sales shift threatens Midwest parts plants because the transplants and their parts suppliers tend to be located south of the traditional auto states of Michigan, Indiana, and Ohio.
At the same time, imports into the U.S. of light vehicles produced in countries other than Mexico and Canada have increased their market share by 8 percentage points (to 19%) over the past decade. Imported cars do not usually contain U.S. produced automotive parts.
And finally, parts for domestic vehicles—including those produced by the Big 3—are increasingly sourced overseas, with China's share growing fast, albeit off a small base.
These international developments and regional shifts will be analyzed further by Thomas Klier in a Chicago Fed Letter to be released later this fall. (The CFL is now available —link.) In addition, Klier is organizing a conference in the Detroit area to further assess the directions and challenges of domestic automotive parts producers.
To be sure, Delphi has some unique characteristics concerning its relative wage and benefit costs that are not mimicked by other domestic parts operations. But the scale and geography of struggling Delphi are enough to focus Midwest attention on both the similarities and the differences.
The views expressed in this post are our own and do not reflect those of the Federal Reserve Bank of Chicago or the Federal Reserve System.