Last Updated: 08/18/15
Seventh District Agricultural Economy
Seventh District Agricultural Output (as a Percentage of the U.S. Total, 2014)

The Seventh District agricultural economy produces around 40 percent or more of the U.S. annual output of corn, soybeans and hogs. Additionally, more than 20 percent of the U.S. production of eggs and milk takes place in the Seventh District.
Agriculture's Share of Total Seventh District Economy
Gross State Product from Production Agriculture in the Seventh District as Percentage of Total Seventh District Economy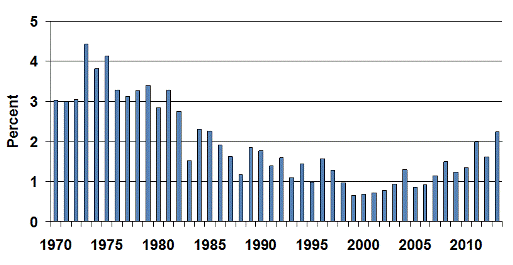 Over time, the relative importance of agriculture in the Seventh District had been diminishing. This chart shows agriculture now makes up around 2 percent of the Seventh District's total economic output, after having fallen even lower. The downward trend in share started long ago as the U.S. shifted from an agrarian to an industrialized economy, even as agricultural output has increased due to dramatic increases in productivity.
Productivity Changes for Major Crops in the Seventh District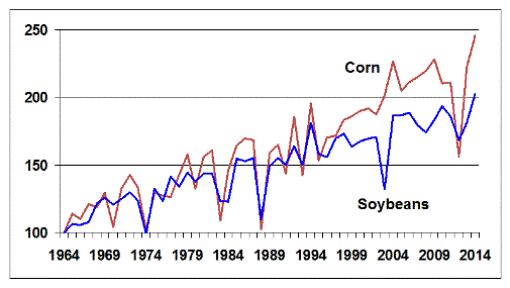 Source: National Agricultural Statistical Service, U.S. Department of Agriculture.

Over the past 40 years yields per acre have increased by more than 100 percent for corn and 60 percent for soybeans in the Seventh District. Improved seeds, equipment, pest control and management practices have helped to substantially boost agricultural productivity in the last half century, enabling fewer farmers to produce more.
Agricultural Exports by Seventh District States
(2011 in million $)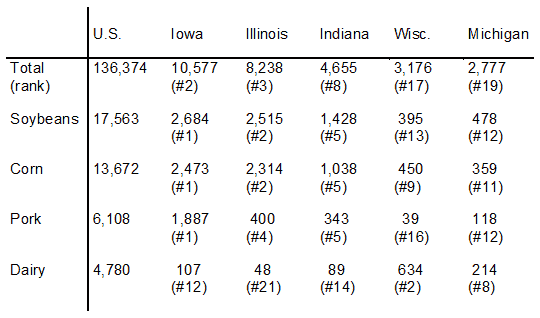 Seventh District states rank high in exports of agricultural products, especially corn and soybeans.