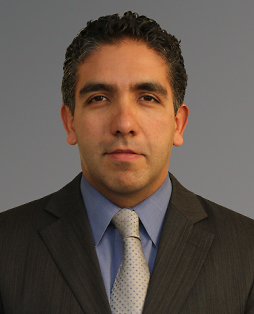 Alejandro Justiniano
1973-2018
Chicago Fed Letter
Jason Faberman, Alejandro Justiniano | 2015 | No. 337
Download
Economic Perspectives
Jeffrey R. Campbell, Jonas D. M. Fisher, Alejandro Justiniano, Leonardo Melosi | 2017 | Vol. 41 | No. 3 | April
Download
Alejandro Justiniano, Giorgio E. Primiceri | 2010 | Vol. 34 | No. 1
Download
"Even though I've only known Alejandro since I came into Research a little less than 2 years ago, he was one of the first Economists to introduce himself and welcome me to the department. He had a wit and sense of humility about him that just made you want to help him with any request he had. He always shared a smile and said a friendly hello in the hallway. I will miss you my friend." Barb Thomas
"Every meeting with Alejandro, even in the hallway, was a chance to have your day brightened. He was so warm and kind - the very essence of what it means to be human. The trademarks of a great person are treating people with respect, dignity, and friendship. Alejandro was a great person." Pete Schneider
"Alejandro had a great sense of humor and was a truly kind and generous person. He was also very smart and generous." Mariacristina De Nardi
"I've known Alejandro since he came to Chicago. I'm not as close to him as many of the Economists are, but I've still had the pleasure of spending time with him talking about politics, TV, or family. He was always appreciative of any help I provided almost to the point where it became embarrassing. Sometimes, if he was particularly thankful, he'd surprise me with a Doughnut Vault buttermilk doughnut.
One memory I want to keep close is of him returning from a trip to Argentina where he visited some old friends. When he came back, he was the happiest I ever saw him. He waxed on about how great it was to see these people he loved, but who he didn't see regularly. He was so overflowing with joy that it was infectious. I didn't know these people, but I knew they were lucky to have Alejandro in their lives as were we." Ken
"Alejandro was one of the most genuine and nicest people I've ever worked with. I will miss him and his kindness very much and feel very fortunate to have worked with him." Sandy Schneider
"I will truly miss my conversations with him and the sound of his cheerful greeting of "Hóla Pam" in the hallways. God Bless!" Pam Suarez
"After Alejandro published a Fed Letter a year or so ago, he stopped me in the hallway one day and said: "Helen, thank you for making the Fed Letter process so easy." I said, "Well, I'm glad you found it so, but so did I, so I think that was you making it easy." Working with him was a pleasure." Helen Koshy
"My colleague, Jeff Youngberg, and I did a photo-shoot session with Alejandro for his EP article on Chicagofed.org about a year ago. My vivid impression, Alejandro was a very friendly and humorous person. He was very happy and flattered when we joked and said he looked like Banderas, the movie star -- and we all had a good laugh." Ping
"Alejandro was an amazing economist. Whenever I went to him with a question, I came back enlightened, and he was always generous with his time. He also had a rare intellectual honesty; his work was very careful and you could count on him to tell you exactly what worked and what did not. The last time I saw him, he recommended I cherish what I have. I had no idea these would be his last words to me, but I will remember them for the rest of my life."Marco Bassetto
"Alejandro was gentleman from the first moment we met. During our time at the bank together we became fast friends, enjoying discussions about the days news, family life and our shared appreciation of hernia surgeries.
I will always appreciate his humor, graciousness and kindness. He was truly one of my favorite people and one of the nicest I've met. " Sean Hawk
"I remember a group dinner of the Christiano/Eichenbaum group at the NBER SI where we were sitting opposite each other. We talked a lot about DSGE and I learned a lot from him, but also other fun stuff. It was a great evening." Rudi Bachmann
"How we will miss you! Your kindness, your cheer, your humility, your graciousness, your humor. You were a great scholar, the perfect colleague and friend. You loved what you did and sharing it. How many times did I walk into your office for help, and you 'd pull out your thick binders and a notepad and carefully enlighten me; and yet made me feel smart, no matter how basic my question. You were a wonderful human being. You made our lives better and we will remember you, as we try to be the kind of person you were.
The last thing you told me, two weeks ago, was how much you had missed your family. I grieve for them, even if I cannot fathom their pain. " François Velde
"Alejandro was a kind-hearted and all-around great person. I was lucky to have him as a co-author, colleague, and confidant. Rest in peace, my friend." Jason Faberman
"Alejandro was the definition of a gentleman and a scholar. Both when I worked with him in research as well as in my current role, he was always polite, helpful and informative. When we'd see each other in the cafeteria he always greeted me with a cheerful hello. He will be greatly missed here at the Chicago Fed. My thoughts go out to his family." Kathryn Moran
"Alejandro was a fantastic colleague. He was an outstanding scholar, but an even nicer person. He will be sorely missed." Anil Kashyap
"I loved talking to Alejandro, he cheered me on when I was looking for a job and finishing my dissertation, he was always there to give a smile. We shared a love of tea, which started a friendship and many conversations during my brief time at the Fed. He often offered me a cup after lunch and we exchanged exotic tea samples from our travels: he brought me some from Japan, I from Italy. One memory I'd like to share is when he brought me a ceramic tea cup to the office, because he had discovered I was drinking my tea from a glass and scolding my hands with the hot water. He just picked it up for me on his way to work, an unexpected act of kindness that moved me at the time and moves me even more now. The cup still sits on my desk. You'll be missed, Alejandro. Have a cup with the Lord tonight." Claudia M.
"Alejandro made the world a kinder and smarter place everywhere he went. He used his great intellect to make fundamental contributions to our country's monetary policy, but he always kept his family at the core of his existence. He was a great man who made us laugh every day. Our tears will never take away the joy he gave us." Jeff Campbell
"While we really never worked together he was a wonderful colleague who always greeted me in such a pleasant way whenever we passed each other in the hallways. Alejandro had a nice quiet dignity about him and he was a real gentleman. He will be missed." Bill Strauss
"Alejandro was one of the most rewarding students I have ever advised. He was writing a thesis on international macro with Helene Rey, and came to me to talk about empirical work. It seemed that what he was interested in the idea of a semi-structural dynamic factor model, which was then at the frontier of econometrics. Since Alejandro was not specialized in econometrics, much less in the Bayesian methods he would need, I was skeptical that he could actually use this kind of model. But he tracked down the latest literature in statistics and in the end taught me how to estimate these models properly. In the process he discovered a love for quantitative modeling applied to real policy issues that propelled his many subsequent contributions. And of course he was also a delightful person." Chris Sims
"Alejandro was an extremely influential mentor to me in my time at the Fed. I will never forget the many emails with words of encouragement he would send to me during my first few months. Beyond being a brilliant economist, he was genuine, humble, and incredibly kind. I am lucky to have known him." Megan Burge
"I will always remember that you could always be counted on for a laugh, a kind word, and a frank insight—-often, all the above. Que descanses en paz." Roc Armenter
"Alejandro was one of the nicest people I have ever worked with during my time at the Federal Reserve. My special memory of him was when he asked me to keep reminding him to give me something that I needed (from him) that had a deadline. I told him that I felt I would be bothering him. He laughingly said, "You have to, that's the only way you will get it." I laughed too, and it worked. He will be missed." Susan Sheehan
"Alejandro was a keynote speaker at our Melbourne Institute Macroeconomic Policy Meeting last October. He impressed everybody - such a dynamic, brilliant, humble and extremely likeable person! He will be sorely missed." Efrem Castelnuovo
"I met Alejandro in 2011 while working as a special assistant. Attending meetings with the economists was new for me yet Alejandro was open to my questions, interest in grabbing lunch and genuine engagement in my role. I am heartbroken to learn of his passing. I will miss seeing him around the organization but will always remember his warmth, intelligence and compassion." Jamica
"He was a model for everyone, professionally and personally. An encouraging and reassuring presence in our industry, who treated everyone with respect, whether they were a lowly student or a massively well published star. Always brightened my day if I knew I was going to get to see him in Chicago or whenever I bumped into him in conferences. Such a wonderful person." Rhys Bidder
"Always friendly to everyone but serious and very sharp in his work. It's a big loss for economics and for those of us lucky to have met him and become his colleagues and friends. Rest In peace." Vasco Cúrdia
"I met Alejandro many times at conferences since the mid-2000s and once when I visited the Chicago Fed for a seminar. There was always so much kindness in his eyes, in his smile. I loved every conversation I had with him. We lost a wonderful person." Fabio Ghironi
"He was one of the greatest people one can come across. Super smart and friendly. We didn't get to spend so much time together in the conferences we met but he mentioned that he likes Rumi once. Hope he will rest in peace in his 'Guest House'." Sinem Hacioglu
"Alejandro was one of our regular visiting professors at the Paris School of Economics. A truly kind and exceptional man. A brilliant and highly-talented economist. A fantastic and generous teacher, unanimously acclaimed by students. I will sorely miss him, and feel so lucky to have crossed his path." Nicolas Dromel
"I was in Alejandro's Ph.D. cohort, and we all took the first-year core classes together. Alejandro had an unusual intensity of focus in class—he lived and breathed economics our entire first year. That intensity served him well, as he developed a number of research skills that were the hallmark of his scholarship, including an extreme attention to detail and an ability to frame his work in the bigger picture.
He changed profoundly in our second year when he met the great love of his life, Maria, another Ph.D. student who would go on to become his wife. His intensity was from then out coupled with a great joy, and an irrepressible sense of humor. In recent years he would always make me laugh, bringing up funny stories from our student days.
I will miss him tremendously, and am grateful for the legacy he leaves both professionally and personally." Diane Whitmore Schanzenbach
"As we say in Spanish: "los mejores siempre se van antes" (the best always depart the earliest). We will always wonder what wonderful things such a great economist and even better person would have accomplished in his life:

Pues si vemos lo presente
cómo en un punto se es ido
y acabado, si juzgamos sabiamente,
daremos lo no venido
por pasado." Jesus Fernandez-Villaverde
"Alejandro's death has been especially painful. It's not just that we lost a fellow economist that we learned from and with. It's not just that he was constantly upbeat and enthusiastic, coming out of the seminar room countless times declaring "That was fantastic!" It's not just that his death came so suddenly. It's not just that he died so young, leaving behind a young son (who is the same age as my son, which makes it resonate all the more). But it's also that Alejandro was such a fundamentally decent human being. He always tried to put others at ease and make them relaxed. When he complained to someone about an issue at work, he would often come to my office afterwards, feeling bad about putting others out and checking with me if he didn't overdo it. He always wanted others to be happy - not because he was strategic or because he wanted to be liked, but because it was against his nature to have others suffer. Anna Paulson's story about seeing Alejandro and his wife treating a homeless person to pizza was a side of him I didn't witness, but not one that came as a surprise. May his soul be bound up in the bond of life." Gadi Barlevy
"I knew Alejandro when he was at the Board of Governors. I worked with him on a couple of projects and found him to be a smart, serious economist who really cared about getting policy right. He was also a kind and helpful person. He will be missed." Bill English
"Alejandro was a good friend,a great human being, ultra smart and so nice and gentle. We were colleague at the IMF and later i invited him in Paris every year to teach where he was loved by the students. A terrible loss. My sympathy to his family." Romain Ranciere
"Hi Alejandro, you have been an amazing scholar and human being, so witty, generous, curious and full of enthusiasm. I fondly remember and I treasure the insight I always got from talking with you. The brightest flame goes quickest. I will always bring you in my heart and you will never cease to inspire me." Gianni Amisano
"On all my visits to the Chicago Fed I made sure to find lots of time to talk with Alejandro with my goal being to learn as much as I could. He was an excellent teacher, in his charming self-deprecating way. Most importantly, he was always warm and generous with both his time and friendship." Simon Gilchrist
"I have worked with Alejandro for a couple of years as his research assistant. Besides being a great supervisor, he took personal interests in me and mentored me to become an economist. He sets an example on how to be relentless in scholarly pursuit, while to stay cheery and humble. I still remember the days when he took me out for lunch, the times that he cheered me up when I face difficulties, and the time when he met and greeted my mother at O'hare international airport. I wouldn't have made through grad school in economics, were I not frequently recalled upon the high-spirited and productive days when I worked with Dr. Alejandro Justiniano. He is a good man." Victor Xi Luo
"In our professional lives, we come across people whom we admire as researchers, as policy-makers, as leaders. Much less often do we happen upon those whom we admire as great human beings. Alejandro was such a person – kind, humble to a fault, deeply caring about everyone around him, and willing to go far out of his way to help people with matters large and small. We will all miss him dearly." Gene Amromin
"Generoso, gentile, gioviale. Che la terra ti sia lieve, Amico!" M.M.
"My first memory of Alejandro is from shortly after beginning to work at the Chicago Fed. He was one of the first people at the lunch table to ask me about my background and get to know me. He was genuinely interested in my research and in the policy work that I was about to start.
My last memory was bumping into him near the elevators in February. I mentioned that I was heading up to a water park in Wisconsin with my wife and kids for a night and he told me how much the kids love it (they did) and where the best places to eat were.
He was a huge positive externality, academically, professionally, and socially." Dan Hartley
"Always kind and always attentive to others. When my family experienced health issues he was one of the first to call and offer his help." Celso
"It is such a great loss for all of us in profession to lose Alejandro!!! He brought smile, compassion, understanding of each individual he interacted with...in a sense he touched our lives in a very special, personal way. I loved chatting with him during conferences, it was so much fun! And what is more he was a brilliant researcher, I learnt so much from his papers!!!! We will miss you dearly and will cherish memory of you!" Ania Lipinska
"When Alejandro asked you "How are you?" he always meant it. He truly wanted to know how you were. You had all of his attention. He would smile and look at you with light in his eyes and would find a way to make you feel better by making you laugh if you were down and to be happy with you if it was a good moment. He was also deeply spiritual and lived his life with grace, love, and integrity. Now that he is gone, my colleagues and I cross each others in the hallways and, confronted with this terrible loss, we hug and comfort each other. Alejandro is making us think about life, love, integrity, and humility, and thus, even after his death, he is making us try to be better people and to be grateful for every moment." Mariacristina De Nardi
"I only knew Ale casually, but it didn't take much to know his sincere warmth and kindness. I think the last time we spoke we were joking about my needing to take classes to be able to keep speaking Spanish to my Mexican father, and that he'd need to watch out or the same might happen to him and his son. Small, silly things, but whenever we spoke it was a brightness in the day and I will miss him terribly." John Mondragon
"Alejandro was one of the smartest and nicest persons I've ever met and worked with. He was a great scholar, with a passion for economics. He also had a caring heart and a great sense of humor. I was lucky to have him as a colleague and friend. Alex, I will miss you forever." Luojia Hu
"I remember Alejandro as one of the kindest economists I know but also as a fellow dad and neighbor on the Northshore; Lucas and our oldest son are about the same age. We would often run into each other at the gym or at family outings at the Botanic Garden. Alejandro had a wonderful sense of humor and I enjoyed every conversation we had." Matthias Doepke
"Ale and I joined the IMF around the same time. He was a smart but moreover very, very kind person. I will miss him a lot." Akito Matsumoto
"Alex was a kind, warm, and loving person. He was that way in graduate school and whenever I met him since. He made people smile by always thinking of something nice to say about them. I will miss him greatly." Gita Gopinath
"I ran into Alejandro and Maria recently at a pizza place. They were buying a pizza for a homeless guy with whom they had struck up a conversation. That pretty much sums up Alejandro. He explained that we are all the same and that there is no difference between the recipient of the pizza and Alejandro himself. He lived like that. I've known Alejandro as a colleague and as a friend and that interaction will be the one I remember most." Anna Paulson
"I will always remember with fondness and appreciation the warm generosity, hospitality, intellect without pretense, and good humor of Ale. He was a truly remarkable husband, father, friend, human, son, and professional and will be greatly missed. Que decanse en paz y Victoria." Marie Bold
"Every time I talked to Alejandro, my day was brighter for it. He was generous, humble, smart, funny, and exceptionally kind. When he asked how things were going, he really wanted to know, and was always encouraging and optimistic. Whenever we got coffee, he'd sneak in a chocolate for me. He made the world a nicer place, one smile at a time. I will miss him terribly." Diane Alexander
"I will always remember our conversations in the Info Bar, especially the dream. Your friendliness, kindness and thoughtfulness were very much appreciated. You will truly be missed. Spirit was never born therefore spirit will never die. You will live on in all of our hearts." Albena
"Alejandro's departure caught me by surprise. I'm truly sad. He was a wonderful colleague, but more so a friend. I will miss him, every time, I will be on presentation where he could have sat next to me, whispering and giggling. He was humble and smart. He was generous. I remember him showing up with a notes every time he came to give me professional advice. I will miss having a beer with him. Te voy a extranhar compadre!" Saki Bigio
"In a profession and world driven too often by self-centeredness, Alejandro serves as a model of both intellectual curiosity and general human kindness. I hope that in these trying times his shining light will inspire us all to be better. I will miss you, Ale!" Cosmin Ilut
"Since the first time I met Alejandro, I always thought I knew him forever. His kindness and warmness made him everybody's friend. Will miss running into you unexpectedly at a random conference and sharing a laugh." Aysegul Sahin
"I overlapped with Alejandro for many years at the Chicago Fed. He always had a genuine sense of warmth and humility. Even years after leaving, he would run over and greet me as if I never left the Fed. In addition to his passion for economics, his passion for soccer and Argentina was second to none. I will dearly miss him." Bob Chakravorti
"All of us at the Research Department at the Richmond Fed are deeply saddened by the loss of our long-time friend and admired colleague. We will miss learning from Alejandro through his papers and his visits and we are grateful for the time we got to interact with him. It is important to underscore what others have noted: Alejandro was an extraordinarily kind and warm person, and so will be missed by anyone who had even a passing interaction with him. Our hearts go out especially to his family and our colleagues in Chicago" The Richmond Fed Research Department
"Alejandro was a mentor, a friend, a brilliant economist and an inspiring individual to whom I looked up. I am forever grateful for all the support and encouragement that I received from him since the first day that I met him. Although I have only known him for a few months, he has taught me so much in economics and in life. Thank you for everything, I will miss you." May Tysinger
"I only spent a year interacting intensively with Alejandro, but two repeated memories exemplify why it was such a joy. First, he was diligent and seriousness: he would fill page after page of notes in a yellow notepad during seminars. And, second, he had a pure enthusiasm and excitement about economics (and life): I can't count the number of times after a seminar I heard him say---completely genuinely--- "That was fantastic!""Isaac Sorkin
"Alejandro was an incredibly kind person. He always had a smile on his face. When he asked how you were, he meant it and was genuinely interested in the answer. I fondly remember the interest he took in me and the wellbeing of my family, as exemplified by his steadfast insistence that we move to the suburbs. It breaks my heart that such a fine person could leave us so soon - way too soon. I will miss him dearly, along with everyone here who had the privilege of knowing him." Emily Engel
"I met Alejandro when I started at the Board in 2006. He was part of a small group of Latin economist that met for lunch as often as we could. He would always entertain us with his wonderful sense of humor. Meeting him anywhere would brighten your day. His kindness had no bounds. Lo extrañaremos y lo recordaremos siempre." Ricardo Correa
"I knew Alex from Evanston, where our children were in kindergarten together. I always appreciated how he tried to make everyone he met feel at ease and how he showed genuine interest in the lives of those around him. He was a lovely, lovely, person." Matt Pavich
"I did some work for Alejandro in 2014-2016. He was brilliant, patient, funny, and had good taste in music (I'm not sure everyone agrees with the last part!). Prayers with him and his family." Justin Bloesch
"Alejandro was a year above me in grad school, and everyone loved him. He was kind, generous, intelligent, cool, and funny. Every time I saw him in the computer lab at Princeton, he had a big smile and some kind words to brighten my day, making me feel like everything was going to be OK! He managed to make everyone feel special. Even though we mostly lost touch after Princeton, he was the first person to write to me after a loss in my family, and the first person to send an encouraging email when I expressed anxiety about moving to a new job and a new city. Despite being a very successful economist and one of the most devoted family men I've ever seen, he somehow found time for everyone who was ever fortunate enough to know him." Andrea Wilson
"When I visited the Chicago Fed, I always looked forward to spending time with Alejandro. When talking economics he was rigorous and thoughtful and when the conversation turned to other topics, he was always delightful and entertaining. A first-rate economist and a beautiful person. I will miss him." Gianluca Violante
"I met Ale at Princeton, where we both studied Economics. He was ine if the best human beings I have met. Intelligent, warm, kind. I always admired the beautiful relationship he had with Maria; and I have only gratitude to both of them in their relationship with me. I had the honor to meet his father at the IMF and IADB, and I could see immediately how we has grown in a nurturing, loving environment. About a year ago, I met him for dinner in DC—he was here for a conference. We spent hours talking about what truly matters in life. He was transparent and humble, and always in search for balance and peace. He had a light that was contagious. Thank you, Ale, for the way you touched our lives. Abrazo muy grande, donde estés—" Maria Gonzalez
"Every time I think I've decided what my favorite memory of Alejandro is, I remember another one. Some are funny, some are kind, some are about research. He was overflowing with such genuine goodness. He also had the best repertoire of inspirational quotes. The one that stands out the most right now is "stay close to people who feel like sunshine." Alejandro was and will forever be a person who feels like sunshine. I am lucky to have known him, learned from him, and been encouraged and inspired by him. I miss you, Alejandro." Kinda Hachem
" I could not believe these sad news when I heard. I met Alejandro when I was visiting the IMF and he came for a seminar. I signed up for a meeting with him. I was a bit nervous because I knew his big name and amazing publications but had never met him in person. Some times people at his level can be non-approachable. Instead, I knocked at his door and a friendly and humble Alejandro with a big smile was there, talking to me in Spanish, mentioning common friends, talking about my publications instead of his publications. I spent the day with him. I enjoyed his seminar, went together for lunch and had a great time. Life is not fair. Alejandro, esto no te debería haber pasado a ti, no es justo. Ojalá puedas leer todo lo que la gente está diciendo sobre ti. Has vivido pocos años pero lo has hecho muy bien. Te puedes ir orgulloso. Hasta siempre " Margarita Rubio
"Alejandro was a superb economist and a great person. I've learned a lot from him and enjoyed his company every time I had a chance to meet him. His smile was powerful and contagious. I'll miss him." Giovanni Lombardo
"When I think back to Alejandro at Princeton, his smile and warmth and humanity, I think of immediately of this from EM Forster, Where Angels Fear to Tread: "The person who understands us at first sight, who never irritates us, who never bores, to whom we can pour forth every thought and wish, not only in speech but in silence—that is what I mean by simpatico."" Christopher Hennessy
"Alejandro was an excellent person as well as economist. He was the example of uncompromising intelectual honesty. One quality that stand out on his personality, both in workshops and in lengthly conversations in his office, was his humility. Talking with Alejandro, even in topics that he was an expert, he will teach you without making you feel your own ignorance. The other quality is his cheerfulness and empathy. As a friend and colleague will miss him tremendously." Fernando Alvarez
"I had the great fortune to meet Ale at the beginning of our careers at the IMF. While we only overlapped a short period in the building, our friendship grew over the years. Regardless the topic of our conversations, Ale's insights always brought something new to the table. His energy, warmth and generosity were just some of his wonderful traits, and I'll miss him dearly." Julian di Giovanni
"Alejandro was a true friend of Norges Bank. He visited twice and in both occasions impressed us with his outstanding presentations, his scientific rigor, his humility and his kindness. Alejandro, you made an impact here in Oslo and you will be greatly missed." Francesco Furlanetto
"I was always looking forward to meeting Alejandro at conferences and visits to the Chicago Fed. He was an extremely kind and welcoming person and I enjoyed spending time with him in social and professional settings. I am an avid admirer of Alejandro's research which to me has always been deeply insightful and meticulously executed. I will miss him dearly but the memories will live on." Frank Schorfheide
"I met Alejandro at the Board when I first started and we overlapped for a couple of years. We started to talk about research but immediately became friends, and the friendship continued throughout the years. We would always find time during conferences to check in on each other. He always had a smile and supportive words to share. And in between conferences, he always found the time to drop a message about all sorts of things and be present in my life. He loved his family above everything. He was a superb economist and an overall amazing person. I will miss you." Chiara Scotti
"The son of a very good man, husband and friend." Javier Jimenez
"I met Ale when he started his first job after graduate school. He took up my previous assignment and I moved to the office across from him. I was seemingly mentoring him but of course in reality he was the mentor—to many of us. He had the highest standards for analytical work and was very modest and generous in giving feedback and sharing his knowledge. It does not surprise me that there is such unanimity that he was he was the kindest and warmest individual, in addition to being extremely smart, curious, and fun to spend time with. We shared so many laughs that year. I will surely keep those memories Ale, and we will all miss you very much." Oya
"Alejandro was always one to take the time, no matter how busy he was, to pause and chat, and truly know how you are doing. His friendliness and compassion was always something I came to rely on whether it was running into him at work or at the park with his son. My heart goes out to his family and all of us who have been touched by his life." Vanessa Haleco-Meyer
"Dear Maria and Lucas, my heart goes out to you. His warmth and cheerfulness will be dearly missed in the department. I will miss our occasional walks from the train station. He was always happy to swap stories about your travels and adventures. Such a caring, tactful and attentive colleague and friend. He will be always in our hearts." Olena Chyruk
"When Alejandro found out I was having trouble in grad school, he immediately took me aside and talked to me about it. He was very open about his own stress in grad school, recommending that I try the yoga studio that he used to go to. He refused to play the game or to use arrogance to push his way to the top. He wanted to learn about what is true rather than focusing on his career. His humility and openness were incredibly inspiring to everyone." Chrissy Ostrowski
"Alejandro was such a gentle and kind person. I still remember the first time I met him; it was at the Chicago Fed rookie conference. After my talk he came to me and told me: "I really learnt a lot from your paper today." The way this came out was particularly special: it was warm and genuine and simultaneously deep and heartfelt. It was definitely very encouraging for an insecure student in the market.
Alejandro was unique: fun, intelligent, loving and giving. Over the years I got to know him better and always felt lucky that I knew him. Last time I saw him in Chicago, we got some pisco sours, talked about research and life, and start making silly jokes about common friends. He will always live with us. Maria and Lucas, be strong. You have all my love." Anastasios Karantounias
"Ale and Maria were our next-door neighbors during graduate school. We shared a porch, and I have so many fond memories of dining with them al fresco (though we could never stay up as late as they did). Ale was a thoroughly kind and decent man, with a wonderful sense of humor. He will be missed." Andrew Graybill
"Alejandro was a kind person and a smart economist. During my time at the Fed I benefitted greatly from his generous advice as well as his tremendous encouragement. My condolences to his wife, son and family." Matthias Kehrig
"It's hard to imagine the Chicago Fed without Alejandro. He was able to explain ideas in a patient, thoughtful, and generous way. I think I carried notes from one discussion with him in my bag for at least 5 years. I will miss hearing "that was fantastic!" after seminars as if he had just consumed a fine meal. I loved watching him light up whenever he talked about Lucas. He was a beautiful person and a dear friend." Leslie McGranahan
"I learned our craft and trade from Alejandro. I remember his explaining Kalman filters in Fortran to me for what must have been the fourth time with the same enthusiasm as the first time---he was so patient. He had such a dynamic mind, it seemed like he could do anything, and a welcoming spirit that gave you the feeling you could, too. And if that wasn't already enough, then he'd invite you out to lunch because he was just that nice. Alejandro was brilliant, humble, and most of all kind. He left us personally and professionally better for having met him as researchers and as people, and I am deeply grateful to have worked with him." Adam Hogan
"I never had the chance to work with Alejandro, but when I think back so positively on my time at the Fed and how lucky I was to have been there for my first two years out of college, much of that was due to the warm and welcoming atmosphere he created. He was genuinely interested in getting to know the associate economists, even those he didn't work with, and despite the fact that we had nowhere close to his amount of experience, he showed us the same respect, humor, and kindness that he showed the rest of his colleagues and made us feel like an integral part of the department. Sending my thoughts to his friends and family." Becca Friedman
"I had the opportunity to be both his classmate (at Princeton) and colleague (at the Board). Alejandro was on of the finest person I ever met both professionally and personally. I have known him as diligent, generous, hard working and deeply caring human being as well as someone with genuine charisma. I'm deeply saddened to learn of his passing. He will be greatly missed." Jean-Philippe Laforte
"Alejandro simply shined. He shined with his kindness, intelligence, humor, compassion, humility, and generosity. He was a true friend of mine and I will always miss him. Always. Ale, un gran abrazo." Marcelo Veracierto
"I was privileged to work for Alex as a research assistant at the Chicago Fed. He was relentlessly positive, patient, and humble. Whether it was broken code, an impending deadline, or a failed experiment, his gentle and empathetic presence made stressful situations so much less so. I was also struck by his pure love of research. The last time we had tea, I vividly remember watching his eyes light up as he talked about Bayesian statistics. He was an incredible teacher and friend, and I will miss him." Matt Olson
"Alex is the kindest and most humorous I know from grad. school. Absolutely a wonderful, intelligent person, and so loving! I will always miss Alex. Best wishes to Maria and Lucas and to the whole family, at all times!" Wei Ding
"Alejandro was the most gentle, smart and witty economist I've ever met. I got to know and like you more and more through your three job markets and as a colleague at the Board. I would never imagined that our short meeting at Edinburgh is our last. I miss you!" Jinill Kim
"I met you three times only. Each time, you had a profound, positive impact on me. Of course, you were at the research frontier and passionate, but what always struck me the most was your humility and your generosity. Thanks. God bless you and your family." Nicolas Groshenny
"I am deeply saddened by the news of Alejandro Justiniano's passing. He was a friend and classmate (one year above me at Princeton), a brilliant and pleasant man. May his memory be a blessing." Claude Berrebi
"Let the light that Ale emanated be the torch that guides us towards what came so naturally to him (but often seems an impossible goal to most of us): being a top, bright scholar and a kind, humble, and good-hearted person---at the same time. Let us cherish his memory by having that as a goal." Florin Bilbiie
"Tocaste el corazón de cuantos te conocieron, Alejandro. Gracias por todos los momentos que compartimos en Washington y por ser un ejemplo de bondad y humanidad. Maria, espero que los recuerdos y el apoyo de todos los que conocieron a Ale, os ayuden a ti y a Lucas a superar esta pérdida. Estáis en mis oraciones y mis pensamientos." Marta
"I am in awe. I'm so shocked. To hear of this lovely person leaving this world. Such an inspirational and HILARIOUS friend and person. He was so humble, and he was gifted:). I'm sad." Katie Kiresich
"Ale fue una de las personas mas carinosas que he conocido. El mundo te va a extranar, Ale! Te queremos mucho." Lorena Silvani
"Alejandro was incredible in his warmth and care for every person around him. He was a genuine mentor to me. He showed and taught how to engage in research well, to ask hard questions, to put in the effort needed to be sure of the answers, and to educate others in a way that made the incredibly complex seem obvious. I still aspire to be more like him - in his character, his intellect, his discipline and effort, but principally I aspire to share his concern for others. I'm sad for the time with him that it feels has been taken away. But I am so grateful for the privilege of having known such a great man." David Kelley
"Alejandro's amazing energy and kindness can never go away. He is continuing to inspire all of us, and he will continue to live through our actions." Ivana Ruffini
"Unfortunately, I did not know Alejandro very well and not personally. I met him in a couple of conferences and of course I knew very well some of his papers. I really enjoyed reading his papers and when I saw him I had always a very positive impression of a nice and humble person beyond his fame and reputation. I was very shocked when I have learned about this sad event. But now I am very touched reading all nice and kind messages his friends and colleagues wrote in his memory. In this moment, I am angry with myself I did not have time to know him better. Alejandro, thanks for your research and for being an inspiration for all of us. God bless you and your lovely family in this hard time." Alessia Paccagnini
"'To laugh often and much, to win the respect of intelligent people and the affection of children, to earn the appreciation of honest critics and endure the betrayal of false friends, to appreciate beauty, to find the best in the others, to leave the world a bit better, whether by a healthy child , a garden patch, or a redeemed social condition; is to know even one little life has breathed easier because you have lived. This is to have succeeded.' Ralph Waldo Emerson I am grateful to have known Ale... a kind supportive friend, a loving husband, a dear son, a gentle dad, a family man, an unforgettable soul." Carina Veracierto
"Alejandro was a fantastic economist and an even greater person. The period I spent at the Chicago Fed ten years ago he always had something nice to say about anything. I still remember when we went together to watch some Euro Cup matches that summer. Last time I saw him was at the ASSA meetings in Chicago 15 months ago. We agreed to have lunch together next time I come over to Chicago and to talk in Spanish for a while. I am very sad this will not happen now. I will certainly miss Alejandro. My thoughts go out to his family. Descansa en paz, Alejandro." Carbo-Valverde
"Gracias Alejandro. Gracias por recibirnos a mi familia y a mí cuando estuvimos solos en Evanston. Por vuestra ayuda y compañía. Gracias por regalarnos aquella maravillosa cena de Thanksgiving, por tu amable conversación y tu cariño. María y Lucas tendrán siempre una familia en Barcelona y una casa donde acudir cuando quieran. Siempre agradecidos... Norbert, Casilda y Marta." Marta Jové
"A la Familia de Alejandro..fue a mi colegio..un anio menor. No te conoci Ale aunque si te recuerdo asi como te veo en esta foto. Mis enormes respetos y admiracion por tu carrera y dedicacion. Admirable existencia. QEPD" Allie Iglesias
"Ale was a great person, 'un gran tipo'. He was truly kind, generous, humble and joyful. He cherished his family and his friends. He was an outstanding and serious intellectual. He knew what he was talking about, and he talked about what he really knew. He was curious, honest, and deep. He listened with outmost respect and explained with generous patience. I remember him in the seminar room, always taking careful notes, less often speaking, always to make insightful comments" Paco Buera
"Alejandro was truly a great economist who made major contributions to the Chicago Fed's mission of promoting better policy through first rate research. He was also a delight to work with, or just be around, somebody who always brightened my day when we met. Perhaps what was most remarkable about him is something that comes through clearly in the many fond remembrances here. Alejandro didn't just impress his peers and people who could help him get ahead in life. He had a measure of gracious good cheer for everyone he met, from Nobel Prize winners to the newest research assistant and a host of others who were lucky enough to meet him." Dan Sullivan
"Alejandro was amazing--an outstanding economist, a generous colleague, a devoted family man, and the nicest guy you'd ever want to meet. I learned so much from Alejandro over the years; he made us all better economists. He brought a joy to his work the was infectious, and a sense of humor and goodwill to the hallways that brightened all of our days. Today was the first seminar at the Bank I attended without Alejandro. And there was a huge hole in the room. Gladly, there are many fond memories to fill it." Spencer Krane
"I have known Alejandro for a little less than a year at the Chicago Fed. I remember him by his nice greetings and conversations in the hallway and during lunch time. His comments really helped improve our paper. He was truly a great economist and colleague! May God bless his soul!" Menelik Geremew
"Rest in peace Alejandro. Thank you for your contributions." Timothy Kam
"I had the pleasure of working for Alejandro as a research assistant. He was always willing to take the time to explain anything I needed help understanding, and could make otherwise stressful days much easier with his humor and genuine kindness. Alejandro made sure to check in on me during the difficult first year of grad school, helping to keep me motivated and positive when I needed it most. I could always count on Alejandro to lend a helping hand when I was in need, even down to the time he lent me a shirt, jacket, and tie for a formal event that had slipped my mind. I will miss him dearly." Jake Fabina
"Alejandro was one of my first PhD students. Great scholar. Great man."Helene Rey
"Alejandro was a good friend, a great human being ultra smart and so nice and gentle. we were colleague at the imf and later i invited him in paris every year to teach where he was loved by students. a terrible loss. my sympathy to his family." Romain Ranciere
"I met Alejandro last October at our macro workshop in Melbourne. He was so charming, smart and witty and I was very impressed by his keynote speech as well as questions and comments he raised during the entire day of conference. During drinks and dinner after the conference, we got to chat a little bit, and I was so impressed by his caring and kind nature. He was not only a great economist but also a great human being. This is a loss to the world. Rest in peace." Jiao Wang
"I knew Alejandro at the Board. He was a great economist and colleague and had such a sunny personality that he cheered up everyone around him. We will all miss him." Jonathan Wright