Fed Challenge
High School Fed Challenge is an academic competition that provides students grades 9–12 the opportunity to study the U.S. economy through the lens of the U.S. central bank. The program is designed to encourage students to learn more about economics and about the Federal Open Market Committee (FOMC), the policymaking group that makes interest rate decisions to foster economic strength and stability.
Last Updated: 04/25/18
Midwest Fed Challenge: 2018 Winners!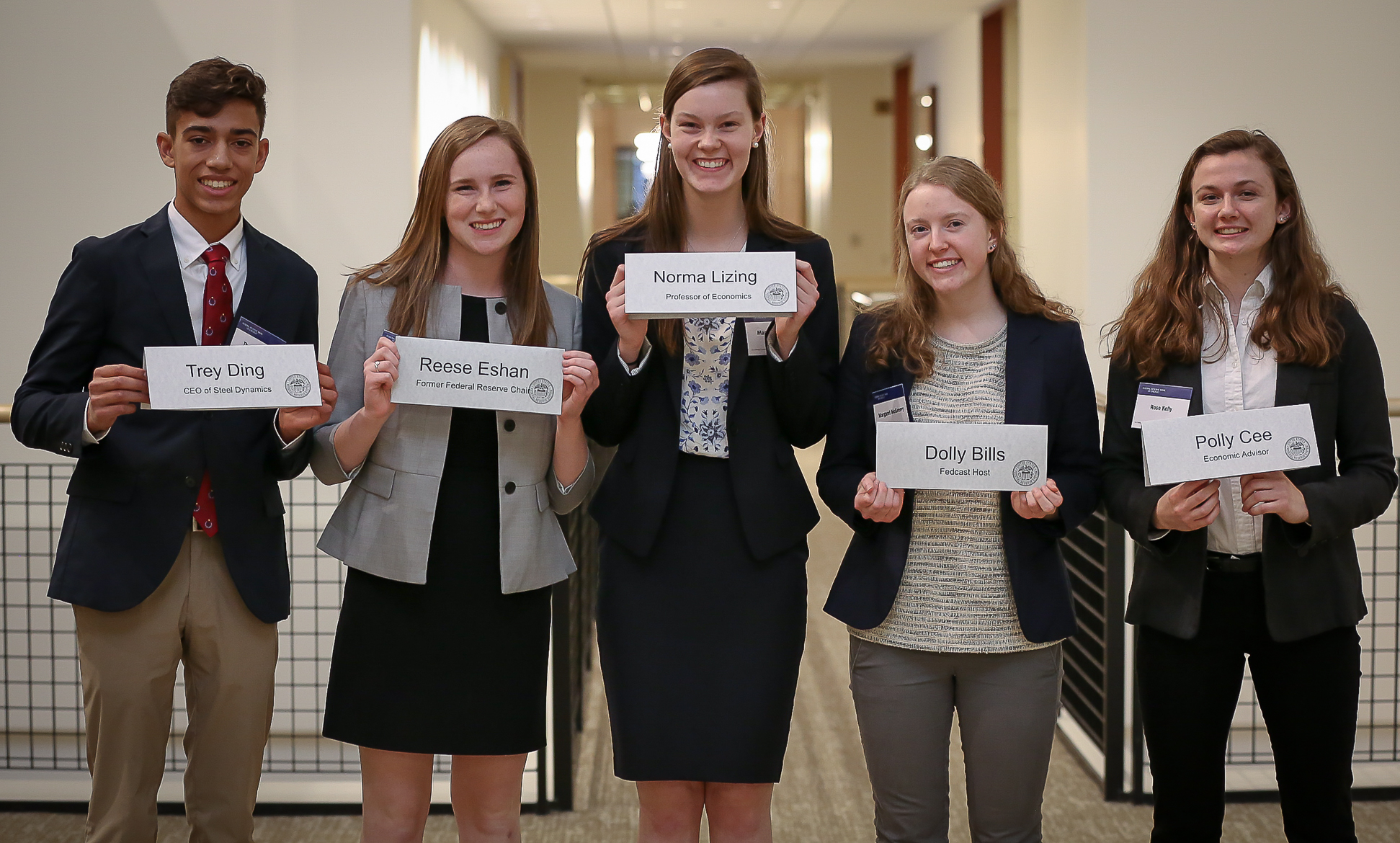 There was a tough, but exciting competition this year for the Midwest Fed Challenge 2018 title. This year's three finalist teams were St. Joseph's High School from South Bend, IN; Okemos High School from Okemos, MI; and William Fremd High School from Palatine, IL. St. Joe's came to Chicago determined to reclaim their Fed Challenge title. They even took on monetary policy and economics nom de plumes for the day. When all was said and done, St. Joe's determination and hard work won the day for them.
Faculty Advisors
Julia Chismar
Phil DePauw
Team Members
Maggie Barrett
Maggie Griffin
Margaret McGreevy
Thomas Pries
Anna Staud
2017 Fed Challenge Winners
A team of five students from Carmel High School in Carmel, IN, won the Federal Reserve Bank of Chicago's 2017 Midwest Fed Challenge Competition.
The team included:
Faculty Advisor
Paul Clayton
Team Members
Darren Chang
Drew Seketa
Matt Simons
Micheal Wang
Zach Gartenhaus
Taking second place was a team of seven students from St. Joseph High School in South Bend, IN.
Faculty Advisors
Julie Chismar and Phil De Pauw
Team Members
Anna Staud
Maggie Griffin
Margaret McGreevy
Marty Kennedy
Meagan Luck
Rose Kelly
Ryan Farrisee
Building a 21st Century Learning Environment
Fed Challenge students:
Analyze real data and use industry tools to assess the US economy
Develop a simulation to showcase assessment and recommendations
Gain exposure to professional economists from the Chicago Fed and sister organizations
Be evaluated on quality of teamwork
Develop critical thinking skills in preparation for live question and answer session with professional economists
Make personal connections that will last beyond high school
In Support of 21st Century Skills Framework
By the Partnership for 21st Century Skills
Focuses on 21st Century Skills, content knowledge and expertise.
Builds understanding across and among core subjects, as well as 21st Century interdisciplinary themes.
Emphasizes deep understanding, rather than shallow knowledge.
Engages students with the real world data, tools and experts that they will encounter in college, on the job and in life: Students learn best when actively engaged in solving meaningful problems.
Allows for multiple measures of mastery.
How Does Fed Challenge Work?
High school student teams from District schools take part in a simulated FOMC meeting. Each team of five students takes 15 minutes to analyze the U.S. economy, presents a short-term forecast for the economy and makes a monetary policy recommendation. The team must then defend its presentation before a panel of Fed economists in a 10-minute question-and-answer session.