Fifth Annual Summit on Regional Competitiveness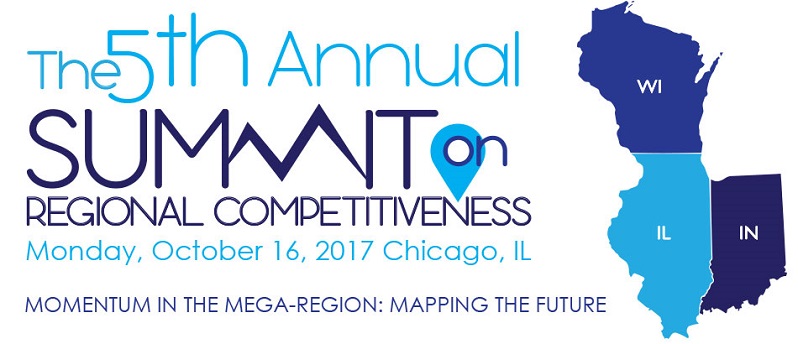 The Milwaukee-Chicago-Northwest Indiana corridor is an economic powerhouse but jurisdictional rivalries hamper its growth. Regional collaboration is the way of the future. There are best practices to share, thought leaders to hear from and exciting initiatives to embrace.
This high-profile, one-day event will include a series of best practice vignettes, panels, and keynote speeches including:
The Future of Work...how this region can be recognized nationally and internationally as a place where business can count on the skilled workforce needed for success
The Funding of Infrastructure...hear from the U.S. Department of Transportation leadership about the Administration's programs and policies
A Look at Innovative Initiatives...regional stakeholders will showcase local projects and efforts that you may want to replicate
Leading Journalists Assess the Region's Prospects...listen as top reporters discuss hot topics in the sub-regions and how you'll be affected by what's happening where
The Coming Retail Apocalypse...ideas for positioning your community to respond to an increase in vacant real estate as ecommerce replaces traditional retail shopping
Presentation of the First "Visionary Leader" Award
This is an invitation only event.
For information on how to be added to the guest list, please contact Kelly O'Brien, President of the Alliance for Regional Development, at kobrien@alliancerd.org.