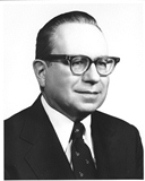 Robert P. Mayo
Sixth President
July 29, 1970 – July 1, 1981
Robert Mayo was the sixth President of the Federal Reserve Bank of Chicago, serving July 29, 1970 –July 1, 1981.
Prior to his appointment as Counselor to President Nixon July 1, 1970, Mayo was Director of the Bureau of the Budget. In addition to his duties as Budget Director, Mayo was a member of the Advisory Commission Intergovernmental Relations, a member of President Nixon's fiscal policy "Troika" and fiscal and monetary policy "Quadriad," and chairman of the Cabinet Committee Task Force on Lumber Prices.
From August 1, 1960 until his appointment as Budget Director, Mayo was Vice President of Continental Illinois National Bank and Trust Company of Chicago, concentrating on trust investments and public affairs.
Mayo was a career executive in the Office of the Secretary of the Treasury from 1941 to 1960. During this time, he rose from economic analyst to Assistant to the Secretary of the Treasury for Debt Management.
From 1938 to 1941, he was Director of Research and Tax Auditor for the Washington State Tax Commission in Olympia, Washington.
He received an A.B. degree (magna cum laude) in 1937 from the University of Washington. In 1938 he earned his Master's Degree in Business Administration and Certificate in Government Service from the same institution. Mayo was a Chartered Financial Analyst and member of Phi Beta Kappa.
Before leaving Chicago in 1968, he served as assistant to the Chairman of the American Bankers Association Committee on Urban Affairs.
Mayo was born in Seattle, Washington, March 15, 1916.
Economic Perspectives
Robert P. Mayo | 1980 | Vol. 4 | No. -July/August
Download
Robert P. Mayo | 1978 | Vol. 4 | No. -2
Download