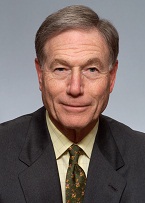 Michael H. Moskow
Eighth President
September 1, 1994 – August 31, 2007
Michael H. Moskow was the eighth president and chief executive officer of the Federal Reserve Bank of Chicago, serving from September 1, 1994, to August 31, 2007.
Moskow began his career teaching economics, labor relations, and management at Temple University, Lafayette College and Drexel University. From 1969 to 1977, he held a number of senior positions with the U.S. government, including undersecretary of Labor at the U.S. Department of Labor, director of the Council on Wage and Price Stability, assistant secretary for policy development and research at the U.S. Department of Housing and Urban Development and senior staff economist with the Council of Economic Advisers. In 1977, Moskow joined the private sector at Esmark, Inc. in Chicago and later held senior management positions at Northwest Industries, Dart and Kraft, Inc. and Premark International, Inc., a spin-off from Dart and Kraft. In 1991, President George H. W. Bush appointed Moskow as deputy United States trade representative, with the rank of ambassador.
He returned to academia in 1993, joining the faculty of the J.L. Kellogg Graduate School of Management at Northwestern University. In addition to receiving three honorary degrees, he was awarded the Addams Palmer Award for Exemplary Civic Involvement by the Civic Federation of Chicago, the Business Professional of the Year Award by Harold Washington College, the Financial Executive of the Year Award by DePaul University, and a distinguished alumnus award from Lafayette College.
Moskow received a bachelor's degree in economics from Lafayette College in Easton, Penn. in 1959, and a Ph.D. in business and applied economics from the University of Pennsylvania in 1965. After leaving the Chicago Fed, Moskow became vice chairman and senior fellow for the global economy at the Chicago Council on Global Affairs and served on nonprofit and corporate boards of directors.
Chicago Fed Letter
Economic Perspectives