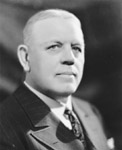 George J. Schaller
Second Governor/President
March 2, 1934 – March 1, 1941
George J. Schaller was the second governor of the Federal Reserve Bank of Chicago, serving from March 2, 1934, to March 1, 1941.
Schaller was born in Storm Lake, Iowa in 1874. His banking career began in 1902 in the Citizens First National Bank at Storm Lake, which he and his father organized. He became president in 1922 and continued as head of the bank until 1933 when the directors of the Federal Reserve Bank of Chicago asked him to become acting governor during the leave of absence of James B. McDougal. When McDougal retired in 1934, Schaller was elected governor.
A New York Times article stated "the election of Mr. Schaller is regarded as significant for two reasons: 1) he was practical which the directors in Chicago favored and 2) was not considered the 'brain trust' in which the Federal Reserve Board seemed to favor."
The Banking Act of 1935 changed the title of governor to president and Schaller was elected for a five-year term.
Upon his retirement in 1941, he returned to Storm Lake and the Citizens First National Bank of Storm Lake, Iowa.