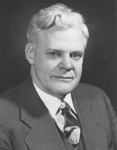 Clifford S. Young
Third President
March 1, 1941 – October 1, 1956
Clifford (Hap) S. Young was the third President of the Federal Reserve Bank of Chicago, serving from March 1, 1941 to October 1, 1956.
Young was born in Toledo, Illinois, on December 9, 1890. He entered the banking business in 1906 and held offices in various banks until 1916. In World War I, he was a second lieutenant assigned to the Finance Department. After the war, he became a cashier of a country bank, and it was during this period that he was called upon by the Auditor of Public Accounts in Illinois to help exam state banks.
In 1921, Young joined the Chicago Fed as a bank examiner, and on January 1, 1930 he was appointed Assistant Federal Reserve Agent. In January 1932, he was named secretary of the Board of Directors and manager of the Bank Examination Department. During the Depression and Bank Holiday of 1933, Young gained a national reputation as a banker of great vision. He assumed the bulk of the responsibility for opening banks throughout the Seventh Federal Reserve District. In 1936, Young was appointed vice president and held that position until his election as president.
Young was a man who enjoyed work; he looked upon work as a vacation and a vacation as work. He was uniformly addressed as 'Hap,' a derivative of 'Happy' which was a one-word portrait of his personality. Young died on December 15, 1972, in California.