Organizations Focused on Children and Creating a Healthier Chicago
Community Development and Policy Studies (CDPS) continues to be engaged in the System-wide Healthy Communities Initiative which explores the shared interests and goals of the community development and public health fields, with particular focus on the social determinants of health. Most recently, CDPS has focused on rural communities with a Healthy Communities event in Wisconsin at the end of 2016 entitled, Investing in Healthy Communities: Ideas to Action to for Healthy People, Places and Planet. Over the past few years, CDPS has devoted time to healthy communities and published many pieces, including two ProfitWise News and Views articles: "Exploring the Correlations between Health and Community Socioeconomic Status in Chicago" and "The Converging Visions of Public Health and Community Development." Going forward, as mentioned in our strategic plan, CDPS plans to continue its research on healthy communities. This blog will focus on two different organizations that promote fitness among Chicago school children by creating opportunities for participation in organized sports activities.
Urban Initiatives: Engage a child. Energize the community. Embrace Chicago.
Urban Initiatives (UI) is an organization in Chicago that works with 51 Chicago Public Schools to bring sports into a child's life to help "empower Chicago's youth to become agents of community change through academic success, healthy living, and leadership development."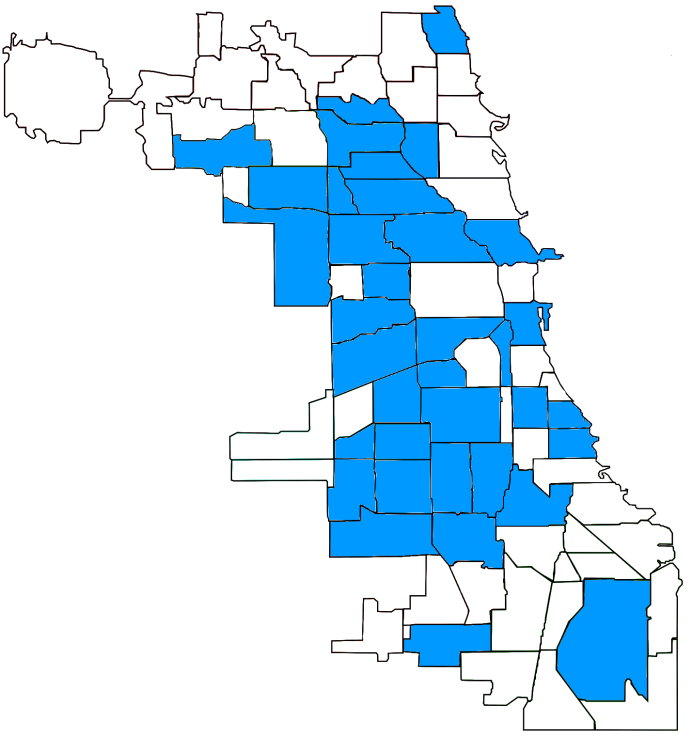 Since 2003, UI has learned that empowering kids on the field with a healthy snack and a new outlook has helped them succeed in the classroom. UI provides a continuum of programming including, Work to Play, Take the Lead, and Play with Potential. With 92 percent of UI participants coming from low-income families, UI utilizes sport and play as a means to help students succeed in life as well as in school. Students start on the soccer field in UI's Work to Play Program. This program serves students from kindergarten through fourth grade. Each week throughout the school year students have two practices and one game. Being on a team with UI helps the students promote accountability, discipline, physical fitness, good nutrition, and academic focus. Students in the program are 20 percent more likely to meet or exceed state standardized test results than their classmates.
Students in the fifth through eighth grades participate in the Take the Lead Program as captains for their former Work to Play teams. This program teaches leadership and responsibility to help guide them to a more successful high school experience. On a whole, 58 percent of participants who are obese or overweight at the beginning of the program year decrease their body mass index percentile by the end of the year. Additionally, 73 percent of all participants engaged in at least one hour of physical activity five to seven days a week (up from 53 percent at the beginning of the program).
UI's recess program, Play with Potential, utilizes the recess period for kindergarten through eighth grade to create more structure. The program's goal is to maximize the health, academic, and social and emotional learning benefits of recess periods, as well as improve the overall health environment of school communities. UI has dedicated on­site staff for each school that participated in the program and a broad recess curriculum to engage all ages and at any time of year. For the 2017 fiscal year, Play with Potential will serve over 13,000 students in 22 schools. Also, 45 percent of Play with Potential students are more likely to engage in moderate to vigorous physical activity than students at other schools.
Chicago Run: To Promote the Health and Wellness of Chicago Children through Innovative, Engaging, and Sustainable Youth Running Programs.
Chicago Run is another organization geared to promoting improved health among low- and moderate-income populations by providing students from early childhood to high school with a structured running and fitness program. When the organization was founded, roughly 79 percent of CPS students were only getting an hour a week to play during school hours. Their mission is to help the students become the "best versions of themselves" by creating and achieving running goals. Through this process they are also helping students achieve higher self-esteem and inspire their families to be more active.
For the 2016-2017 school year, Chicago Run is in 40 Chicago Public Schools (28 neighborhoods) and works with over 14,000 students; 84 percent of the organization's participants qualify for the federal/free reduced lunch program and have limited opportunities for physical activity and play.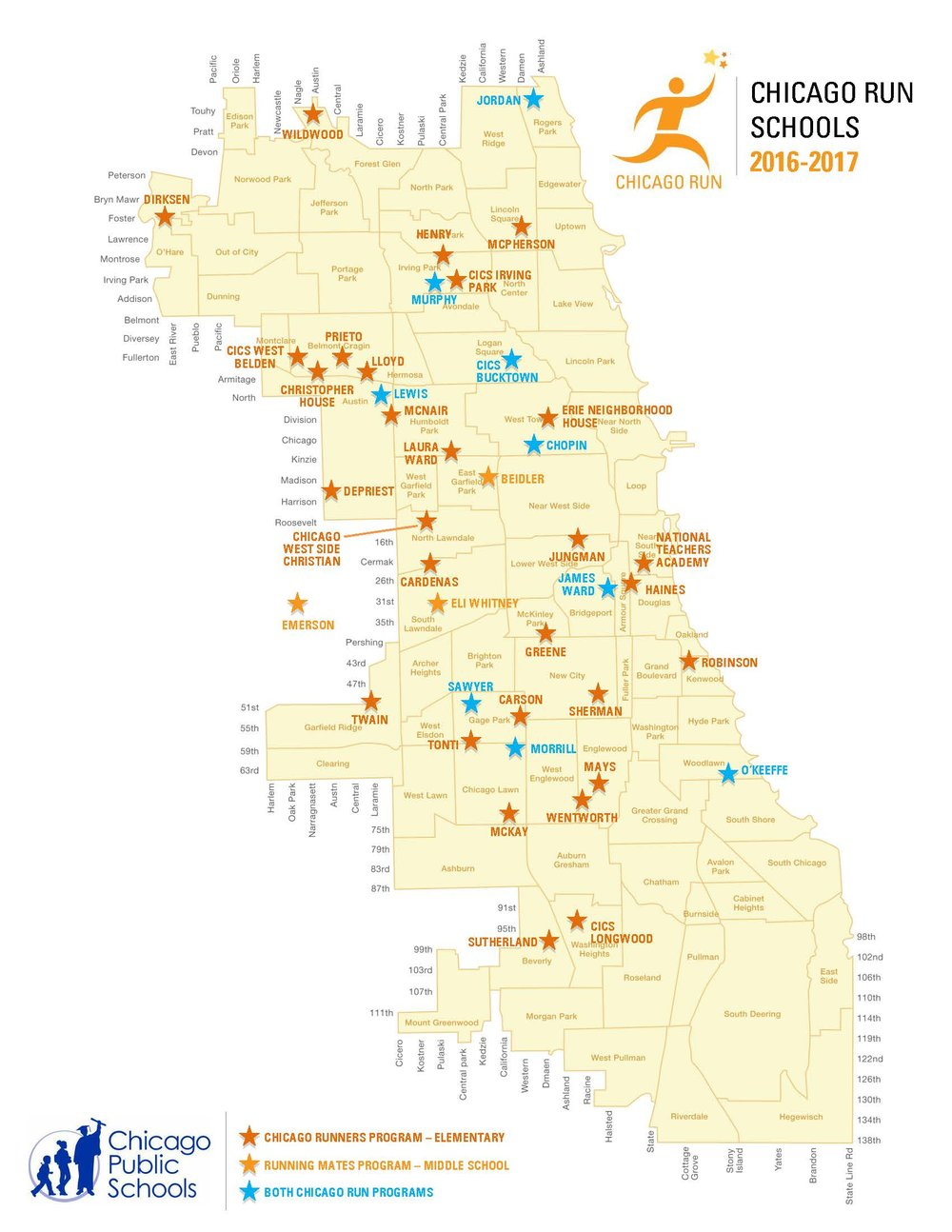 Chicago Run has four programs: Little Strides, Chicago Runners, Running Mates, and L.A.C.E. Up!
Little Strides focuses on developing gross motor skills in early childhood. This program instills the importance of daily exercise and incentivizes students to achieve their goals with stickers and rewards. The students exercise three to five times a week throughout the day in their classroom.
Chicago Runners was created to get elementary students active on a regular basis during the school day. Each student participates in physical activity three to five times a week. Like the younger group, students are incentivized to reach their mileage goal on the website myChicagoRun.org, a mapping software tool that features nutrition facts, historical landmarks, and cultural points of interest to increase participants' community pride and awareness.
Running Mates supports students as they get older and transition into middle school. This group helps the students to train for and enter a local Chicago race. Running Mates goes beyond helping students learn about proper nutrition and running, offering after-school programs on how to become leaders, set goals, and meet other students from other Running Mates programs across the city, something that is typically hard for lower income families given the geographical boundaries. In the 2014-2015 school year, Up2Us Sports, a national sports-based youth development program conducted a national evaluation of athletic enrichment programs throughout the country. Running Mates scored high on many of the metrics, but the most impressive result was from the Baseline PACER Test (Progressive Aerobic Cardiovascular Endurance Test), that tests students' ability to stay on pace. Prior to the program the Chicago Running Mates average was 26.19 and the national average was 25.5. After the Running Mates season their average was 40.07 and the national average was 29.70. Meaning that the students were close to the average at the beginning of the season, but surpassed the average by the end of the season.
L.A.C.E. (Leadership, Action, Community, Endurance) Up! is designed for runners who have graduated from Running Mates or Chicago Runners and have entered high school. Each of the four words in its name represent a focus of the program. For "leadership", the students serve as mentors and junior coaches to the programs for younger kids. In "action", the students are exposed to professional development opportunities. The "community" aspect encourages students to engage in service projects that emphasize healthy lifestyles and foster stronger relationships. Lastly, "endurance" is addressed by training for and running in races.
All four of these groups come together twice a year for the Fall and Spring running events. These runs not only bring together students from across the city, but also their families and communities, helping to promote the importance of physical activity, team participation, and leadership skills to life success.
The views expressed in this post are our own and do not reflect those of the Federal Reserve Bank of Chicago or the Federal Reserve System.