Seven Key Takeaways on EV Affordability: Is It in Sight or Further Down the Road?
Affordability has been one of the dominant recent issues in the automotive industry. Average new car prices were at $48,763 in February, according to Kelley Blue Book, almost 30% higher than three years earlier, before the Covid-19 pandemic and its disruptions.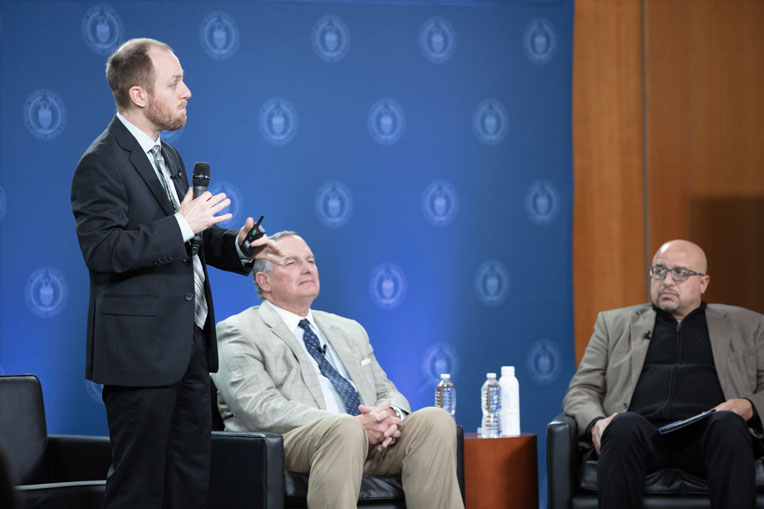 David Gohlke (l.) of Argonne National Laboratory presents at the Chicago Fed's 2023 Automotive Insights Symposium while Peter DeLongchamps (c.) and Lonnie Smith (r.) look on. The event was held in January at the Bank's Detroit branch.
Affordability has been one of the dominant recent issues in the automotive industry. Average new car prices were at $48,763 in February, according to Kelley Blue Book, almost 30% higher than three years earlier, before the Covid-19 pandemic and its disruptions.
At the same time, interest rates have climbed steeply over the past year. So even if people opt for a vehicle that costs much less than $49,000, their car payment will be significantly higher than in previous years. Average finance rates for new light vehicles (cars, pickups, vans, SUVs, and crossovers) reached about 6.5% in the fourth quarter of 2022; for used vehicles, they pushed 10%.
This is all happening against a backdrop of the growing push for automakers, parts suppliers, and consumers to switch over from internal combustion engine (ICE) vehicles to those powered by electric batteries. Right now, electric vehicles (EVs) are, in general, about 35% pricier than comparable gasoline-fueled models, but market pressures and new government incentives are moving them toward affordability.
So there was a lot to talk about when the Federal Reserve Bank of Chicago made the transition to EVs and vehicle affordability key elements of its 2023 Automotive Insights Symposium, held at the Bank's Detroit branch in January. These seven key takeaways are culled from two expert panels the symposium convened on affordability, one examining the consumers' perspective and one the manufacturers'. For the full range of what the panelists had to say, check out the transcripts, slide decks, and video recordings.
1. Consumers are taking longer to pay for their cars and having a harder time making payments —but mostly they are making their payments.
It is not uncommon now to see customers taking 72-month car loans, said Peter DeLongchamps, a senior vice president at Houston-based Group 1 Automotive, one of the nation's largest car dealership groups. "When we started in this business, who'd have thunk it, right?" he said. "Clearly, loan terms are getting longer in order to lower payments."
And as people by now have largely spent the pandemic relief payments they received, there's been a "big spike in delinquencies, all due to affordability," DeLongchamps said—but not nearly as big an increase in repossessions of vehicles.
People are making their car repayments a priority, according to Lonnie Smith, president of On the Road Lending, which works with economically disadvantaged buyers to get them into good used cars that can be key to maintaining employment and building credit. "Our default rate, it used to be below 3% and now it's ticking up to 4%," Smith said. "But still people are working with us," to meet their loan obligations.
2. Sometimes affordability is about helping people see what's right for them.
"Everybody wants a [Ford] F-150. I want an F-150, but I don't even know if it will fit in my garage," said David Gohlke, an energy and environmental analyst at Argonne National Laboratory who has done extensive work examining EV versus ICE cost of ownership. If car-buying decisions were more rational, he said, people would realize, for instance, that Ford's large, powerful pickup truck is used to full capacity only infrequently in typical driving patterns. By contrast, even a first-generation EV, with just 80 or so miles of battery range, "would be a great daily commuter for most people in the United States," he said.
At On the Road Lending, "we do get a lot of requests and demands for F-150s," Smith said, as part of a discussion of the vehicle that is perennially America's most popular. "But people don't have an F-150 budget. So, we have to recalibrate that conversation and say, 'What can your budget, from a total cost standpoint, support?'
"When you talk about your finances, that's an embarrassing topic to talk about, and especially if you have some shame associated with that. We're like, 'That's OK, let's work through this together so we can build that bridge, so you can access credit.'"
3. At the moment, electric vehicle buyers must be willing to pay a premium—more than one, in fact.
As a group, EVs were about one-third costlier than other vehicles between 2020 and 2022. Specifically, let's look at the most popular vehicle in America, the aforementioned Ford F-150 pickup. Over roughly the past two years across Group 1 Automotive's dealerships, DeLongchamps said, the average gasoline-fueled F-150 went for $65,000 (and had a three-month wait time for delivery); its EV counterpart, the F-150 Lightning, sold for $85,000 on average (with a year-plus wait time).
And that's for a vehicle with less capability: 230–320 miles of range on a charge versus the ICE model's more than 500 on a tank of gas, and that EV range falls by half or more when the truck is used to tow.
"So, we're seeing a lot of interest within the city, but not so much in the rural areas," said DeLongchamps. New federal clean vehicle purchase and lease incentives might boost interest, but it is still unclear which vehicles will qualify—and for how much.
4. Even with EVs' significantly higher upfront costs, the cost of owning them becomes cheaper over time.
Considering the total cost of ownership—including financing, maintenance, fuel and insurance—"starting around year seven, the EVs can be cheaper than the internal combustion engine vehicles," said Gohlke, of Argonne, as overall savings make up for the price premium at purchase. "So that's a great story."
But such deferred payback also means that EV ownership for now is concentrated in higher-income areas, he added.
As for fuel, even at the most expensive, direct-current fast-charging stations, the per-mile cost is comparable to gasoline-fueled vehicles, he said. Charging at home, it's considerably cheaper.
What he's really interested in at this point, Gohlke said, is the secondary market. "I'm very curious to see how that plays out over the next six or so years when the new vehicles of [today] become the used vehicles of the mid to late 2020s."
5. Increased production of EVs will help drive affordability…
"We are really ramping up. And that is where the affordability comes from in this industry," said Dan Nicholson, vice president of electrification controls, software and electronics at General Motors. Pledging to be completely electric by 2035, GM is introducing new EV models rapidly and aims to be building one million such vehicles a year in North America by 2025, Nicholson said.
Another way GM is making EVs more affordable is by designing multiple vehicles on shared battery and software platforms, he said. That allows much faster new vehicle development times and many more shared parts, among other efficiencies.
Nissan, too, is incorporating common platforms into its EV planning. "We'll have different body styles on a common platform that will come out over the next few years," said Aditya Jairaj, senior director in Nissan USA's EV Transformation Office.
And what's good for the manufacturers is good for their parts suppliers, said Daniel Kennel, managing director at BorgWarner, one of the critical suppliers of vehicle propulsion systems and parts. "We need [manufacturers]… having few dedicated electric vehicle platforms because then we can leverage scale," he said. "And this is the easiest economic way to bring costs down."
6. …but increased production won't mean much unless there is also increased demand. And incentives and market momentum are pushing EVs toward affordability.
Demand for EVs in the U.S. is climbing quickly but was still less than 6% of the new-vehicle market in 2022. That's in part because of EVs' higher cost and concentration in the luxury end of the market. "If you exclude pickup trucks, only 15% of the U.S. market is vehicles that are $50,000 or more. And that's essentially where the EV market has been competing," said Rod Lache, managing director and auto industry analyst with Wolfe Research.
But change is almost inevitable, predicted Lache. "There's this saying in the markets that there's no better cure for high prices than high prices," he said.
"We're reasonably confident in the measures that will be taken to reduce the costs of [EV] batteries… And then we're seeing a massive amount of money being spent—$50 billion in GM's case, $35 billion in Ford's case, a million units coming out by 2025." The recently passed federal Inflation Reduction Act also contains incentives for clean vehicle, battery, component, and critical minerals manufacturing that may help to lower costs over time.
"So, the capacity will be there. You're going to see a barrage of new vehicles. That's going to drive growth. Right now, we're projecting that in the U.S. market we'll go from about 5.5% [EV] penetration to about 20% by 2025."
Meanwhile, he added, "ICE's day in the price hot seat is coming"—spurred by declining utilization and tightening fuel economy and emissions standards. "I think that at some point—maybe it's towards the end of this decade—we're going to be talking about how much of a premium are you willing to pay for internal combustion to get the utility that you need because of towing or, whatever, range."
7. Don't count the internal combustion engine fully out, however.
Even if Europe and the U.S. are well down the road to EV dominance by, say, 2030, they're responsible for a combined 40 million vehicles annually, "not even half of the global manufacturing," said Kennel, of BorgWarner. "There will be still a lot of regions out there that will fully depend on ICE vehicles."
"And," added Kristin Dziczek, an automotive industry expert with the Federal Reserve Bank of Chicago, there are currently "280 million vehicles on the road that are ICE."
---
The views expressed in this post are our own and do not reflect those of the Federal Reserve Bank of Chicago or the Federal Reserve System.