29th Annual Automotive Insights Symposium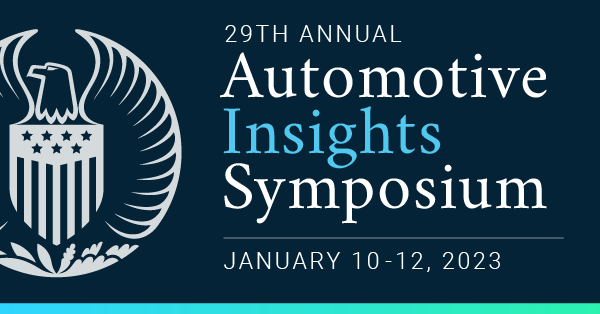 Plug-in electric vehicles now make up over 6% of the new vehicle market and that proportion is growing quickly. How will this rapid change affect the new and used car markets, the automotive workforce, and traditional manufacturing centers in the Great Lakes region?
The 29th Annual Automotive Insights Symposium, Making the Shift: Electric Vehicles and their Impact on Sticker Prices and Automotive Jobs, took place on January 10–12, 2023, where we discussed this theme in greater detail. Through engaging panel discussions, keynote speeches, and tours, we'll explore the following topics:
The 2023 outlook on U.S. and North American auto production, sales, and supply chains
Pricing and vehicle affordability trends
Implications of the Inflation Reduction Act's consumer and producer incentives to boost the sales of electric vehicles
Workforce impacts from the shift to greater electric vehicle production, including the roles of labor unions and economic development
Through events like this, the Federal Reserve Bank of Chicago serves the public, fostering economic opportunity and advancing a strong economy for our region and nation.
Review Key Materials
Access the available transcripts and slides from this event inside the Agenda section.
Tuesday, 01/10/23
1:00 PM
Ford F-150 and F-150 Lightning Factory Tours
Wednesday, 01/11/23
9:00 AM
Registration and Breakfast
10:00 AM
Welcome & Introduction
Speaker
Leslie&nbspMcGranahan
,
Vice President and Director of Regional Research
,
Federal Reserve Bank of Chicago
10:15 AM
An Economic View of the Electric Vehicle Transition
Speaker
Kristin&nbspDziczek
,
Policy Advisor, Regional Analysis
,
Federal Reserve Bank of Chicago
11:00 AM
2023 Automotive Outlook
Moderator
Martin&nbspLavelle
,
Senior Business Economist
,
Federal Reserve Bank of Chicago
Speakers
Charlie&nbspChesbrough
,
Senior Economist and Senior Director of Industry Insights
,
Cox Automotive
Kristin&nbspDziczek
,
Policy Advisor, Regional Analysis
,
Federal Reserve Bank of Chicago
Haig&nbspStoddard
,
Principal Analyst-Forecasts
,
Informa Tech Automotive Group/Wards
Joe&nbspZaciek
,
Research and Industry Analysis Senior Manager
,
MEMA Original Equipment Suppliers
1:30 PM
The Consumer Challenge: Electric Vehicle Affordability
Peter&nbspDeLongchamps
,
Senior Vice President, Manufacturer Relations, Financial Services and Public Affairs
,
Group 1 Automotive
David&nbspGohlke
,
Energy and Environmental Analyst
,
Argonne National Laboratory
Martin&nbspLavelle
,
Senior Business Economist
,
Federal Reserve Bank of Chicago
Lonnie&nbspSmith
,
President
,
On the Road Lending
3:15 PM
The Response: Manufacturing Addresses Affordability
Moderator
Kristin &nbspDziczek
,
Policy Advisor, Regional Analysis
,
Federal Reserve Bank of Chicago
Speakers
Aditya&nbspJairaj
,
Senior Director, EV Transformation Office
,
Nissan USA
Daniel&nbspKennel
,
Managing Director
,
BorgWarner
Rod&nbspLache
,
Managing Director
,
Wolfe Research
Dan&nbspNicholson
,
Vice President of Electrification, Controls, Software & Electronics
,
General Motors
4:45 PM
Concluding Remarks & Adjourn
Kristin&nbspDziczek
,
Policy Advisor, Regional Analysis
,
Federal Reserve Bank of Chicago
Thursday, 01/12/23
9:00 AM
Welcome & Introduction
Speaker
Rick&nbspMattoon
,
Vice President and Regional Executive, Detroit Branch, Regional Analysis
,
Federal Reserve Bank of Chicago
9:15 AM
Fireside Chat on Job Quality in the Electric Vehicle Transition
Speakers
Kristin&nbspDziczek
,
Policy Advisor, Regional Analysis
,
Federal Reserve Bank of Chicago
Lana&nbspPayne
,
National President
,
Unifor
10:45 AM
What's at Stake: The Future of Automotive Jobs
Moderator
Sarah&nbspMiller
,
Principal Advisor
,
Federal Reserve Bank of Chicago
Speakers
Turner&nbspCotterman
,
Associate
,
McKinsey & Company
Adam&nbspHersh
,
Senior Economist
,
Economic Policy Institute
Anna&nbspStefanopoulou
,
Professor, Mechanical Engineering and William Clay Ford Professor of Manufacturing
,
University of Michigan
Karla&nbspWalter
,
Senior Director of Employment Policy
,
Center for American Progress
1:00 PM
Electric Vehicle Job Quality: Federal Policy Responses
Speakers
Susan&nbspHelper
,
Senior Advisor for Industrial Strategy
,
White House Office of Management & Budget
Betony&nbspJones
,
Director, Office of Energy Jobs
,
U.S. Department of Energy
Joann&nbspMuller
,
Transportation Correspondent
,
Axios
2:30 PM
State Strategies: Competing for Quality Electric Vehicle Jobs
Jonathan&nbspBridges
,
Managing Director
,
JobsOhio
Rick&nbspWalker
,
Founder & President/CEO
,
Georgia Automotive Manufacturers Association
Kristin&nbspDziczek
,
Policy Advisor, Regional Analysis
,
Federal Reserve Bank of Chicago
Maureen&nbspDonohue Krauss
,
President & CEO
,
Detroit Regional Partnership
3:45 PM
Concluding Remarks & Adjourn
Speaker
Leslie&nbspMcGranahan
,
Vice President and Director of Regional Research
,
Federal Reserve Bank of Chicago