2012 Michigan Employment Summary
The Bureau of Labor Statistics' annual benchmark revisions indicate that Michigan's labor market decelerated in 2012, adding 37,400 to total nonfarm payrolls while seeing its unemployment rate fall to 9.0% in March and rise to 9.3% during the summer, before falling again and settling at its current rate of 8.9%. As seen in chart 1, Michigan's unemployment rate tracked somewhat the behavior of the national and Seventh District unemployment rates, though Michigan's unemployment rate uptick was sharper. Despite the drop in the unemployment rate, Michigan's labor force shrank for the sixth straight year. Over the past six years, Michigan's labor force participation rate has fallen from 64% to 59% as population out-migration accelerated.
1. U.S., Seventh District, and Michigan unemployment rates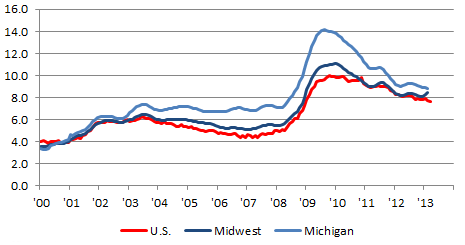 Source: BLS
As shown in chart 2, the state's labor market expanded at a stronger and more consistent pace last year, adding 97,000 workers to nonfarm payrolls as the unemployment rate fell throughout the year. After revisions, Michigan nonfarm payroll employment over the past two years was revised upward by 51,500. In 2012, the largest job gains were recorded in manufacturing (+20,700) and professional & business services (+9,900). Construction and government were the two largest drags on employment growth, though construction employment picked up slightly toward the end of 2012.
2. Changes in Michigan total nonfarm payroll employment, level vs. 3 month moving average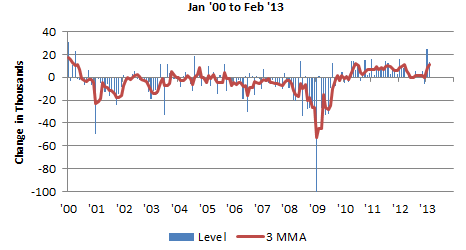 Source: BLS
In 2012, Michigan's nonfarm payroll employment increased 1.9%, slightly faster than the nation's, which grew 1.7%. Michigan's nonfarm payroll employment growth slightly decelerated from 2011 when growth was 2.3%. The state placed fourteenth in employment growth among all states in 2012 after placing second the previous year. During the second half of 2012, Michigan's employment growth slowed to a rate slower than the nation's.
Chart 3 compares employment levels in the fourth quarter of 2012 and the fourth quarter of 2011. Michigan's employment grew at a slower rate than both the nation's and the District's. The only job category that expanded at a faster rate in Michigan was manufacturing. When comparing fourth quarter year-over-year employment levels, Michigan's total nonfarm payroll employment expanded 1.1%, ranking 36th among the states. However, for the first quarter, year over year, Michigan's total nonfarm payroll employment increased 2.6%, ranking fourth among the states.
Chart 3: Employment Growth by Sector, 4th quarter 2012 vs. 4th quarter 2011, U.S., Midwest, Michigan
3. Employment growth by sector, 4th quarter 2012 vs. 4th quarter 2011, U.S., Midwest, Michigan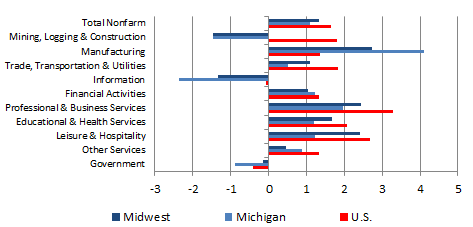 Source: BLS
Where has the slowdown in Michigan employment growth taken place? Sector-wise, while still registering strong annual increases, growth in manufacturing employment has slowed considerably, especially in metals, plastics & rubber, and machinery-related occupations. Chemical manufacturing and transportation equipment growth rates flattened out, while declines took place in computers and electronic equipment.
Relative sector weaknesses emerged in retail trade and leisure & hospitality during the fourth quarter of 2012. Nationally, retail trade employment grew at a 1.5–2.0% annual rate during the holiday season. However, Michigan's retail trade employment decreased at a –0.2–0.5% rate, with the most significant declines occurring at gas stations, grocery stores, and general merchandise stores. Leisure & hospitality employment in Michigan only grew at a 1.2% rate versus 2.7% growth nationally. A large divergence took place in the subsector of arts, entertainment & recreation, where nationally, employment grew at around a 2.5% annual pace while statewide employment fell at an annualized pace of –9.5%.
The rate of decline in metro area unemployment rates slowed from its 2011 pace. Western Michigan's metros (Grand Rapids, Kalamazoo, and Holland) are seeing their unemployment rates fall faster than other parts of the state. Lansing and Detroit have seen slight increases in their respective unemployment rates. Payroll employment growth has also slowed, with decreases in Saginaw and continued stagnation in Lansing. Growth continues to be strongest in Grand Rapids and Holland, although the only major Michigan metro area that is seeing a significant acceleration in employment growth is Ann Arbor.
The views expressed in this post are our own and do not reflect those of the Federal Reserve Bank of Chicago or the Federal Reserve System.