Small Towns, Big Headquarters
Two corporate headquarters location developments made Midwest headlines on May 10. One was the news story that UAL, the holding company for Chicago-based United Airlines, was considering moving its corporate offices from Chicago's suburbs to the city's central business district or possibly to another city. On the same day, Whirlpool announced a restructuring that will close the headquarters offices of recently acquired Maytag in Newton, Iowa, and consolidate them in Whirlpool's headquarters location in Benton Harbor, Michigan. Of the two announcements, the Maytag closure illustrates an important trend for small towns and less populous metropolitan areas; large company headquarters are shifting toward more populous metropolitan areas.
Many small towns and smaller metropolitan areas in the Midwest have historically been home to large company headquarters, especially of industrial companies. In fact, some highly successful companies were founded in these places, and they subsequently maintained their headquarters operations there even as their production operations and sales expanded to be national and even global scope. To illustrate, below is a partial listing of Fortune magazine's top 1,000 companies that can be found in smaller cities and metropolitan areas in the Seventh District states of Illinois, Indiana, Iowa, Michigan, and Wisconsin.
Table 1. Smaller cities or metropolitan areas within Seventh District states featured on Fortune's top 1000 companies list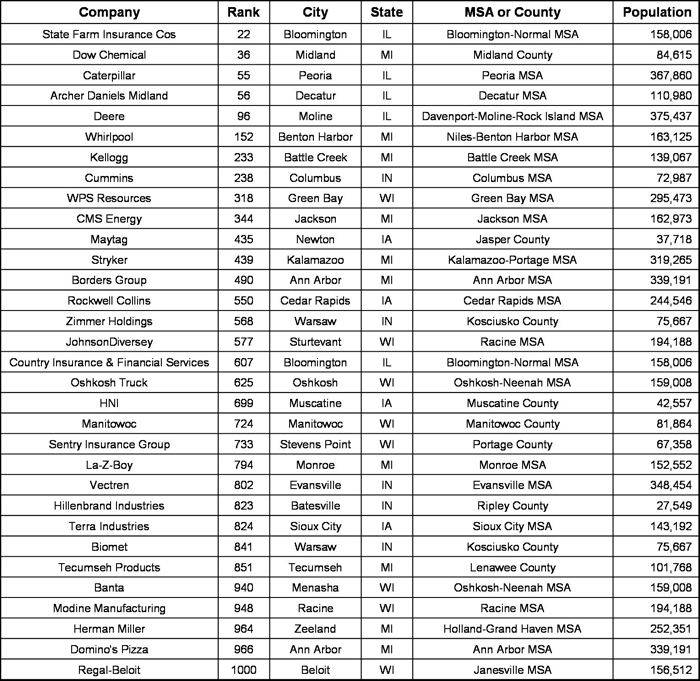 Places that host large company headquarters often fare well in several respects. Headquarters are renowned for funding local charitable and civic programs. In addition, headquarters employees tend to be highly educated and committed to social and public service. Accordingly, the loss of such a headquarters by a small town or metropolitan area can be a difficult blow.
Even after a loss, headquarters towns can be more fortunate in the aftermath than towns that experience large production plant closures. Headquarters sometimes leave behind a substantial legacy, such as philanthropic foundations or founding families, or important institutions, such as hospitals or colleges and universities. In the recent wake of Upjohn/Pharmacia's headquarters pullout of Kalamazoo, Michigan, an anonymous donor(s) has funded The Kalamazoo Promise program which has promised to pay for college tuition (in-state) for local students who complete high school in good standing. This scholarship program is not necessarily funded by anyone associated with Upjohn, since the town also hosts headquarters of other large companies such as Stryker and other wealthy individuals. However, the original Upjohn Company has left other more apparent legacy assets. For example, the Kalamazoo area hosts the Upjohn Institute, an important labor research organization that was begun by the company's founder. And the new owner of the former Upjohn-Pharmacia facilities, Pfizer, is assisting the town in several ways including in the creation of local spin-off technology start-ups.
Nonetheless, the departure of the Upjohn/Pharmacia headquarters will be felt. The list below illustrates some of the places that have been or will be struggling to close the civic gap left behind.
Table 2. Smaller cities or metropolitan areas struggling to close civic gaps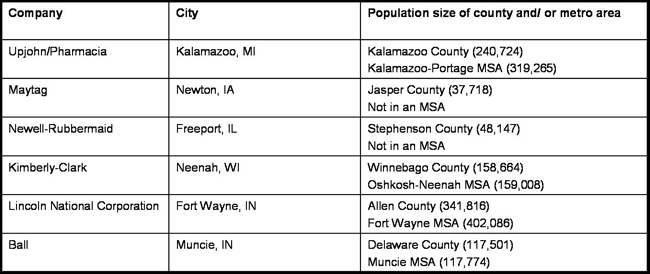 It appears that the tendency for less populous areas to lose these headquarters, which usually happens amidst a merger or acquisition, is part of a broader trend. Studies examining such events over the past 40 years indicate that nonmetropolitan counties in the U.S. are losing share of large company headquarters. The gainers have been metropolitan areas of 1 million or more. Metro areas of this size have been growing in number, especially in the Sunbelt. With their larger population sizes, these metro areas typically have the features that are attractive to headquarters operations, namely diverse business services such as law and accounting, as well as significant air travel capability for headquarters executives.
It remains to be seen if smaller metro areas in the Midwest will be able to reverse or compensate for this trend in other ways. To date, as the chart below illustrates, places of smaller size have generally grown less rapidly over the past 15 years.
Figure 1. Seventh District states population growth, 1990-2005, percent change

Source: U.S. Bureau of the Census.
* "Small Metro" is defined as Metropolitan Statistical Areas (MSAs) with a population less than 500,000.
** "Medium Metro" is defined as MSAs with a population greater than 500,000 and less than 1,000,000.
*** "Large Metro" Is defined as MSAs with a population greater than 1,000,000.
The views expressed in this post are our own and do not reflect those of the Federal Reserve Bank of Chicago or the Federal Reserve System.