Energy Prices and Where We Live and Work
For those of us who are aged 50 and older, it is easy to forget that younger generations did not experience the energy crunch of the 1970s nor the many (often failed) public policy responses to the OPEC oil price run-ups. With today's similar developments in energy markets, it is fascinating to compare the two eras. In some ways, history repeats itself. In other ways, it does not.
The auto industry upheaval appears to be repeating the 1970s. As then, domestic automakers (and their fuel-consuming fleets) are suffering dearly from the sudden hike in gasoline prices; foreign-domiciled automakers, not so much. In both the 1970s and today, the vehicles of Asian automakers tend to be smaller and more fuel-efficient. Unlike the 1970s, however, today even Toyota is paying for its lurch toward large vehicles such as its large pickup truck, the Tundra.
Another apparent similarity between the eras is that some analysts are predicting that rising fuel costs will reshape our patterns of living and working toward more compact urban forms, to the detriment of far suburban and rural areas. However, the actual shifts that took place in the landscape of America surprised us somewhat during the 1970s and early 1980s.
The U.S. was already well-suburbanized by the mid-1970s. But in response to higher fuel prices, it was commonly thought that beleaguered central cities were in store for some respite from the population flight that they had been experiencing. With their denser housing patterns, high job concentrations, and well-developed public transit systems, large cities would offer shelter from high gasoline prices. In suburban and rural areas, where driving distances were long, residents would pay the price. The pace of suburban sprawl would slow, the pace of rural shrinkage would accelerate. For those of you too young to remember, these predictions did not come to pass.
These same predictions are being made today as gasoline prices have doubled. In a recent study, Joseph Cortright offers evidence that shifts toward more compact cities are already underway, as households eschew housing on the urban fringe where commuting distances are long. Indeed, in large metropolitan areas like Chicago, housing prices in closer-in neighborhoods have been holding up relatively well over the past year. The era of urban sprawl has been pronounced dead, with households and employers expected to favor greater density as a way to economize on energy-related travel costs.
However, the contrast between expectations in the 1970s and what actually came to pass may give us pause in assessing today's predictions. Just the opposite took place in the 1970s era. Central cities of large metropolitan areas, especially in the Northeast and Midwest, experienced their worst decade of the century. Population tended to flee to the suburbs, especially middle and upper middle income residents. The apparent reasons for flight included rising crime, school desegregation, and the near-completion of an interstate highway system that funneled homeowners to cheap and abundant housing on the perimeter.
While rural areas in some areas of the U.S. did continue to decline, on the whole the 1970s was hailed as the decade of the "urban to rural turnaround." The charts below indicate population growth over past decades for metropolitan versus nonmetropolitan counties. Though energy expenditures were higher on average for rural households, rising energy prices for coal, natural gas, and petroleum raw materials spurred a boom in exploration and mining in many parts of the U.S. Rural rebound was also spurred by a resurgence in prices and exports of agricultural commodities and processed foods. The falling exchange value of the dollar against world currencies following the dollar's detachment from gold in 1971 was accompanied by favorable prices for U.S. foodstuffs on global markets. Faltering agricultural production in some foreign nations such as the former Soviet Union contributed to rising U.S. farm income. So too, thanks in part to the interstate highway system, some types of manufacturing began to discover rural areas as hospitable sites for production.
1. U.S. population growth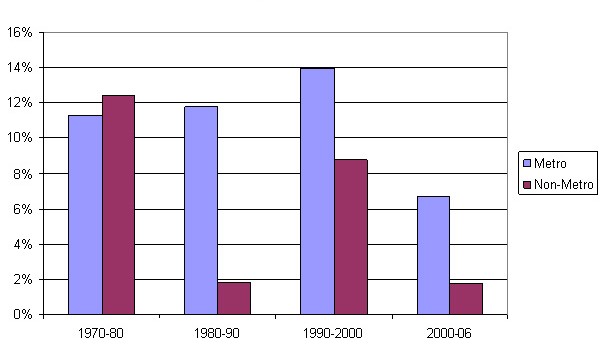 2. Great Lakes population growth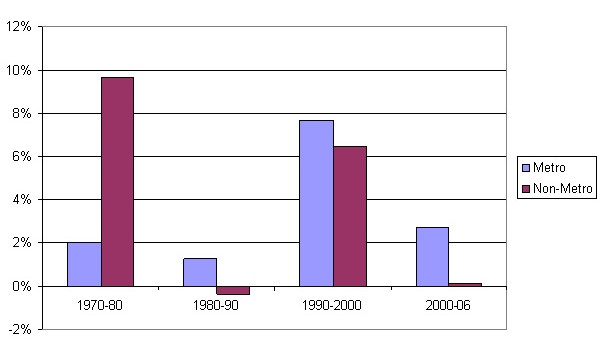 Source: U.S. Department of Commerce, Bureau of Economic Analysis. Note that the BEA uses the most current definitions of metropolitan area counties available from the Office of Management and Budget (OMB) and carries them through the entire data series over time.
Will these surprising patterns repeat themselves in the current era of high prices for energy materials? Rural areas are once again finding themselves amidst an energy and food commodity boomlet. Surging agricultural demand from developing nations has contributed to rising U.S. exports and commodity prices. The falling value of the U.S. dollar since 2002 has also contributed, as have the U.S. legal mandates and subsidies for the use of corn-based ethanol as a transportation fuel. In the Seventh District, the growth pattern in farmland prices looks much like the late 1970s and early 1980s, rising at double digits annually through the decade.
In other regions, coal mining and energy exploration activity are buoyant.
However, this time around, conditions would seem to favor central cities versus rural and far suburban areas more than in the 1970s. Rates of crime declined over the 1990s in most major U.S. central cities. Central city schools continue to struggle to educate and graduate low-income students, in particular. Yet, most such school systems enjoy greater financial stability, and many have innovated and expanded their offerings to serve populations who are diverse culturally, as well as economically. Rather than shunning large cities, many highly educated households are finding the older architecture, diverse community, and rich array of amenities in central cities attractive. To some degree, employers have followed educated employees back into central cities; or they have found that the density of the central city makes for more productive business activity in the "new economy," which rewards face-to-face contacts in conjunction with sophisticated telecommunications. Should these recent trends continue, higher gasoline prices may only add one more advantage to the higher density of older central cities.
These trends may leave some suburbs on the fringe as the losers in the current era. The map below illustrates the average commuting time for suburban areas of the Chicago metropolitan area. Many households who buy or rent in suburban areas choose the low housing prices that such areas offer at the expense of longer trips to work. The sudden rise in gasoline prices may have left many such households with larger shocks to household budgets than their more urban counterparts. The Center for Neighborhood Technology in Chicago has constructed neighborhood maps of U.S. metropolitan areas which estimate average household expenditures for commuter travel. For Chicago and most other metropolitan areas, these estimates show that average household energy expenditures climb on the fringes of metropolitan areas. Even as measured as a share of household income, far-suburban households are more severely affected by rising fuel costs.
3. Travel time to work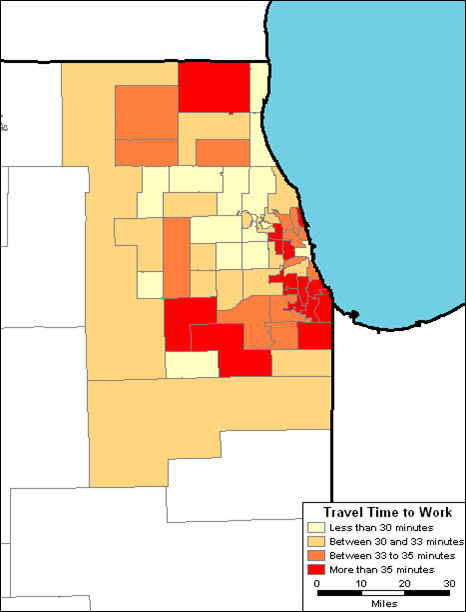 Source: Maptitude and Census Bureau (PUMS)
Some revisionist interpretations of the 1970s experiences of "urban to rural" turnaround have also been made by analysts such as Paul Gottlieb. And it seems that the turnaround of that period has been overstated by an inherent bias of measurement—the tendency to overstate the population growth of nonmetropolitan counties during periods in which household growth is robust nationally. In such periods, population growth in nonmetropolitan counties can flip their defined status from nonmetro to metro, thereby inflating the measured pace of growth in consistently defined "nonmetro" counties.
Given the experience of the 1970s, it is difficult to draw firm and rapid conclusions concerning whether an era of higher fuel costs will reshape our urban, suburban, and rural landscape and, if so, how. To be sure, higher fuel costs have changed the desirability of work and residential locations. But we also know that households and businesses can adapt to such marked price shocks in other ways than moving. In particular, as today's fleets of autos and trucks wear out, they will surely be replaced by more fuel-efficient vehicles, thereby allowing many long commutes and delivery trips to resume at moderated cost. Such was the case following the energy price shocks of the 1970s.
Note: Thanks to Vanessa Haleco-Meyer, Bill Sander, and Graham McKee for comments and assistance.
The views expressed in this post are our own and do not reflect those of the Federal Reserve Bank of Chicago or the Federal Reserve System.