Manufacturing Headwinds Strengthen
The manufacturing sector exerts an outsized impact on the Midwest economy—especially during cyclical downturns. Regional jobs and income are approximately 30 percent more concentrated in manufacturing in the Seventh District than in the nation as a whole. The District's economy is even more concentrated in durable goods production–both capital goods, such as machinery, and consumer durables such as autos and appliances. Both capital and consumer durables are highly sensitive to cyclical swings. In times of economic contraction, businesses slow their purchases of capital equipment as they struggle with production overcapacity in relation to their current sales. Meanwhile, households slow their purchases of durable goods as they increase their precautionary savings to meet possible loss of jobs and income.
Earlier in the current recession, manufacturing activity had been having a somewhat subdued regional impact. The chart below compares the year-over-year growth of industrial production in the District and the nation during the last two recessions (recessions are indicated by the shaded vertical bars). By way of contrast, in the months leading up to the 2001 recession, production and manufacturing employment began to fall in advance of the recession. During the period leading up to that recession, very strong national and global investment in IT equipment and plant capacity took place. Specifically, the so called "Y2K" effect, coupled with buoyant world growth in response to emerging Internet innovation, spurred investment across many durable goods sectors. During the current recession, manufacturing activity held up relatively well through the first two quarters of 2008 before dropping sharply later in the year.
1. U.S. industrial production manufacturing and Chicago Fed Midwest Manufacturing Index (CFMMI)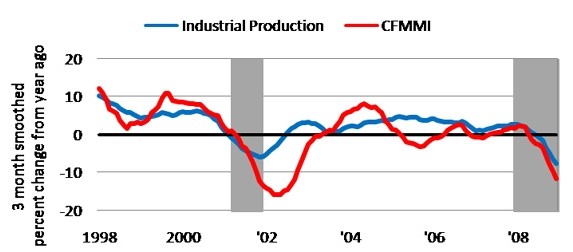 Source: Haver Analytics/U.S. Census Bureau/Federal Reserve Bank of Chicago
A closer look at this decline by broad sector would show that 2008's production strength resided in the capital goods and machinery sectors. In both the Chicago Fed Midwest Manufacturing Index and the national index of production, machinery production remained almost flat. In contrast, slides in automotive production coincided with the general downturn in business activity. In fact, District automotive production fell sharply during the first half of 2008 in response to the gasoline price spike, which depressed sales of the larger vehicles in which the District's producers tend to specialize.
Meanwhile, ongoing growth in the global economy bolstered capital goods and machinery purchases. Developing nations such as China and India have become important customers for U.S. capital goods, and their continued growth contributed to U.S. export growth. At the same time, high prices for farm, energy, and other commodities also spurred foreign demand for U.S. manufactured mining, construction, and farm equipment. As commodity prices fell off of their mid-summer peaks, so did both domestic and foreign demand for such equipment. So too, as the financial crisis worsened in the fall, and spread to other parts of the world, U.S. exports abroad began to ease. This can be seen below in the two charts of manufactured exports. Year over year through the fourth quarter of December of 2008 (3 month smoothed), exports fell by 4.2% in the nation and by 3.6% in the District.
2. United States and Seventh District exports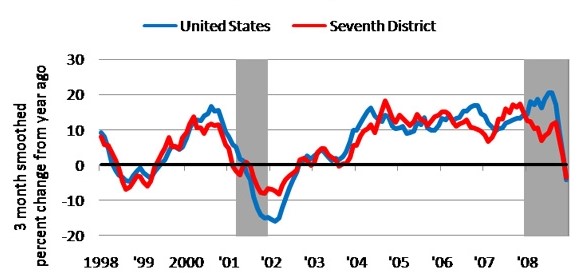 Source: Haver Analytics/U.S. Census Bureau/Federal Reserve Bank of Chicago
3. 2008 exports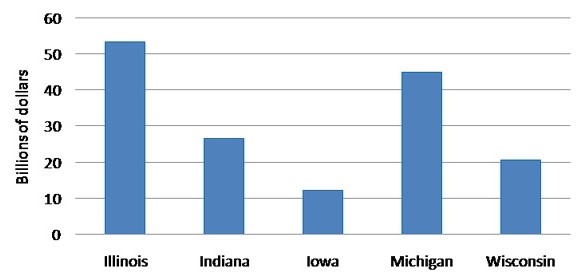 Source: Haver Analytics/U.S. Census Bureau
Note: Emily Engel contributed to this blog entry.
The views expressed in this post are our own and do not reflect those of the Federal Reserve Bank of Chicago or the Federal Reserve System.