Small Business Credit Survey
Are you a small business or do you work with small businesses that would be interested in participating in the 2017 Small Business Credit Survey?
The dual mandate of the Federal Reserve includes maximum employment. Small business development and growth is essential to full employment. "More than half of Americans either own or work for a small business, and they create about two out of every three new jobs in the US each year," according to the Small Business Administration. To learn more about credit access and business conditions for this very large cohort of employers, Community Development and Policy Studies, a department of the Chicago Federal Reserve, is working to engage small businesses through trade, advisory, and other intermediary groups to participate in the Fed System's Small Business Credit Survey.
Background on the Small Business Credit Survey
The small business credit survey collects information about business performance, financing needs, capital sources and borrowing experiences of firms with 500 or fewer employees. Responses to the survey provide insight into the dynamics and details behind aggregate lending and business trends. The survey was launched in 2010 through an effort that combined the regional surveys conducted by several Federal Reserve Banks. In 2016, over 10,000 small employer firms responded to the survey, and table 1 breaks down the Seventh District states, which is important since each state with at least 200 responses will have a state level report. Additionally, each institution that has at least 50 responses will receive a customized report for their organization.
Table 1. Respondents by 7th District state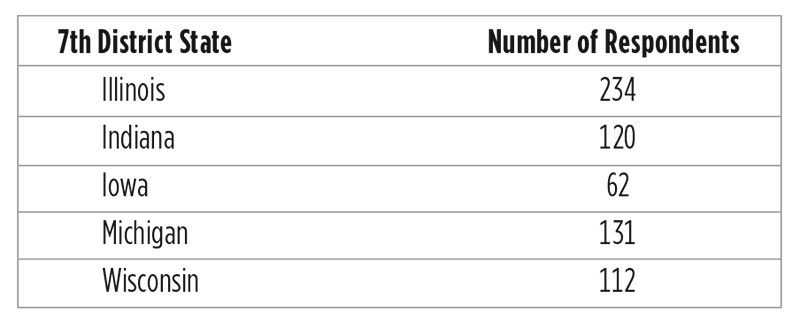 Source: Small Business Credit Survey, Federal Reserve Banks.
Highlights of the 2016 findings
Small businesses reported that although many were profitable and optimistic, a significant majority had faced financial challenges, experienced funding gaps, and relied on the personal finances of the owner to fund basic capital needs. In 2016, 87 percent of employer firms relied on their owners' personal credit scores to obtain funding. Lack of access to credit often inhibits growth. These issues were even more pronounced for the smallest firms.
Only 30 percent of the firms surveyed were considered "healthy," according to the following criteria:
1. (2015) profitability;
2. Low credit risk (business or owner has good or excellent credit score); and
3. Growth through retained earnings (rather than owner's personal funds or credit to fund the business), as can be seen in the graphic image on the following page.
Additional reports on the 2016 Small Business Credit Survey will be released throughout 2017. These will take an in-depth look into specific types of small businesses, including start-ups, minority firms, and microbusinesses.
If you are a small business or if you work with small businesses that would be interested in participating in the 2017 Small Business Credit Survey, please contact the Federal Reserve Bank of Chicago's Small Business Credit Survey representative, Emily Engel, at Emily.engel@chi.frb.org or (312) 322-5520.